Aeglea Biotherapeutics Inc. (NASDAQ: AGLE) expects to raise $51.4 million in its upcoming IPO. Based in Austin, Texas, Aeglea Biotherapeutics is a biotechnology company developing enzyme-based therapeutics to treat disorders of metabolism and cancer.
We previewed Aeglea on our IPO Insights platform here.
AGLE will offer 3.5 million shares at an expected price range of $16 to $18. CRVS filed for the IPO on June 16, 2015.
Lead Underwriters: BMO Capital Markets, Cowen & Co., and UBS Investment Bank
Underwriters: Needham & Co., and Wedbush Securities
Business Summary: Biopharmaceutical Company Developing Engineered Enzymes to Treat Disorders of Metabolism and Cancer
Aeglea Biotherapeutics is a biopharmaceutical company that is developing engineered human enzymes to treat inborn errors of metabolism and cancer.
The company is developing AERase/AEB1102, which is an amino acid to treat the degradation of arginine in blood circulation. In addition, this candidate is expected to treat hyperargininemia and cancer. Other candidates in their pipeline include AECase/AEB3103, which is an engineered human cysteine-degrading enzyme that will address hematologic and solid malignancies; AEMase/AEB2109, which is an engineered human enzyme that degrades methionine in the system for the treatment of solid tumors; and AEB4104, which is another engineered human enzyme that will degrade homocysteine in blood circulation to treat an inborn error of metabolism called homocystinuria.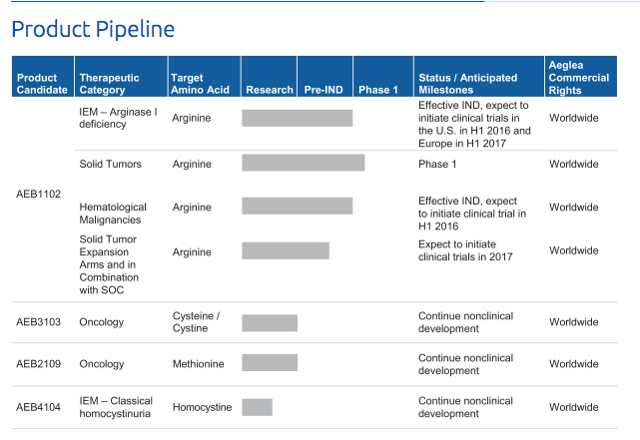 Click to enlarge
In the field of oncology, AGLE is seeking to reduce amino acid blood levels below the normal range, which may disrupt certain cancers that depend upon specific amino acids.
Its candidate AEB1102 is currently in Phase 1 clinical trials to treat solid tumors, and the company expects to initiate further clinical trials to investigate other uses in 2016 and 2017. Its other product candidates are in non-clinical development.
Aeglea Biotherapeutics' candidates have been in-licensed from the University of Texas, Austin, and the company retains global commercialization rights for all of its product candidates.
AGLE intends to use the proceeds of the IPO to fund the further development of AEB1102 and fund the advancement of other product candidates. In addition, the company will use any balance of funds towards working capital and general corporate purposes.
Executive Management Highlights
Co-founder, CEO, President and Director, Dr. David Lowe, Ph.D. has served as CEO and President since December 2013. Prior to Aeglea, he was a venture capitalist at Skyline Ventures. His other experience comes from positions at Genentech and MaRS Innovation.
CFO Charles York has served in his position since September 2015. His previous experience includes senior financial positions in various industries such as medical devices, technology, pharmaceutical and aerospace. Mr. York is a Certified Public Accountant (NYSE:CPA) who earned a B.S. in accounting from the University of Connecticut and an M.B.A. from the McCombs School of Business at the University of Texas at Austin.
Potential Competition: Roche, Amgen, Novartis and Others
For the treatment of in-born errors of metabolism, Aeglea Biotherapeutics faces competition from Hyperion Therapeutics, and for treatment of cancer, the company faces a wide range of competitors who have drugs on the market or are developing new treatments. These companies include Polaris Group, Calithera Biosciences (NASDAQ:CALA), Roche, Amgen (NASDAQ:AMGN), Novartis (NYSE:NVS), Celgene (NASDAQ:CELG), Johnson & Johnson (NYSE:JNJ), Bristol-Myers Squibb (NYSE:BMY), Eli Lilly (NYSE:LLY), Merck and AstraZeneca (NYSE:AZN), among others.
Valuation: Losses Incurred Since Inception
Aeglea Biotherapeutics provided the following figures from its financial documents for the year ended December 31:
| | | |
| --- | --- | --- |
| | 2015 | 2014 |
| Revenue (Grant) | $6,085,000 | N/A |
| Net Income | ($11,295,000) | ($10,347,000) |
As of December 31, 2015:
| | |
| --- | --- |
| Assets | $38,654,000 |
| Total Liabilities | $2,550,000 |
| Stockholders' Equity | ($22,207,000) |
Conclusion: Remain Cautious Ahead of Larger Deals In April
As we noted on our IPO Insights platform in late March, IPOs centered on cancer treatments, as well as many other life science IPOs, have historically been successful. Yet we hesitate as deals like last week's SRTS were postponed. Barrons noted this year's IPO market has had the worst start since the Recession.
We suggest investors remain cautious on AGLE and stay tuned to our weekly posts to get the scoop on several deals on deck, including U.S. Food and SecureWorks.
Disclosure: I/we have no positions in any stocks mentioned, and no plans to initiate any positions within the next 72 hours.
I wrote this article myself, and it expresses my own opinions. I am not receiving compensation for it (other than from Seeking Alpha). I have no business relationship with any company whose stock is mentioned in this article.