OVERVIEW
The logistics industry includes a wide variety of services for shipper supply chains. Some of the most well-recognized services include ocean and air freight, truck brokerage, customs and contract logistics.
Most investors may understand the first few, but the contract logistics category includes value-add services related to fulfillment and distribution, vendor management, production, returns, among many others.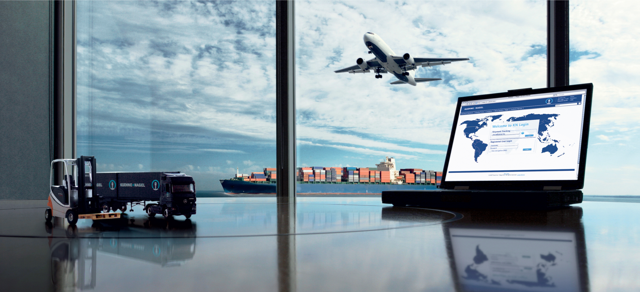 Kuehne + Nagel ( KHNGF) as of 2015 is the largest logistics company on a net revenue basis. The includes older giants such as Deutsche Post DHL Group ( OTCPK:DPSGY) and newcomers such as XPO Logistics ( XPO). Companies like United Parcel Service ( UPS), CH Robinson ( CHRW) FedEx ( FDX) and Expeditors International ( EXPD) are at much smaller scales. Investors should realize that companies within the logistics industry measure their business by net revenue as gross revenues exclude the purchased transportation assets that these companies rely upon as an intermediary between shippers and transportation carriers. This also relates to inventory management and other value-add services.
Kuehne + Nagel's financial information is denominated in Swiss Francs; currently the Swiss Franc is worth more than the U.S. Dollar, at about 1 Swiss Franc to 1.04 U.S. Dollars. Kuehne + Nagel's growth, while moderately positive, has lagged some of its U.S. peers, but this is to be expected due to the company's market share. Additionally, XPO Logistics and some other smaller peers have resorted to growth by acquisition, to grow more robustly to compete and gain market share.
XPO Logistics acquisition of Norbert Dentressangle has positioned the company to potentially surpass Kuehne + Nagel during 2016 for the contract logistics business segment. However, the leader in this market will continue to be DHL Group by a large margin. DHL Group is not included in the logistics industry within my organization because the company has a strong presence in the package delivery market as well. But DHL Group's comparable segments will be reviewed where applicable.
Kuehne + Nagel is the leading ocean freight forwarder with over 3.8 million twenty-foot equivalent units, or TEUs transported during 2015. This compared with DHL Group's over 2.9 million during the same period. Expeditors International, CH Robinson and XPO Logistics do not break out their TEU traffic.
For air freight forwarding, DHL Group transported over 3.7 million tons whereas Kuehne + Nagel transported 1.3 million. Similarly, U.S. companies mentioned above do not break out their air freight tonnage; this includes UPS and FedEx.
Kuehne + Nagel currently trades with a P/E ratio of 24 times earnings and an EV/EBITDA of 14. This valuation level is above most all of the company's U.S. peers, but investors should recognize that the logistics industry valuations are above most of the freight sector. Many companies in other industries including rail, trucking, container vessel shipping and package delivery have P/E ratios near 20 times earnings or below and EV/EBITA ratios near 10 or below.
Importantly, investors should note that Kuehne + Nagel trades on the over-the-counter, or OTC market. Additionally, when looking at the company's dividends paid out per share during 2015 in Swiss Francs, it appears that the dividend payout is substantially lower amount based on the U.S. value investors would receive. This suggests that U.S. investors would receive lessor amounts potentially from tax withholdings; foreign taxes could also be applied to any dividend payouts.
Overall, Kuehne + Nagel is leading business in the logistics market. The company is similarly valued higher than most companies in the freight sector as its industry peers. The company offers investors more access to information which drives the ocean and air freight business. For these reasons, U.S. investors should be paying attention to the company's progress.
Measuring Kuehne + Nagel
Kuehne + Nagel provides investors with a clear relationship of the company's top performing segments; these include seafreight and airfreight. The primary drivers for both of these business segments include TEUs and gross price/TEU for seafreight and tons and GP/ton for airfreight.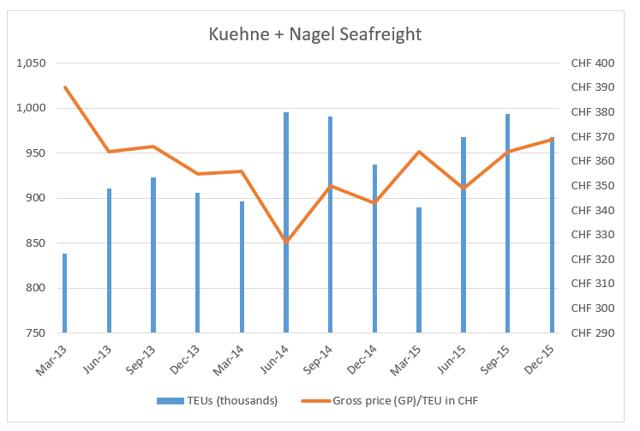 Source: Company filing and personal database
For the company's seafreight segment, GP/TEU has been increasing since the summer of 2014, currently at CHF 370; but TEUs transported was flat between 2015 and 2014 for the year. Transporting over 3.8 million TEUs is a substantial amount of traffic for a forwarder. DHL Group similarly witnessed flat TEUs transported between 2015 and 2014 at over 2.9 million.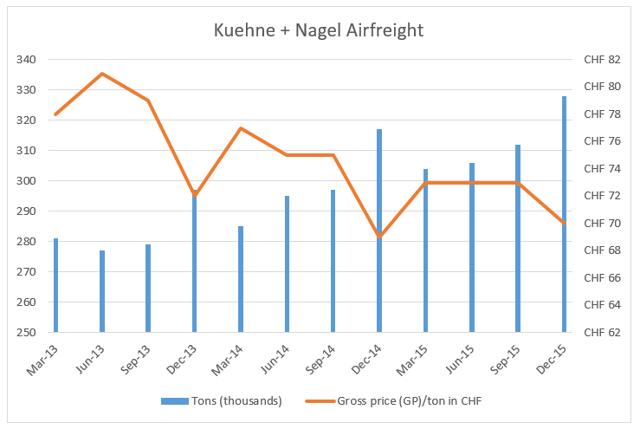 Source: Company filing and personal database
For the company's airfreight segment, GP/ton has been decreasing since the first quarter of 2013, currently at CHF 70; but tons transported grew by 5 percent between 2015 and 2014 for the year to 1.3 million. DHL Group, despite much higher tonnage transported at over 3.7 million, witnessed tonnage declines of over 8 percent; exports witnessed a decline near 7 percent.
The other two segments for Kuehne + Nagel include overland and contract logistics. The overland segment is synonymous with truck brokerage, whether truckload or LTL, and rail intermodal. U.S. companies like CH Robinson and Echo Global Logistics ( ECHO) are strong players for truck brokerage, whereas Hub Group ( HUBG) is a leader in the rail intermodal market. XPO Logistics, through its acquisition of Con-Way has a strong asset-based truck business as well.
Expeditors International is a leading ocean and air freight forwarder, as is UPS for air freight. UPS provides investors with gross revenue for its forwarding and logistics business segment. FedEx does not break out any forms of its logistics segments which are contained within the company's FedEx Express segment.
While not every peer has diversified exposure identical to Kuehne + Nagel, still measuring net revenue is the primary way to make comparisons to U.S. competitors, as all do not include traffic or volume information. This is how the logistics industry is organized and compared.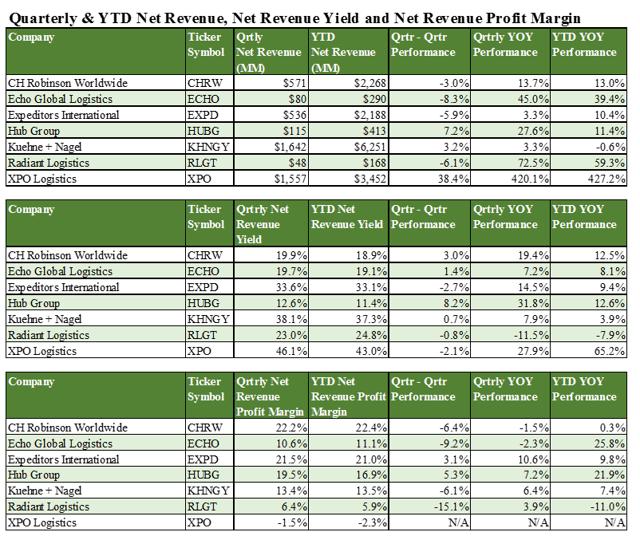 Source: Company filings and personal database
This table combines all logistics services mentioned including ocean and air freight, truck brokerage and contract logistics; and focuses on net revenue, revenue yield and net revenue profit margin. From this table, we can clearly see Kuehne + Nagel's strengths of market leadership with over CHF 6.2 billion in net revenue and top net revenue yield
Despite the company's leadership, growth for net revenue, net revenue yield and net revenue profit margin has lagged most of the company's U.S. peers. But as mentioned, the company's scale is far and above these peers, so its performance is impressive.

Source: Company filings and personal database
The table above provides investors with a snapshot of gross revenue to include both DHL Group and UPS. FedEx does not break out any comparable information, and it should be assumed that their logistics segments are not as robust as UPS, but somewhere above Radiant Logistics (NYSEMKT:RLGT).
A key point regarding UPS is that a substantial amount of the company's $5.9 billion in gross revenue is from air freight forwarding. Comparatively, Kuehne + Nagel's airfreight segment generated a little over CHF 4 billion and DHL generated nearly 5 billion in Euros which is near $5.6 billion. As a result, UPS is clearly a global air freight leader.
This table illustrates the substantial scale of DHL Group, which is fairly evenly split between ocean and air freight forwarding and contract logistics. We should expect XPO Logistics to possibly reach the $15-16 billion level during 2016, but most other peers will remain closer to their 2015 levels. UPS's acquisition of Coyote Logistics is a further indication that larger peers are focused on growing in this area; and specifically UPS's attempt to diversify its logistics services.
Kuehne + Nagel is clearly ahead of the major U.S. competitors in this market, but DHL Group is worldwide leader. XPO Logistics is the closest peer, driven in large part by the company's two recent acquisitions of Con-Way and Norbert Dentressangle. While not all logistics industry peers provide equivalent services and have specialty focus, investors should be monitoring this peer group including Kuehne + Nagel.
Industry Valuation
From a valuation perspective, the same logistics industry peer group is utilized for comparison. All stock prices in the table below are from the April 1, 2016 close.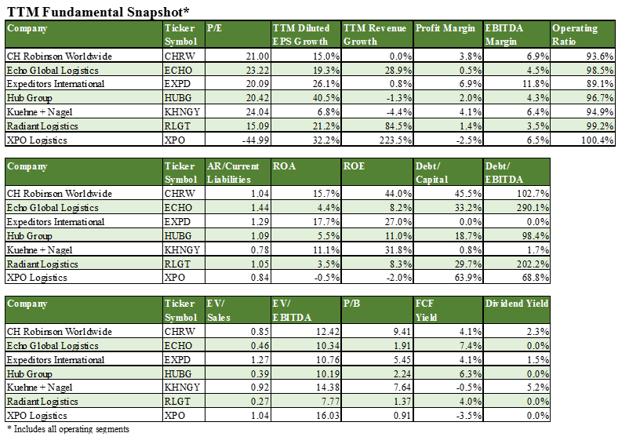 Source: Company filings and personal database
The fundamental snapshot depicts the key focus valuation measures including P/E and EV/EBITDA ratios. Kuehne + Nagel is clearly at a higher valuation for these primary measures, and is still high when using EV/sales and P/B. But the company exhibits strengths for profitability through its EBITDA margin and ROA and ROE and has achieved a solid operating ratio. The company also has almost no debt.

Source: Company filings and personal database
When digging into diluted E PS though, Kuehne + Nagel once again lags its U.S. peers. The company's progress is still a good indication of successful execution as it is a leader in the logistics industry. To be fair, Kuehne + Nagel also has not engaged in as aggressive stock buybacks over the past few years, but has rather substantially increased its dividend payout. A move that has more directly lined investor's pockets.
This is a great tangible way to earn investor confidence, but the dividend yield in the table above is based upon the 2015 dividend payout per share and CHF stock price. When checking the stock price on Yahoo Finance!, the dividend yield is closer to 3 percent, but the P/E ratio is almost exact. This suggests that the company's U.S. dividend payout is not identical.
It is not clear, but investors considering Kuehne + Nagel should diligently seek information regarding the companies tax withholding laws and/or whether there are foreign taxes applied to any dividends distributed to U.S. investors.
Investor Perspectives
Kuehne + Nagel's logistics business is far and above most all U.S. company peers. XPO Logistics is the only company which will rival the company, but this is a result of aggressive growth by acquisition strategies over the past few years. XPO Logistics also has a strong presence in the asset-based LTL market and provides other differentiating services.
The logistics industry is valued higher as a group when compared to the broader freight sector. This is partly due to the higher rate of growth the industry has witnessed of late; combined with a growing dependence on this market from shippers.
Some of today's valuations are lower than historical trends for U.S. companies, but investors should consider the premium afforded to logistics companies in general. Kuehne + Nagel does not offer a better opportunity for U.S. investors today, but the company is growing well as one of the largest in the industry.
Continually tracking Kuehne + Nagel's progress is a must. Biding time to clearly understand dividend implications for U.S. investors is an opportunity since there is no urgency to consider adding Kuehne + Nagel at the moment.
Disclosure: I am/we are long DPSGY.
I wrote this article myself, and it expresses my own opinions. I am not receiving compensation for it (other than from Seeking Alpha). I have no business relationship with any company whose stock is mentioned in this article.
Editor's Note: This article discusses one or more securities that do not trade on a major U.S. exchange. Please be aware of the risks associated with these stocks.