Introduction
In the summer of last year, I wrote two articles about Centamin (OTCPK:CELTF) and I initiated a position at an average of 56 pence (on the London-listing). The company' continued to perform pretty well in the second half of the financial year 2015 and its share price recently increased to approximately 100 pence, up 80%.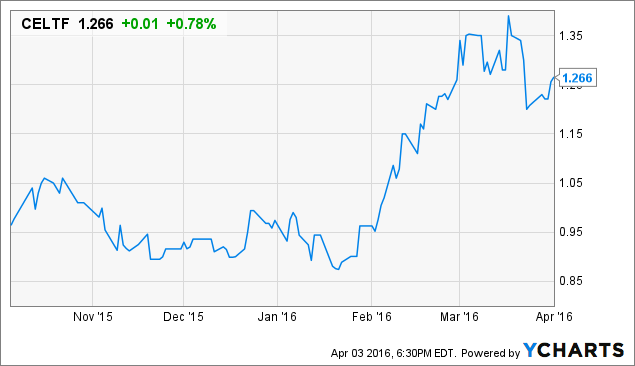 CELTF data by YCharts
Centamin has more liquid listings on the Toronto Stock Exchange and the London Stock Exchange, and I'd personally recommend you to trade in the company's shares on the LSE. The current market capitalization is $1.45B and as the average daily volume is in excess of 3 million shares, it's by far the most liquid listing of this company. The ticker symbol is CEY.
2015 was as expected; good production numbers and strong cash flows
As expected, Centamin was able to report a substantial increase in the full-year production rate as the total gold production increased from 377,000 ounces in 2014 to 439,000 ounces in 2015 on the back of a pretty strong second half of the year. After all, the company's total production in the final quarter of last year was 117,644 ounces, which is approximately 470,000 ounces on an annualized basis.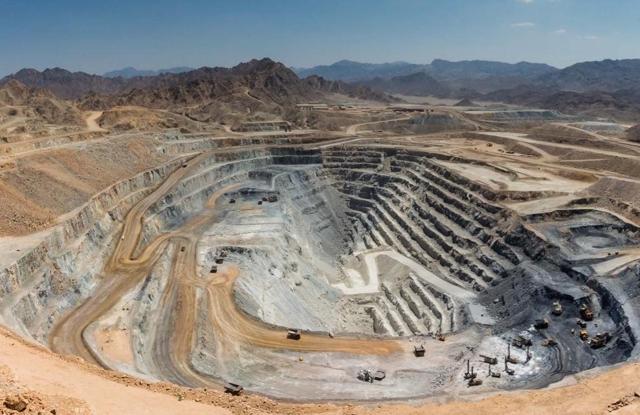 Click to enlarge
Source: company presentation
Unfortunately the company's realized gold price fell by $100 per ounce, so the revenue increase was less outspoken than what you would have expected, but the total revenue increased by 8% anyway as the total sales number from selling the gold was almost $510M. The gross profit was also a bit lower at $92.1M, but this was predominantly due to a one-time $46.7M booking to minimize the impact of the demand to repay $51M of fuel subsidies (which weren't allowed for companies in the gold mining sector). So, okay, I can understand why the company says this is a non-recurring item, so for now I will stick with Centamin's reported results before taking the impact of the exceptional items into account.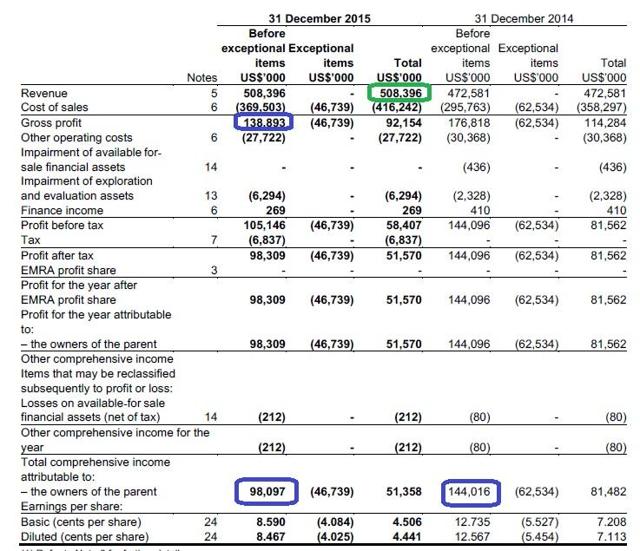 Click to enlarge
Source: financial statements
As the costs did increase, the net income fell by approximately a third to less than $100M. That was still fine when Centamin was trading at a market capitalization of less than $1B, but I also wanted to know how Centamin was doing on the cash flow front. I argued the free cash flow results would very likely have been better considering the depreciation rate would be higher than the sustaining capital expenditures.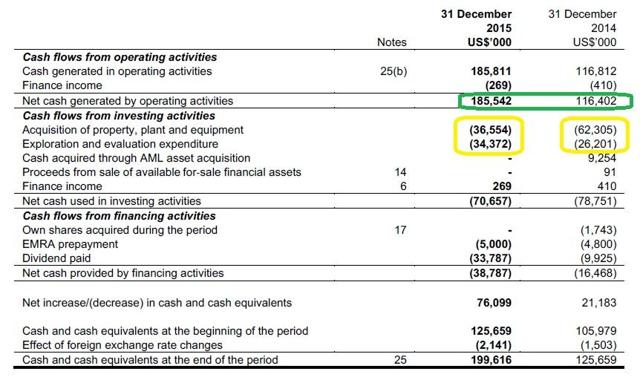 Click to enlarge
Source: financial statements
This has now been confirmed in the full-year results as well and even though the total depreciation rate of the assets was almost $100M in 2015, the total capex commitment was less than $71M (of which almost half consisted of capitalized exploration expenses, so that's not even really a sustaining capex but I will take it in consideration as well). As the operating cash flow increased from $116.4M to $185.5M and the total capex + exploration expenses fell from $88.5M to $71M, the free cash flow increased from $28M to $115M, an excellent performance.
What about 2016? And how appealing is the company now?
This wasn't entirely unexpected though as my expectations to see a strong 2015 were the main reason why I initiated a small position in Centamin. Back in July it made total sense to pay $900M for a company that would generate in excess of $100M in free cash flow.

Click to enlarge
Source: company presentation
And 2016 could be even better. As I said before, the Q4 2015 production rate was pretty good, and Centamin is zeroing in on yet another year with an increased production profile as the company is now aiming to produce 470,000 ounces of gold this year at an AISC of $900/oz. That's pretty good considering the company will be able to boost the price it receives for its gold as well. Considering Centamin received $1159/oz in 2015 and seeing the gold price holding its ground at $1200+, the higher gold price by itself will increase the total revenue by $20-30M.
But I decided to take my chips off the table anyway because of two reasons. First of all, with a market capitalization of $1.45B, the risk/reward ratio has been reduced. After all, the enterprise value jumped from $725M to $1.25B (+72%) and despite the higher gold price, the fundamentals haven't really changed much as the average increase in the gold price is still pretty limited.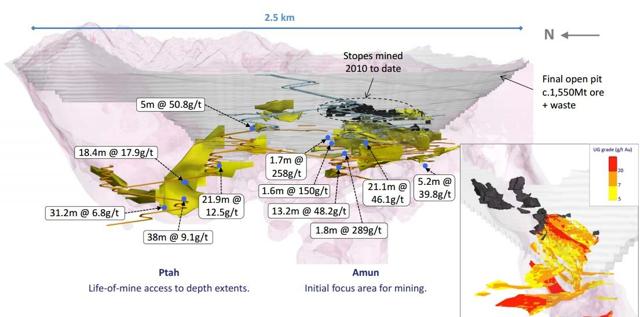 Click to enlarge
Source: company presentation
Secondly, I'd really like to commend fellow author Kees Dekker for writing his extensive review of Centamin in this article. He did a great job to highlight the risks associated with the mine and doing business in Egypt, and that was another reason for me to be happy with my 'win' and sell my stock for a 50% profit in the lower-80's (pence that is).
Investment thesis
Could I have waited? Yes. Just a few weeks after selling, Centamin was closing in on the 100 pence mark and I wasn't too happy with myself. But taking everything into consideration, I think selling my position was the right thing to do. The current enterprise value has increased by 72% despite an increase of the operating margin per ounce of just 20-24% and as the project is located in Egypt, the risk/reward ratio no longer was appealing.
I currently have no position in Centamin anymore, but am looking to redeploy these funds in the near future. Egypt hasn't done anything wrong yet, but I wouldn't want to be around in case the country gets too greedy and scares away foreign investment.
Disclosure: I/we have no positions in any stocks mentioned, and no plans to initiate any positions within the next 72 hours.
I wrote this article myself, and it expresses my own opinions. I am not receiving compensation for it (other than from Seeking Alpha). I have no business relationship with any company whose stock is mentioned in this article.
Editor's Note: This article discusses one or more securities that do not trade on a major U.S. exchange. Please be aware of the risks associated with these stocks.