Company Overview

Era Group, Inc. (NYSE:ERA) is an operator and lessor of helicopters that primarily services the offshore oil and gas industry. The company was originally part of SEACOR (NYSE:CKH), a global provider of equipment to the oil and gas, and marine transportation industries. The spin-off of ERA was completed in January 2013. Annual revenue in 2015 totaled $281.8 million, with an EBITDA margin of 22.4%.
Era Group vs. Aircraft Leasing Industry

Source: Yahoo Finance
Era Group is primarily engaged in the operating and leasing of helicopters within five distinct categories: Oil & Gas, Dry Leasing, Search and Rescue, Air Medical Services, and Flightseeing (ERA sold its fixed base operations business in 2Q15). The company services the offshore energy industry through full service contracts where it operates and maintains helicopters for use in transport to offshore rigs. It also engages in dry leasing of its fleet to international customers, where the customer is responsible for operation and maintenance.
2015 Revenue Sources

Annual Revenue & EBITDA Margin History

Source: Era Group
Decline in ERA Shares Unwarranted
Since mid-2014, the price of crude oil has declined sharply, and with it, the number of rigs operating in the Gulf of Mexico, ERA's key market. WTI crude is down 65% since its mid-2014 peak while rig counts in the Gulf of Mexico dropped by 58%. In line with those moves, ERA's shares have fallen nearly 59% over the last 52 weeks. Competitors have fared no better: Bristow Group's (NYSE:BRS) shares have fallen 77% over the past year, PHI, Inc. (NYSE:PHI) is down 42%, while CHC Group (HELIF) was recently delisted from the NYSE.
| | |
| --- | --- |
| WTI Crude Sharply Lower Since 2014… | …U.S. Gulf of Mexico Rig Count Follows |
| | |
| Source: U.S. Energy Information Association | Source: Baker Hughes, Inc. (NYSE:BHI) |
ERA's revenue in the U.S. Gulf of Mexico business line, which accounts for 60% of total company sales, fell only 17% from 2014 to 2015 however. This disparity highlights a key aspect of the ERA story that investors are missing: for a typical oil and gas contract, 2/3 of the revenue is derived from fixed monthly charges to reserve helicopter use while 1/3 is dependent on hours flown. Put simply, a customer has to pay a fixed monthly fee to ERA regardless of how much flight time it requires. While this dynamic does not fully insulate ERA from end-market issues, a recent slide from the company's Cowen & Co. investor presentation (December 2015) highlights the resiliency of top-line revenue and EBITDA over time.
Cowen & Co. Ultimate Energy Conference Slide 16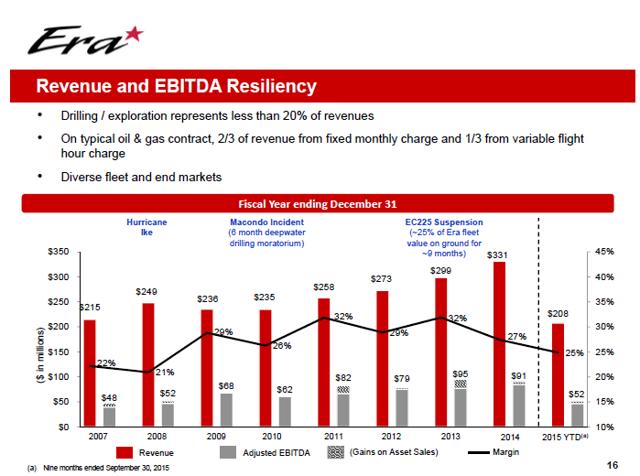 Source: Era Group
Furthermore, the nature of offshore and deepwater oil and gas production is favorable to ERA in the long run. The breakeven price per barrel of offshore oil production is highly competitive with other sources. Once a well is in place, estimates have variable lifting costs for production below $20/bbl, and possibly as low as $5/bbl.
Conventional wells may have variable lifting costs of $20-30 per barrel. This suggests that while capital expenditures across the oil and gas industry were cut dramatically, as oil prices rebound, there should be an acceleration of offshore and deepwater production. In fact, daily production has maintained an upward trend since May 2013 despite the decidedly negative trends in oil prices and rig counts.
| | |
| --- | --- |
| Oil Extraction Breakeven Costs | Gulf of Mexico Production Trending Up |
| | |
| Source: Seadrill (NYSE:SDRL) | Source: U.S. Energy Information Administration |
Valuation Discounts Provide Substantial Margin of Safety
For ERA investors, the company's fleet of owned helicopters provides a considerable safety net while end markets recover. Over the past several years, the secondary market for helicopters had been robust due to 1) strong demand from offshore drillers, 2) long lead times for new aircraft (~two years), and 3) a limited number of manufacturers. As such, companies with operational capabilities rushed to take advantage of the environment. High profile activity in the space included the CHC Group's initial public offering in 2013, SEACOR's spin-off of ERA, and GE's (NYSE:GE) acquisition of Milestone Aviation. To take advantage of this dynamic, the company strategically sells older aircraft from its fleet. Since 2004, ERA has sold 109 helicopters at a median premium above book value of 50%.
ERA Helicopter Sales At Significant Premium To Book Value

Source: Era Group
ERA uses a standard 15-year depreciation schedule for its helicopters down to a 40% salvage value. Using this as a worst-case scenario liquidation value for the fleet, the NAV of ERA's shares would be $6.29.
ERA Fleet and Median Used Listing Prices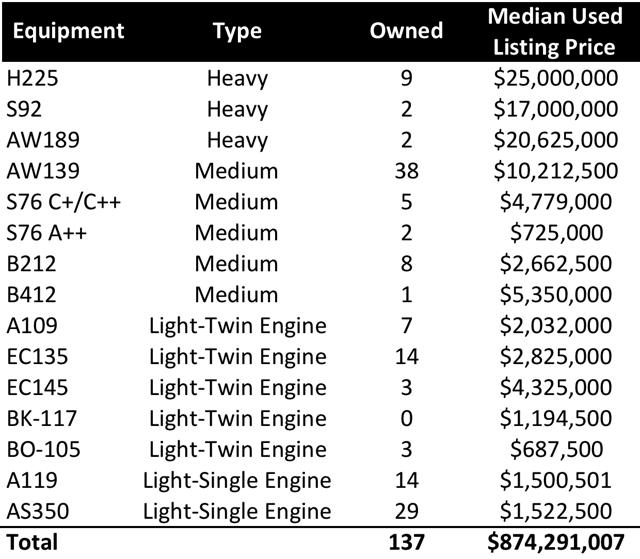 Sources: Era Group, Handbook of Business Aviation, The Moscow Times, Controller.com, AvBuyer, GlobalAir, Helicopter Investor
The company calculates its net asset value using an annual third-party valuation of its fleet. The most recent valuation conducted at year-end 2015 values the ERA fleet at $911 million. After factoring in other assets, working capital, debt, and deferred taxes, the company arrives at a NAV of $32.18 per share.
In an attempt to confirm ERA's valuation, a search for similar pre-owned helicopters was undertaken. The market for used civil helicopters is far less transparent than for other vehicles, but listing prices can be found for older aircraft. For newer aircraft, such as the H225 and AW189, sale and leaseback transactions can be found to assess what the aircraft could be worth in a secondary market transaction. While the results are less than exact due to the varying age and features of each model, the implied value of the Era Group fleet using this methodology is within 4% of ERA's stated fair market value. This translates to a NAV of $30.35 per share. At this level, ERA's shares are undervalued by 70%.
ERA's Shares Substantially Undervalued Based on NAV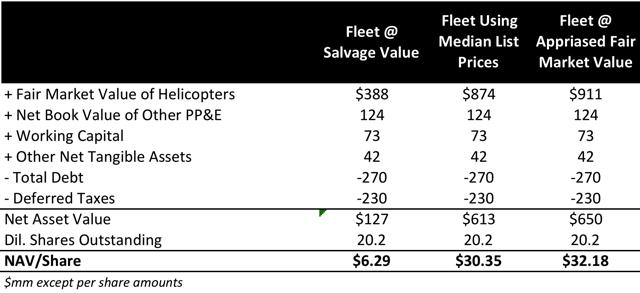 Sources: Era Group, Analyst Estimates
The discount to NAV is substantial, but Era Group's shares frequently traded below NAV since its IPO at an estimated median discount of 37%. However, current price/book and EV/EBITDA multiples are also far below normal. Currently, ERA's shares trade at a price/book value of only 0.38x vs. the historical level of approximately 1.0x. Using EV/EBITDA, the company's shares currently trade at 5.96x vs. a median value of 8.94x. The decline in multiples appears to be excessive given the relative modest decline in sales. Applying a 1.0x P/book value multiple and an 8.9x EV/EBITDA multiple (on 2016 estimated earnings) yields theoretical prices of $23.49 and $22.31.
Decline In Valuation Multiples Outpacing Decline In Sales

Source: Era Group, Analyst Estimates
DCF Implies Valuation In Line With Assets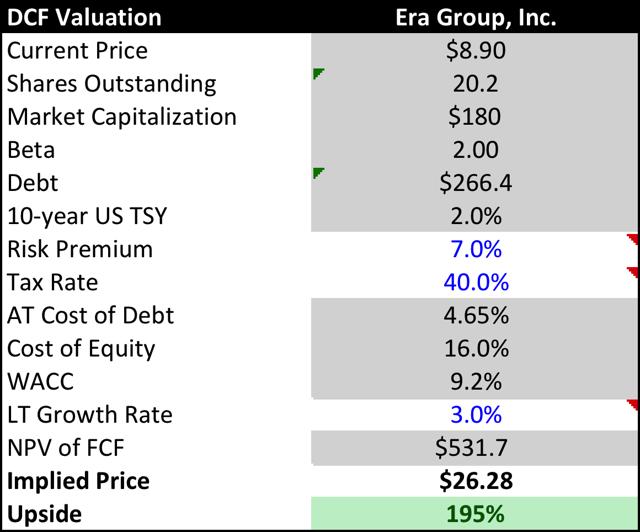 Source: Analyst Estimates
A central theme of the company's FY15 earnings call was the continued uncertainty in energy markets and demand for helicopter services. In response to a question regarding ERA's outlook, CEO Chris Bradshaw said:
"Well, what we are seeing in the market today… is what has been a continued deterioration of the conditions, and we expect that those will persist for some time. Whether things improve in Q4 of 2017 or Q1 of 2018? Frankly I'm not that smart. But we are prepared for a protracted downturn".
The discounted cash flow valuation while challenging due to lack of explicit guidance by Era Group is in line with the value implied by the assets and book value of the company, as well as the consensus earnings estimates. The current forward P/E for ERA's shares is 21.7x, which implies 2016 EPS of $0.41 vs. the $0.42 calculated in this valuation.
Key assumptions of the model include:
Further weakness in the oil and gas and dry leasing businesses with negative YoY growth in 2016 and 2017.
Restrained capital spending of $60 million annually through 2019 reflecting the likely deferral of new aircraft deliveries.
Debt/EBITDA ratio of 4.0x through 2017.
Era Group Annual Cash Flows

Source: Analyst Estimates
Summary
ERA's Shares Undervalued By 186%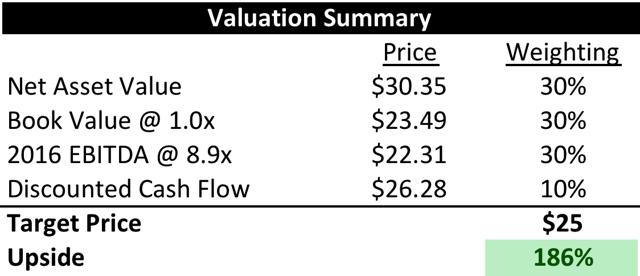 Source: Analyst Estimates
Era Group offers investors substantial margin of safety due to underlying assets with the ability to participate in future upside as energy markets recover. The price target of $25 is based on a weighted average of the net asset value (30%), book value (30%), EV/EBITDA (30%), and discounted cash flow (10%). The DCF valuation was weighted lower due to the significant uncertainty in near- and long-term projections for ERA's served markets, mainly energy exploration and production. While the value of ERA's fleet is arguably substantially dependent on those end markets, there is a higher conviction on the underlying asset values due to the ability of helicopters to be utilized for other missions.
Risks
Numerous risks surround this thesis. A recent Wall Street Journal article highlighted the challenges facing the helicopter industry in the face of the sharp decline in oil production.
The oil and gas industry only accounts for 26% of commercial helicopter deliveries, but the article contends that there is difficulty in utilizing helicopters for other missions and the possibility that previous shortage of aircraft could now be a significant surplus. This could significantly erode the value of ERA's helicopter fleet.
Another environmental disaster such as the 2010 Macondo well oil spill could lead to another moratorium on offshore drilling in the Gulf of Mexico. If this were to occur, ERA could face a substantial loss in business. The current malaise in oil prices could also hurt revenues if ERA's customers continue to lower capital expenditures on exploring and developing new wells.
ERA - Income Statement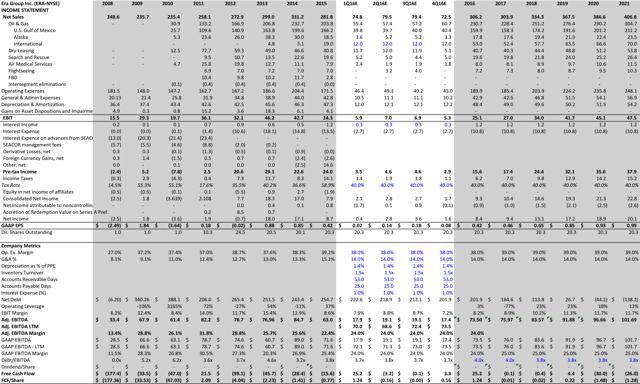 Sources: Company Financials, Analyst Estimates
ERA - Segment Detail

Sources: Company Financials, Analyst Estimates
ERA - Balance Sheet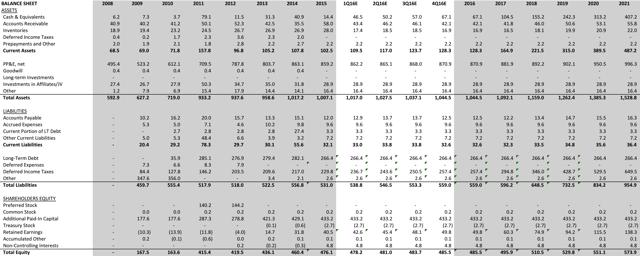 Sources: Company Financials, Analyst Estimates
ERA - Statement of Cash Flows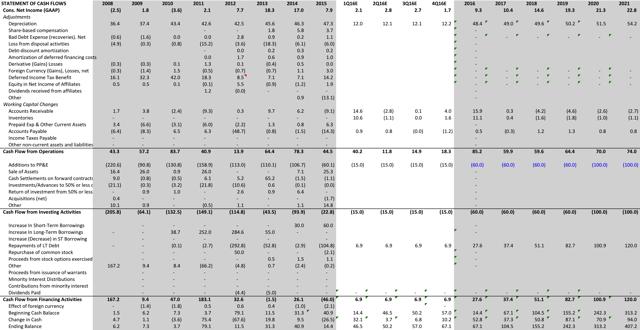 Sources: Company Financials, Analyst Estimates
Disclosure: I/we have no positions in any stocks mentioned, and no plans to initiate any positions within the next 72 hours.
I wrote this article myself, and it expresses my own opinions. I am not receiving compensation for it (other than from Seeking Alpha). I have no business relationship with any company whose stock is mentioned in this article.
Editor's Note: This article covers one or more stocks trading at less than $1 per share and/or with less than a $100 million market cap. Please be aware of the risks associated with these stocks.