Shares of Facebook (NASDAQ:FB) are selling off in trading today, 4/4, after a Deutsche Bank analyst released a note that said 1Q16 results may come in light of expectations. After closely examining the numbers, we disagree with this analyst and believe there is upside to the 1Q16 revenue estimate. The 1Q16 revenue estimate seems baked with over-performance expectations for ARPU growth, but we believe Q4's ARPU over-performance will persist due to Instagram's ramping popularity, Twitter's (NYSE:TWTR) continued weakness and the way FB calculates ARPU growth so as to include Instagram revenue in the numerator without including users in the denominator. We remain long-term bullish on FB, much like the Deutsche Bank analyst who maintains a $145 price target, and also believe shares could get a lift from another estimates-topping quarter.
FB has managed to maintain north of 2.5% sequential MAU growth in every quarter since 1Q14. The average sequential growth in that period has been 3.29%, while the maximum growth was 3.91% in 1Q14 and the minimum growth was 2.51% in 3Q14.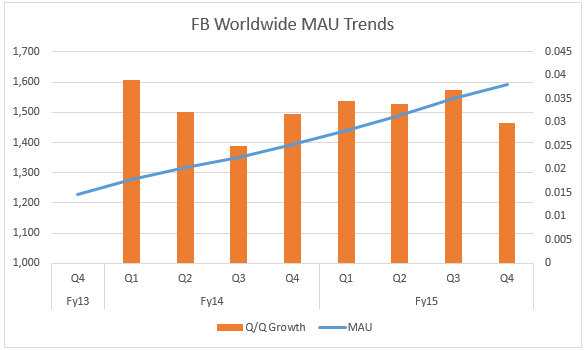 FB also managed to grow its MAU base north of 12.5% Y/Y in every quarter last year, and this lapped Y/Y MAU growth in fiscal year 2014 that was consistently above 13%. The average Y/Y growth over the past eight quarters is 13.84%, with the maximum being 14.95% and the minimum being 12.93%.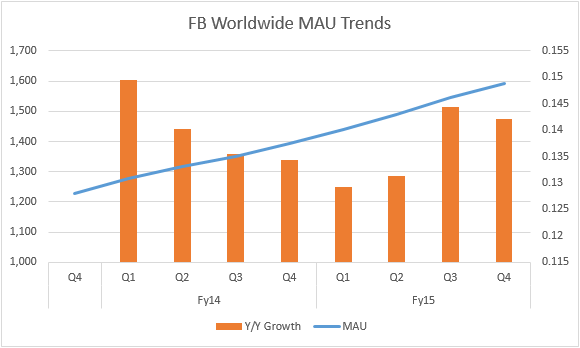 If we use these historical bounds as bounds for 1Q16 sequential and Y/Y growth rates, then we can see that a reasonable expectation for 1Q16 MAUs ranges between 1.627 billion and 1.656 billion, with the best guess being 1.642 billion.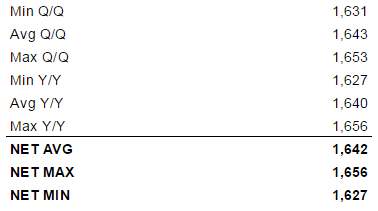 On the ARPU front, ARPU grew north of 20% on a Y/Y basis in every quarter last year. This is inclusive of 32.7% Y/Y growth in ARPU in Q4, which is significantly above-trend as the Deutsche Bank analyst has pointed out. Growth also is slowing likely due to tough comps. Y/Y ARPU growth in fiscal year 2015 ranged from 23% to 33%, while Y/Y ARPU growth in fiscal year 2014 ranged from 31% to 48%. Q4 ARPU growth accelerated compared to the same period one year ago, but in every other quarter, ARPU growth compressed significantly compared to the same period one year ago. This again speaks to 4Q15 ARPU growth being significantly above trend.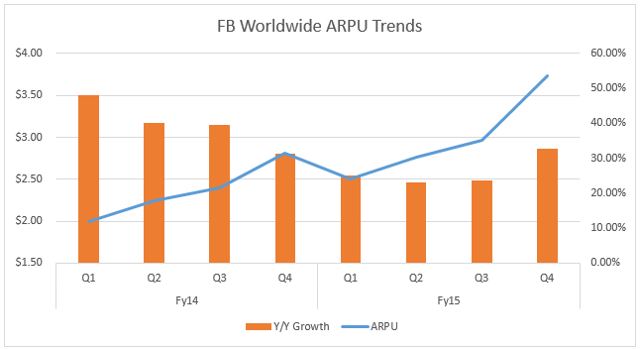 If we assume MAU growth remains in-line with historical trends, then it becomes very obvious that the consensus 1Q16 revenue estimate is baked with expectations for continued over-trend ARPU performance. If we take our average MAU prediction of 1.642 billion (+14% growth Y/Y), then FB would need to see another 30% Y/Y ARPU growth quarter to beat the $5.25 billion revenue estimate.

The above-trend ARPU performance in Q4 can be largely attributed to Instagram. ARPU is defined as revenue divided by average number of MAUs during the period. MAUs only include the number of users on Facebook and Messenger, but ARPU includes all sources of revenue. Given the ARPU bounce in Q4, this would imply that there is an increasingly significant component of Instagram revenue in the mix which is inflating the numerator without affecting the denominator.
Because of Instagram's rampant growth, we could see another 30%-plus ARPU growth quarter. TWTR continues to cede market share to faster-growing, more-popular platforms, namely Instagram. According to comScore, Instagram has the second highest reach among people age 18-34 with more than 60% reach. We believe this is only growing and think Instagram's popularity ramp will drive continued strong ARPU growth.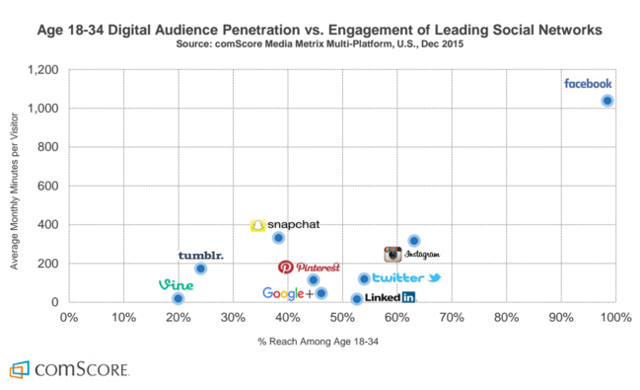 We remain long-term bullish on FB. While we understand where the DB analyst is coming from by saying Q4 was above-trend, we think that above-trend will be the trend in fiscal year 2016 as Instagram revenue ramp drives strong Y/Y ARPU growth rates on 10-15% Y/Y MAU growth. We think the 1Q16 revenue estimate is beatable and maintain shares have strong upside in a long-term window.
Disclosure: I am/we are long FB.
I wrote this article myself, and it expresses my own opinions. I am not receiving compensation for it (other than from Seeking Alpha). I have no business relationship with any company whose stock is mentioned in this article.