This article discusses the potential merger-arbitrage opportunity in Ingram Micro (NYSE:IM).
On February 17th, Ingram Micro and Tianjin Tianhai Investment Company announced they entered into a definitive agreement form Tianhai to acquire Ingram Micro for $38.90 per share in cash (or approximately $6.0 billion). Ingram will become a segment of the HNA Group, which is a Chinese conglomerate involved in aviation, real estate services, tourism, logistics and other industries. The deal represents a 33% premium from the lows in late January. The deal will make it the largest Chinese takeover of a US information technology company.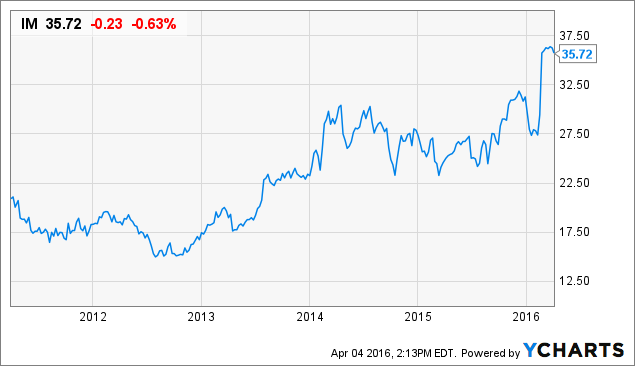 IM data by YCharts
As Ingram Micro CEO Alain Monie said, "Our agreement to join HNA Group delivers near-term and compelling cash value to our stockholders and we expect it to provide exciting new opportunities for our vendors, customers and associates. Innovation, new services introduction, brand management and ensuring the stability and continuity of the businesses joining their enterprise are fundamental to HNA Group's overall strategy. As a part of HNA Group, we will have the ability to accelerate strategic investment as we continue to capitalize on the constant evolution of technology and emerging trends by adding expertise, capabilities and geographic reach. Additionally, Ingram Micro will now be part of a larger organization that has complementary logistics capabilities and a strong presence in China that can further support the growth and profitability objectives of our vendor and customer partners."
The two sides expect Ingram to become one of the largest enterprises of the HNA Group based on revenue, giving HNA Group access to opportunities in emerging markets. The deal also will allow the HNA Group to become a supply chain operator as a "one-stop shop" instead of just a logistics sector.
HNA Group has revenues of around RBM 190 billion with nearly 180,000 employees worldwide. HNA is a private company, making it difficult to see the financial statements of the company. However, it appears the company has ample access to capital. We do not see a high probability of failure given HNA's supposedly strong capital position. However, the regulatory burden will be the main issue.
The U.S. has become increasingly reluctant in allowing U.S. technology companies to be acquired by Chinese companies for National Security concerns. These concerns could create a difficult situation as the deal nears closer to completion and could become a political talking point.
The deal is said to close in second half of 2016 (five months). Both sides appear to be excited about the deal and the synergies involved. As we stated already, the main issue will be the regulatory approval process.
Ingram is currently priced attractively at less the 8x free cash flow, which gives an implied yield of over 12.5%. Because of the attractive price of Ingram, I would not be surprised to see additional bids. You should adjust your potential return profile if you expect this to occur.
There are many uncertainties around potential mergers, such as antitrust approvals, multiple government reviews, changes in market conditions, shareholder approval, and due diligence.
If the deal was not completed, we would expect prices to drop to the pre-deal price of $27.00 or a loss of $8.95. We give the deal a 90% chance of being complete based on the parties and terms of the buyout offer.
If we look at the recent quote the stock is trading at $35.95 per share, $2.95 below the announced cash offer of $38.90 per share.
We calculate our expected return with the probability of a successful deal ($2.95 x .90 = $2.66). And we subtract that from our expected loss with the probability of that loss occurring (8.95 x .10 = $0.895). This is the expected weighted return which gives us a potential return of 4.90%, or $1.765 per share. To calculate our annualized expected return we divide that by the expected time of holding in years (5 months = .42). This gives us an annualized expected return of 11.75%.
The merger-arb strategy goes in and out of favor. Currently, the merger-arb strategy is very competitive and offers little opportunity. However, it's always good to be prepared to take advantage of opportunities as occur.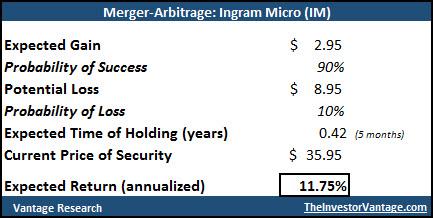 BOTTOM LINE
The Ingram merger is an interesting deal. Although we do not see a high probability of failure given HNA's supposedly strong capital position, the regulatory burden may be an issue (especially during the presidential elections). If you believe the deal will gain regulatory approval, this appears to be an attractive opportunity with a potential 11.75% annualized return profile.
Notable Shareholders:
Donald Smith | Joel Greenblatt | David Einhorn
Please share your thoughts in the comments section below as I learn just as much from you as you do from me. It can be a timely endeavor, but I answer all of your comments and questions myself. Your patience and understanding are greatly appreciated. I will get to your remarks as soon as possible. :)
WARNING: Merger-arb can be tempting for investors to use leverage to increase their annualized return on high probability events…Resist the urge! Many Wall Street firms conduct merger-arb as their main business, and they will normally have 50 or more merger-arbitrage investments at any one time. They understand that if a couple of deals go bad, the winners will more than take care of the loses.
Merger-arb can be a very crowded strategy at times. Similar to value investing, it can be cyclical and go in and out of favor over time.
The key to merger-arb is to focus on the few deals that are very likely (ideally ALL cash deals) with minimal regulatory hurdles and an acquirer with a great capital base. And if you're new to merger-arb, watch a few deals play out over various industries to get an understanding of the deals.
If you do invest in merger-arb situations, conduct proper due diligence and make sure to spread your risk appropriately. If you are so inclined to learn more about these types of special situation, I highly recommend Graham's writing on arbitrage in his Security Analysis book.
Disclosure: I/we have no positions in any stocks mentioned, and no plans to initiate any positions within the next 72 hours.
I wrote this article myself, and it expresses my own opinions. I am not receiving compensation for it (other than from Seeking Alpha). I have no business relationship with any company whose stock is mentioned in this article.