Kirk Skaugen, an Intel (NASDAQ:INTC) employee for 24 years and until now the SVP in charge of the company's large Client Computing Group (CCG - responsible for PC and mobile processors), is leaving the company, INTC discloses in a memo (.pdf) co-signed by CEO Brian Krzanich and President Murthy Renduchintala. Skaugen will be replaced by Navin Shenoy, the GM of Intel's Mobile Client Platform Division since 2012.
The company also says Doug Davis, the SVP in charge of Intel's Internet of Things Group and a 32-year company vet, will retire at year's end. Intel insists Davis's decision is one he has been "considering for some time," and that he now wants to "devote more of his time to family, friends, and other interests." No successor has been named yet.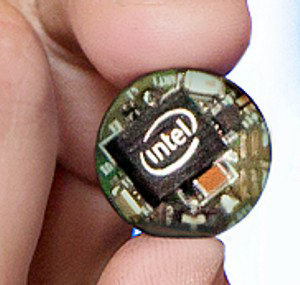 Intel's Curie module. Among the products overseen by Davis's IoT Group.
Both announcements follow a Bloomberg report, stating Aicha Evans, the GM in charge of Intel's Communications and Devices Group - it's responsible for wireless radio/modem chip engineering, and part of INTC's broader Platform Engineering Group - is resigning. Intel has declined to comment on the report.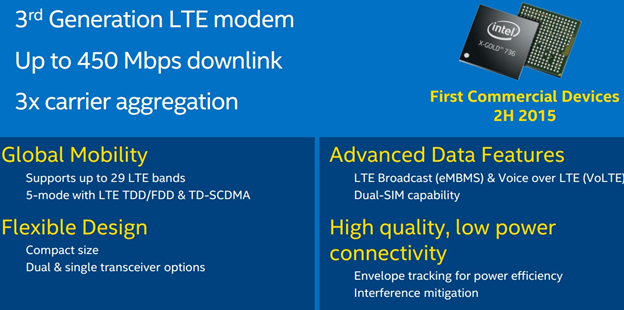 An Intel slide for the XMM 7360 modem, developed by Evans's engineering group and reportedly going into some iPhone 7 models.
All of this is happening less than five months after Intel hired Murthy Renduchintala, formerly the co-president of Qualcomm's (NASDAQ:QCOM) chip unit ("QCT"), to be the president of a massive new Client and Internet of Things Businesses and Systems Architecture Group. The job title doesn't quite roll off the tongue, but it does mean Renduchintala now heads a group declared to bring together Intel's "Platform Engineering, Client Computing, IoT, Software and Services, and Design & Technology Solutions groups."
Suddenly, the SVPs in charge of two of those groups are on their way out, and a key exec in another group is reportedly departing. One can't help but wonder if Renduchintala is playing a big role here … especially in light of a December report from chip analyst Linley Gwennap discussing the potential for recent hires (including Renduchintala) to bring about a major culture change within Intel's engineering ops.
Gwennap observed Amir Faintuch, who was hired in 2014 (also from Qualcomm) to head the Platform Engineering Group, has made VP-level hires of workers formerly at Qualcomm, Samsung (OTC:SSNLF), AMD (NYSE:AMD), Synopsys (NASDAQ:SNPS), and other firms. Among other things, he argued the new talent could help change Intel's "not invented here" culture, shorten chip design cycles, and improve the company's ability to attack non-core markets.
It should be noted here Krzanich, Renduchintala's boss, also hasn't been squeamish about shaking up management. The departures of President Renee James and three other execs were announced last July, and a reorg was launched shortly after Krzanich became CEO in May 2013. Krzanich has also talked at times about wanting to shake up Intel's culture so that the company makes quicker decisions and moves faster to enter new markets. Intel's latest management changes might just have something to do with those efforts.
Disclosure: I/we have no positions in any stocks mentioned, and no plans to initiate any positions within the next 72 hours.
I wrote this article myself, and it expresses my own opinions. I am not receiving compensation for it. I have no business relationship with any company whose stock is mentioned in this article.