Oil prices (NYSEARCA:OIL) have increased substantially since the lows we saw in February, but I believe further substantial gains are rather unlikely.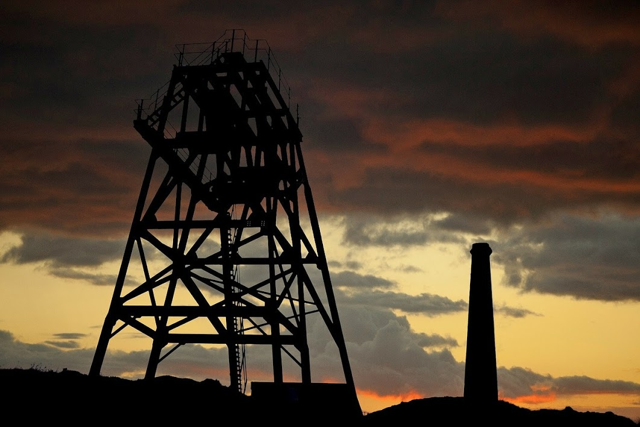 Click to enlarge
In an article I wrote a week ago, I argued that future oil price increases were unlikely due to the supply-demand situation not changing materially in the near future: Global supply outstrips demand by 1.5 million to 2.0 million barrels a day, and the situation is not very likely to change any time soon, since US production declines are offset by increasing production from other countries (mainly Iran, which seeks to expand production after sanctions were lifted, but also others such as Russia, which hit a new post Soviet era production record in March).
There are, however, other reasons as well (apart from the supply to demand ratio) that work against substantial oil price increases.
The level of oil stockpiles we have in the world right now is at a very high level, which is the result of the global overproduction we have seen over the last quarters.

Click to enlarge
As we know from the EIA's reports, total oil and petroleum products storage keeps reaching higher and higher, and is currently at the highest level in more than 25 years. In the week ending on March 25, 2016, total US storage for oil and petroleum products stood at 2.05 billion barrels, which represents an increase of 50 million barrels year to date, and an increase of 210 million barrels since January 2015.
This is based on growing stocks in almost every relevant class, including commercial crude oil storage and distillate fuel oil: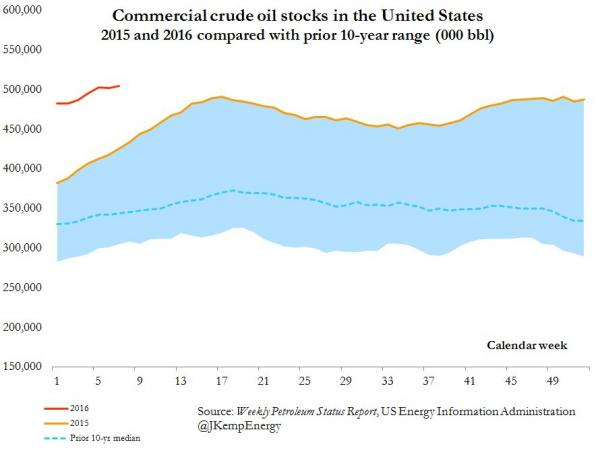 Commercial crude oil stocks stand at more than 500 million barrels of oil, which is, as you can see in the above chart, not only an increase of about 100 million barrels over the last year, but also the highest level seen in the last ten years by far.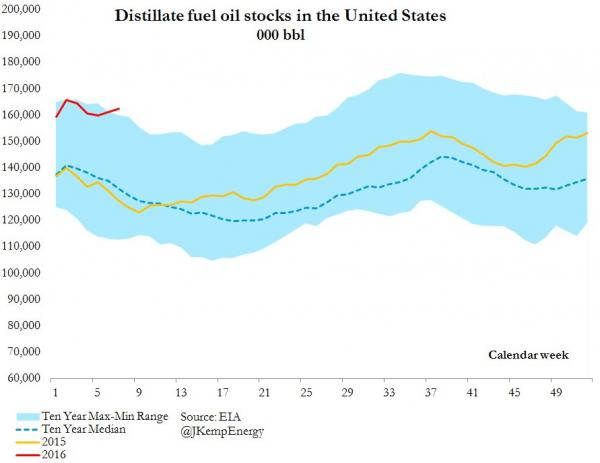 Looking at distillate fuel stocks in the US, we get a rather similar picture. Right now stocks stand around 160 million barrels, which is about twenty percent higher than one year ago, and the highest level over the last ten years as well.
And this is by far not an issue isolated to the US, storage levels are high globally. As an example, we can look at Adnoc, the UAE's national oil company, which has offered free oil to India in order to get access to the country's storage facilities: The deal sees Adnoc storing oil at one of India's facilities (with a storage capacity of 40 million barrels), in return India will receive free oil for the service it provides. This shows that the UAE apparently has maxed out the country's storage options, and desperately seeks to store the oil it produces elsewhere, as there are not enough takers for all the oil that is produced in the world.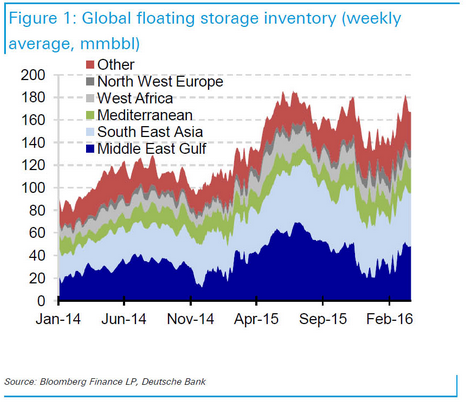 Another place where oil is stored are tankers, which saw a huge built up in storage inventory over the last years as well: Two years ago inventories totaled 80 million barrels, now floating storage inventories stand at twice that amount, or more than 160 million barrels of oil.
All this inventory built, in the US and elsewhere, is a huge negative for oil prices, which are affected in two ways:
Oil price increases become less likely, since a lot of stored oil will be sold once oil prices reach a certain level. A company which bought oil at $30 a couple of weeks ago will likely be happy to sell at $45, for a 50% return in a couple of weeks (or months). Oil price increases are thus very likely limited, as additional supply (from stored oil that gets sold) comes on the market when oil prices increase by a certain amount, which would at one point prevent oil prices from increasing further.
Production is still higher than consumption, oil prices could thus drop to February lows again: Oil storage is already at record highs, there is not endless room for further storage level increases. Once storage capacity is maxed out, oil companies won't be able to sell to oil storage companies (midstream), this will result in a drop in oil prices as some of the demand in the market breaks away. If production levels remain above consumption levels, this critical point comes closer, and at one point, there will be no place left to store oil, which would be potentially devastating for oil spot prices.
We can thus summarize that the movements we have seen in storage inventories over the last years are not beneficial for oil prices at all, and provide another reason for oil prices likely being lower for a longer period of time, as any substantial oil price increase would see huge selling activity from storage inventories, which would mean a lot of additional supply and thus a reverting oil price. Additionally, there is the potential for storage capacities being maxed out, which means additional pressure on oil prices as oil producing countries and companies need to sell oil to anyone, and will do so at even lower prices than we have right now.
Disclosure: I/we have no positions in any stocks mentioned, and no plans to initiate any positions within the next 72 hours.
I wrote this article myself, and it expresses my own opinions. I am not receiving compensation for it (other than from Seeking Alpha). I have no business relationship with any company whose stock is mentioned in this article.