American Capital Mortgage Investment (NASDAQ:MTGE) is an mREIT that needs more coverage. After seeing a fairly substantial discount in the "Quick and Dirty mREIT Discounts", I wanted to take more time to look at MTGE and see how they are doing. Finding an mREIT trading at a solid discount has becoming dramatically harder in the group of mREITs I like to cover.
Previous Coverage
To lay the framework for this piece, I want to reference my past two articles. The most recent piece indicated that a buyout of MTGE by American Capital Agency Corp. (NASDAQ:AGNC) was unlikely. The difference in discounts for AGNC and MTGE may have increased since then. If so, it would cut into the thesis. However, MTGE holds non-agency MBS assets and earlier in the quarter those were performing very poorly. I don't have data on the latest non-agency MBS pricing trends to establish a new value for the portfolio.
In the prior piece, I slammed the continual waste of capital on the MSR (mortgage servicing right) subsidiary. This was a segment that produced nothing but losses since the position was acquired. I'm not just talking about on an annual basis. Each quarter was another loss. The challenge I came to in estimating fair values for MTGE (beyond the non-agency MBS) was assessing what level of fair value could be assigned to a segment that created nothing but losses. Surely no investor would believe that an indefinite string of losses could be discounted to a positive present value, so how should an analyst reconcile the book value of the segment with the inability to turn a profit?
My articles rarely include cursing, but that one did. Management had previously indicated that further investment in MSRs was unattractive due to the risk/return profile. The choice to maintain this segment while admitting that it was a poor place for future investment prompted the following:
"Even when further allocations would result in superior economies of scale, they still think additional assets are unattractive. Due to economies of scale, any further allocations should provide superior returns to the current allocations. If further allocations are unattractive, then current allocations are downright awful. These MSR assets have a fair value in excess of $91 million and rather than jettison them for fair value and close down this terrible segment, they continue turning a quarterly loss of around $4 million to $5 million."
Well Done
In the latest 10-K, management indicated that they completed a review of this segment and were making substantial changes. Certain assets and employees were going to be transferred to another company, "Ditech." Some intangible assets were impaired and there will be some expenses associated with the transaction. The subsidiary will still retain ownership of the MSRs, but they will be serviced by Ditech. An external servicer seems like the logical solution here. One major problem for the subsidiary was a lack of economies of scale and this solution solves that problem. It also makes it fairly easy for investors assess the yield on the assets that remain. So long as the yield is positive, the challenge of valuing a negative stream of cash flows is removed.
Agency Assets
MTGE holds both agency and non-agency MBS. The following table demonstrates their allocation to different agency MBS: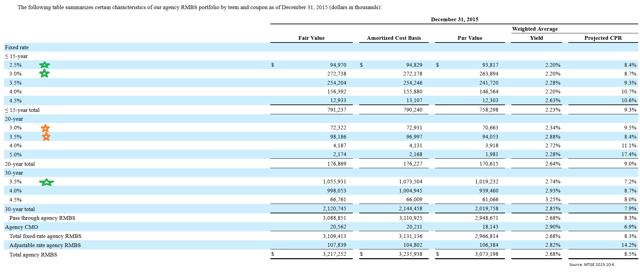 Click to enlarge
I added green stars to indicate positions that should have seen greater than 1% increases in fair value during the quarter. The orange stars indicate positions where I believe it is likely that the fair value gain is in excess of 1%. The availability of information of 20-year agency MBS is dramatically more limited than information on pricing for 15-year and 30-year securities. The difference in star color simply indicates my degree of confidence.
The fair value of the total non-agency MBS portfolio was last reported at about $1.56 billion, so roughly one-half the size of the agency MBS position.
Swaps
The following table demonstrates the swaps in use at the end of 2015:

Click to enlarge
It'll take some time to work the positions into my book value models and my estimates will still be leaving out some very important factors (like non-agency MBS pricing) for now. However, I can take a look at these swaps and say there should be some substantial damage. The notional balance on the portfolio exceeds that of the agency MBS portfolio. The total weighted maturity is 4.7 years. Around the 4- to 5-year mark, the movement on LIBOR rate swaps was around 50 basis points during the first quarter. That would give an extremely rough estimate of a fair value loss on swaps running 2% to 2.5% of the notional balance. This was a fairly harsh quarter on LIBOR swaps.
Conclusion
It is great to see MTGE making a great choice on how to handle their situation with the subsidiary. The change will allow them to maintain an option to invest in MSRs if management determines that the risk/reward ratio is favorable. While maintaining the option, they may be able to end the string of quarterly losses on the position. Since there are expenses to be incurred in the first quarter, the end of the losses on the segment is unlikely to happen this quarter unless the losses are pushed into another cost category. There is finally a light at the end of that tunnel, though.
On the other hand, there appears to be some potential for significant losses due to harsh movements in swap values relative to agency MBS. This yield spreading is a necessary event for mREITs to have an attractive situation for reinvesting cash flows, but it still puts losses on several mREITs for the quarter.
It is worth mentioning that MTGE has repurchased a significant amount of shares, and repurchasing shares at a significant discount to book value results in a nice gain to book value that should help offset some of the losses.
Disclosure: I/we have no positions in any stocks mentioned, but may initiate a long position in MTGE OR THEIR PREFERRED SHARES over the next 72 hours.
I wrote this article myself, and it expresses my own opinions. I am not receiving compensation for it (other than from Seeking Alpha). I have no business relationship with any company whose stock is mentioned in this article.
Additional disclosure: Information in this article represents the opinion of the analyst. All statements are represented as opinions, rather than facts, and should not be construed as advice to buy or sell a security. This article is prepared solely for publication on Seeking Alpha and any reproduction of it on other sites is unauthorized. Ratings of "outperform" and "underperform" reflect the analyst's estimation of a divergence between the market value for a security and the price that would be appropriate given the potential for risks and returns relative to other securities. The analyst does not know your particular objectives for returns or constraints upon investing. All investors are encouraged to do their own research before making any investment decision. Information is regularly obtained from Yahoo Finance, Google Finance, and SEC Database. If Yahoo, Google, or the SEC database contained faulty or old information it could be incorporated into my analysis.