Excerpts from Recent Announcements by Condor Hospitality
On March 16th, 2016:
"Condor Hospitality Trust (NASDAQ:CDOR) Raises $30 Million in Private Placement with StepStone Real Estate: Condor Hospitality Trust, Inc. today announced that it had raised $30.0 million in a private placement transaction with StepStone Real Estate, an affiliate of the StepStone Group. The investment will initially be in a new Series D preferred stock that includes a 6.25% coupon, payable quarterly, and may be converted under certain circumstances into shares of the company's common stock at a conversion price of $1.60 per share... A portion of the proceeds from the $30.0 million Series D raise will be used to redeem for cash all outstanding Series A and B preferred stock, including all unpaid accrued dividends..."
On March 17th, 2016, the following day, an 8-K filing with the SEC revealed:
"On March 16th, 2016, Condor Hospitality trust, Inc. entered into a series of agreement providing for:

- The issuance and sale of Condor's Series D Cumulative Convertible Preferred Stock...

- the cash redemption of all of Condor's outstanding Series A... and Series B Cumulative Preferred Stock, and

- the exchange of all of Condor's outstanding Series C ... Stock into Series D Stock.

Redemption (of Series A and B Shares):

The Stock Purchase agreement requires Condor to redeem all outstanding shares of the Series A Stock and Series B Stock. On March 16th, 2016, Condor issued notices to redeem the Series A Stock and Series B Stock on April 15th, 2016 as follows:

- All 803,270 outstanding shares of the Series A Stock..... will be redeemed at the redemption price of $10 per share and $2.0848940 per share in accrued and unpaid dividends (plus compounded interest) through the redemption date; and

- All 332,500 outstanding shares of the Series B Stock... will be redeemed at the redemption price of $25.00 per share plus $6.354167 per share in accrued and unpaid dividends through the redemption date.

With notice given, and the redemption funds deposited in escrow, all right of the holders ... of the Series A Stock and Series B Stock (ARE) terminated, except the right to receive the redemption price."
With these announcements and filings, the Board of Condor Hospitality delivered a sudden, swift and unexpected denouement to the 28-month campaign to recover face value for the "A" (CDORP) and "B" (CDORO) preferred shares of CDOR. This campaign began for me soon after the suspension of the dividends in December 2013. On January 29th, 2014, I purchased my first Preferred "B" shares of Supertel Hospitality (at that time), which was my first involvement with these securities. Supertel was later re-branded as Condor Hospitality in July 2015, anticipating the rebirth of the company.
I began reporting on these shares in August 2014, which was my first article published in Seeking Alpha. On January 2nd, 2015, I recommended the Condor "A" Preferred shares (CDORP) at $5/share as my 2015 Strong Conviction Best Buy for 2015 in my third article written on this security and the sister security, the "B" shares (CDORO), which had been similarly discounted at $15.45/share (data from Yahoo Finance). This current article will be my 11th and last on these "A" and "B" shares, as they have ceased to exist (other than the right to be paid the redemption price) as of March 16th, with payment to be made on April 15th, 2016. Hardly a negative development, this is excellent news for those long-suffering investors in these securities that have waited to recover the face value as well as the dividends on these shares on which I have been reporting.
While there is no point in a value analysis for the Preferred A and B shares since their value is now very well-established in the filings, included below is one last look at Condor's balance sheet for year-end 2015. In addition, common shareholders will find below an estimated book value, calculated including some assumptions and anticipated future activity, to help the common shareholders re-estimate the underlying value of the common shares.
Current Value of Condor Hospitality for y/e 2015 - The Balance Sheet:
At year-end 2015, Condor reported its balance sheet as: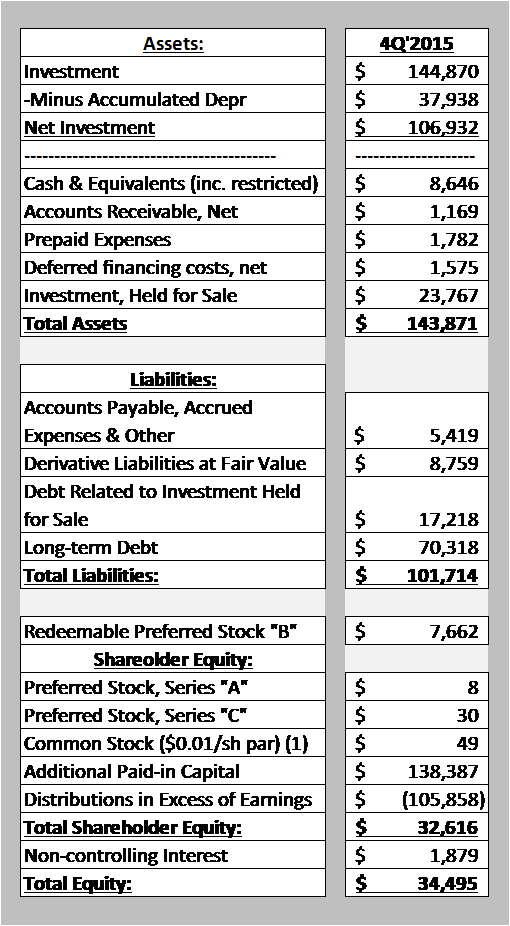 As has been my custom, I have modified the format (but not the data) to highlight the assets on which the preferred shareholders have a senior claim. As of December 31st, 2015, it looked like this: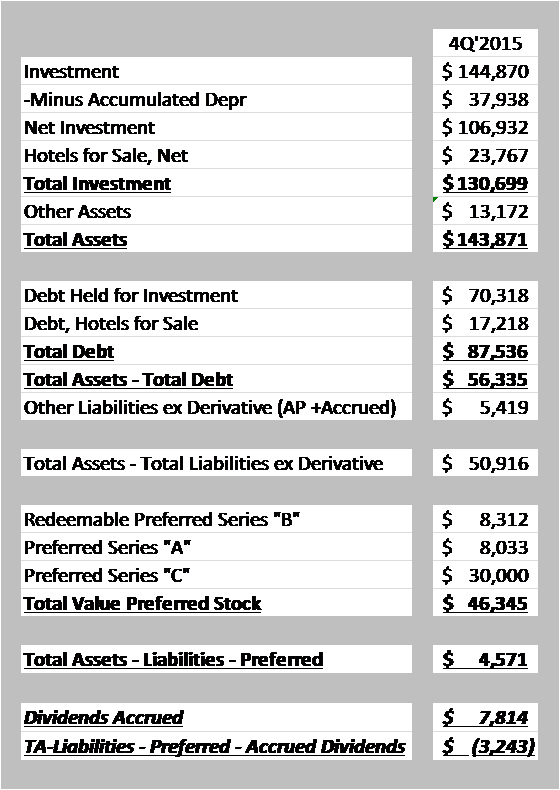 As the reader can see from this reformatted sheet, there were sufficient assets in a liquidation to cover the face value of all three preferred share series as well as cover roughly half of the accrued dividends. The corollary to this is that, given that there would not be enough assets to cover fully the accrued and unpaid dividends, there would be no assets remaining to be distributed to common shareholders.
Along comes StepStone Real Estate to commit $30 million to Condor, and the situation changes (hypothetically done in 2015), based upon its agreement with the board and with RES (Real Estate Strategies LLP), reflecting payments from StepStone and to RES, along with a newly created Preferred Share Series "D."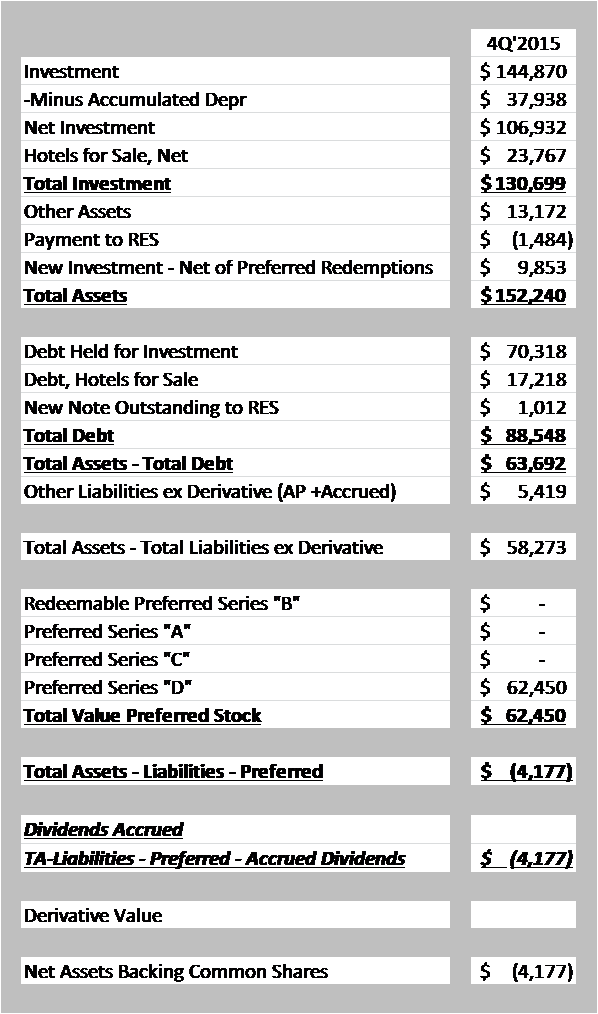 This is the hypothetical spreadsheet after the agreement has been made and the A and B shares redeemed. Both the A shares and the B shares, face value and accrued dividends, are no longer a burden on the balance sheet. There is a new series, the D Series, which does constitute a burden; however, my understanding is that these shares will be converted entirely or nearly entirely over time into common shares, with the effect of this transition shown below. I have tried to reflect the agreements in the filings about how the RES "C" shares are treated, with their accrued dividends in part being converted to D shares and in part to maintain a position below 50% of the outstanding shares paid in a note reflected on the liabilities in this new, hypothetical balance sheet. I have also neglected the derivative liability as the share price had dropped well below the $1.60/share at the time of the StepStone announcement.
The key here is that the A shares and the B shares have been able to be made whole while not "unbalancing" the balance sheet which remains after the A and B shares have been redeemed. In fact, the balance sheet, which had been holding back the company, now constitutes a platform on which the company and its CEO can drive growth.
The Result: Impact on A and B Shares
Throughout the 28-month period during which the dividends had been suspended, both the A and B shares had been in rising and falling periods, but, by and large, had traded sideways to a bit up during that entire period. On March 16th, the day of, but prior to, the first announcement, closing prices for the A and B shares, respectively, were $6.02/share and $16.00/share. As you will see below, this is a bit above my average price for the A shares and is actually below my average price for the B shares, given some recent purchases. On the day after the first announcement (March 17th), the prices were $11.50/share and $29.40/share, representing one-day increases of 91% and 84%, respectively (data obtained from Yahoo Finance for these two securities). These increases represent the bulk of gains for the entire 28-month period, suggesting that one needs to be in the names before the news hits; otherwise, one misses most of the gains. This was certainly true in this case as there were no obvious leaks and no obvious front-running in either of these names.
The Owl's Holdings
As reported in the intervening articles, the author had indeed held both the A and B shares as often reported in the intervening articles. Some of you had asked me about the state of my positions, so here they are:
The A Share Holdings: I held A shares at an average price of $5.46/share acquired (using a dollar-average basis) on July 15th, 2014. That delivers a 121.3% gain in 640 days or a 57.3% annualized gain.
The B Share Holdings: I held B shares at an average price of $16.27 acquired (on a dollar-averaged basis) on Nov. 11, 2014, to deliver a 92.7% gain in 521 days or an annualized gain of 58.3%. While these shares were actually the first shares that I obtained in January 2014, I had purchased other shares much more recently, including last Nov. (2015) and in February 2016, reducing my dollar-averaged holding time to the Nov. 11th date mentioned.
If I Did This Over, What Would I Do Differently?
While this campaign ended in a successful manner, I do a post-mortem on investment campaigns to ensure that I improve results, especially by reducing the risk of major loss. For value investors in general, and those specifically who make highly concentrated buys like myself, this is a critical issue.
If I would do this again, I would focus more on the B shares having the better protective covenants in lieu of the A shares, which typically offered more upside and better value (lower price to expected target of face value plus accrued dividends). At the end of this process, as I reported in the later articles, I was shifting my balance of holdings from the A shares to the B shares to create a better "defensive position" and have more influence on the outcome through the opportunities to vote on change of control. This influence turned out not to be needed; on the other hand, prior to the filings in mid-March, I had been concerned about what steps the board could make to make things tough on the preferred shareholders. While these protections were not needed, I did not and could not know whether they were needed until it would have been too late. While I was unsure about what would happen to the A shares, I did have reasonable confidence that the B shares would have sufficiently robust covenants that would be hard to breach without repercussion back to Condor and the board.
To its credit, the board and RES decided to take the "high road," treating the preferred holders very fairly in taking them out with a cash redemption as well as how the accrued dividends were calculated. Future common shareholders can be encouraged by how minority, outside investors were treated most fairly in the final redemption process. However, this was not pre-ordained and less purposeful scenarios must always be considered in making deep value and distressed asset investments.
What This Means for the Common Shares
These announcements have as profound an impact upon the common shareholder as they have had on the owners of the "A" and "B" shares. Parenthetically, I should suggest that the common shareholders should be offering up thanksgiving for the job that RES, the board and the company management have done to turn this company around. I will include the past leadership (Mr. Kelly Walters) as well as the current CEO, Mr. J William Blackham.
So, what does this mean for the common shareholder? I have taken the 2015 balance sheet, adjusted it for the impact of the recent transaction, assume that the D shares will be converted to common shares and premised that the company will continue to sell the legacy, non-core hotels for the same premium to book value as the recent sales (i.e., 40% premium to book value) to arrive at the following hypothetical book value for the common shares (assuming all premises correct):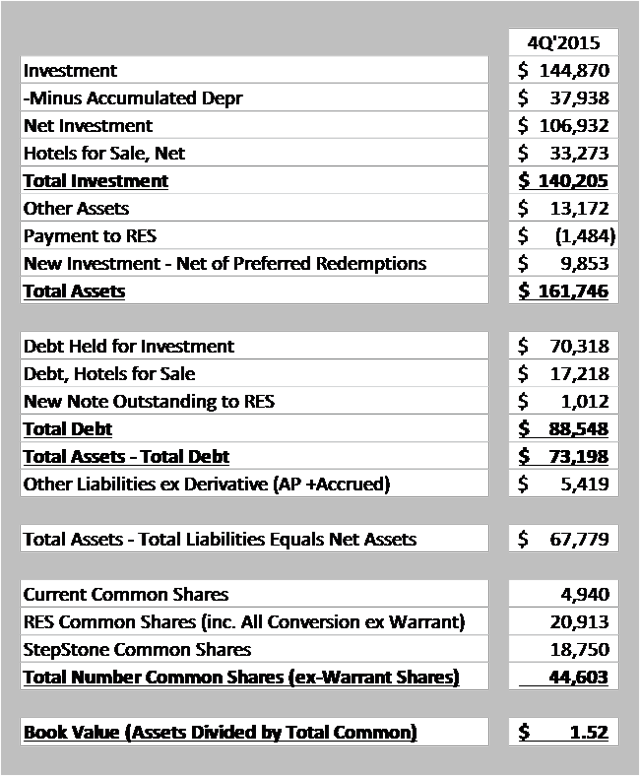 Click to enlarge
One will see the absence of the Preferred A and B shares along with other artifacts of the recent transaction ($9.4MM in new assets and both a $1.5MM payment to RES and a $1MM note given to RES to compensate it for not being able to convert all of what is owned by it to D shares).
Again, assuming that all my premises are correct, then the common shareholder has, when the smoke clears, a $1.50-ish book value in underlying assets. This is a substantially improved position relative to the large, negative book value for these same shares when there was the enormous overhang of preferred shares prior to the recent transaction. In addition, the other potential conversion of the warrants would take place at prices above the $1.50/share, so even with the dilution in share count, the increase in assets would be faster than the increase in share count, driving up the book value (rather than down as you might expect with a dilution).
Prices above that $1.50/share level represent a call option with no expiration on the ability of J. William Blackham and his team to create additional value. While this is not my style of investing, this seems like a pretty good bet for those for whom this is their investment approach. They are now starting with upgraded assets and with a balance sheet that can now be viewed as a platform for growth rather than as an anchor weighing on future progress.
Appreciation to the Community Following Condor Hospitality and This Commentary
I would like to thank the small coterie of investors interested in the progress of Supertel, then Condor, to recover from the aftermath of the financial crisis to a point where the Preferred "A" and "B" shareholders recovered full face value plus accrued dividends. In the beginning, several of you were generous with your understanding and knowledge and shared that with me, which I deeply appreciate. Throughout the campaign, several others of you made purposeful and constructive provocations about whether those holding these shares were making the right decision or whether, as one commenter observed, he was feeling like I was Ahab chasing the whale (parenthetically, at that time, I wondered if he was correct, to be honest). I appreciate all of the commentary, supportive or critical, and appreciated the fellowship throughout the campaign.
Disclosure: I/we have no positions in any stocks mentioned, and no plans to initiate any positions within the next 72 hours.
I wrote this article myself, and it expresses my own opinions. I am not receiving compensation for it (other than from Seeking Alpha). I have no business relationship with any company whose stock is mentioned in this article.
Additional disclosure: I am long both CDORO and CDORP as I report in the article. However, the disclosure system does not pick up these ticker symbols as they are not broadly traded (and will not exist in another month). However, I am long both of these securities, as I detail in the article.
Editor's Note: This article covers one or more stocks trading at less than $1 per share and/or with less than a $100 million market cap. Please be aware of the risks associated with these stocks.