B&G Foods (NYSE:BGS) completed its acquisition of the Green Giant and Le Sueur brands from General Mills (NYSE:GIS) in the fourth quarter of 2015.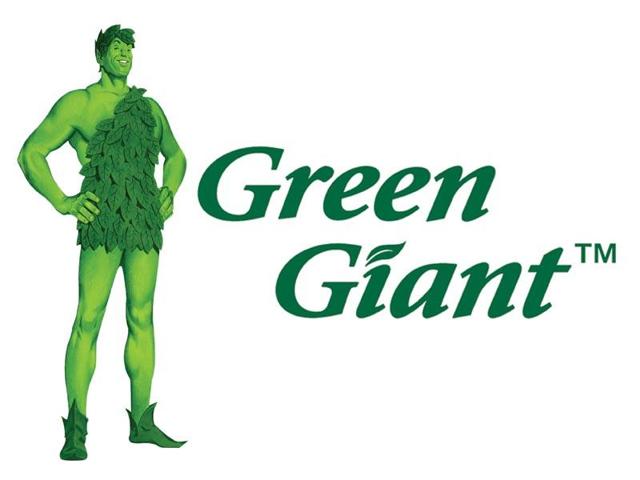 Click to enlargeI have several memories of the television commercials featuring the Jolly Green Giant and his booming Oh-Ho-Ho. I also remember the silly off-color jokes we whispered to each other as little kids, or the Johnny Carson sketch on late night television featuring the line "Hey Green Giant, show us your niblets!" It's all part of what makes this an iconic brand. It's also just one of the reasons that make this acquisition by B&G unique.
The acquisition was notable for many reasons and marked a significant departure from the company's strategy. Many of these issues were discussed in an article written shortly after the acquisition was announced and will be summarized below, but I wanted to first focus on an aspect of a recent press release that I found troubling.
The press release is titled "B&G Foods Updates EPS Guidance to Reflect Common Stock Offering" and notes:
As a result of an additional 4.6 million shares of common stock outstanding following the offering, the Company revised its adjusted diluted earnings per share guidance from a range of $1.98 to $2.09 to a range of $1.90 to $2.00. There is no change to the Company's net sales guidance of $1.38 billion to $1.42 billion and adjusted EBITDA guidance of $294.0 million to $304.0 million for fiscal 2016.
It sounds logical, doesn't it? The company increases the share count and the earnings per share ("EPS") drops. Maybe I'm missing something here, but I see a problem with this press release. When the company issued EPS guidance in February, it knew it was going to have a share offering at some point during 2016. In fact, before it even completed the acquisition in Q4 of last year, CEO Bob Cantwell discussed the timing of an equity offering. From the Q3 earnings call on October 27, 2015:
...it's pretty much a technical issue ... but Green Giant is a large enough acquisition for us. We're required by the SEC to file three years of their historical audited statements. You have up to 75 days from closing to get it done. They're being worked on by the accounting firms now, but you just look at kind of closing in, in the fourth quarter and getting those done, you're already in the first quarter, and then we got to wait really to announce our results.

So the earliest we could go to market, and hopefully market conditions would be there, would be end of February, early-March, after we release our results. And we can't do it until we get those audited statements filed with the SEC, and that's just not going to happen that quickly. It'll happen within 75 days from closing at worst, hopefully a little sooner. But it still pushes us out to - we need to announce our yearend results first.
The story hadn't changed much in late February when the issue was again addressed by Cantwell on the year end conference call.
And then consistent with past practice following acquisitions, we consider and we're looking, depending on market conditions, issuing common stock and using some of the proceeds to reduce leverage. ...

Even though we're a tremendous cash generator, we're sharing 60%-ish of that cash back in the form of dividends to shareholders. So we have historically looked to the market to raise equity, to reduce leverage and reload the balance sheet to be able to do the next acquisition tomorrow. So it's part of a board conversation and part of where market conditions are, and we seem to have always picked the right spots before and hopefully we'll make the right decision again and that's what, hopefully, investors expect us to do.
If the company clearly knew that it would be raising capital through an equity offering, why did it issue 2016 EPS guidance based on a share-count that it also knew would not be maintained? In fairness, when Cantwell was asked about the number of shares used for its EPS guidance, he and CFO Tom Crimmins did state "slightly above 58 million". That was right in line with the 58,084,000 diluted shares shown in the year end press release for Q4.
Clearly, the initial EPS guidance was not in line with the company's anticipated EPS, and without the probing question by the analyst, investors would have been misled. Are there other deceptive aspects to the guidance? It's difficult to determine. The company did maintain its revenue and adjusted EBITDA guidance, but it is not clear how much, if any, of the capital raise will be used to pay off the company's non-revolver debt and how much, if any, would be used for another opportunistic acquisition.
On the plus side, the company did maintain its full year revenue and adjusted EBITDA guidance. Since these guidance figures were left unchanged, it would appear to indicate that the Green Giant acquisition is meeting the company's expectations and the Q1 figures should contain no surprises for investors. I base this on the timing of the press release - March 15th - just two weeks before the close of the first quarter.
As to the rest of the year, a lot will depend on whether or not the Green Giant acquisition continues to perform up to B&G's expectations. These expectations included an additional $95-$100 million of Adjusted EBITDA and an additional $550 million of revenue. It is these numbers that motivated B&G to spend $765 million - more than double any prior acquisition - and enter the frozen foods business with its special packaging and shipping requirements. Besides entering the frozen foods business, it acquired a manufacturing facility in Mexico with 1000 employees and dramatically increased its exposure to foreign currency fluctuations since the acquired brands not only included the Mexican facility but the company now also has a much more significant presence in Canada where Green Giant is the leading brand.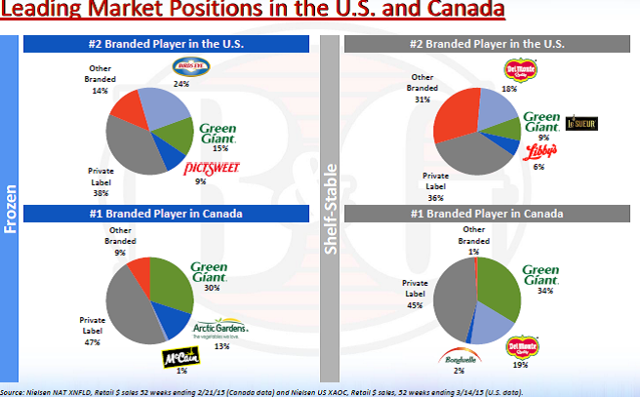 Click to enlarge
But perhaps the biggest risk is that brand has significantly lower margins than the company's current products. It's harder to justify premium prices while competing against private label products with minimal differentiation.
Disclosures
I first recommended B&G Foods nearly five years ago for its attractive yield. At the time the stock price was $17.54 and the $0.84 dividend was yielding nearly 5%. Today the share price is nearly double that amount, and the $1.68 dividend is still yielding almost 5%. I certainly don't expect that type of appreciation over the next five years, and periodically have increased and decreased my position based on the share price and my perception of fair value. I am currently slightly overweight B&G (I tend to keep individual stocks to no more than 5% of my portfolio) and have August covered calls written against ~90% of the position with strike prices ranging from $35 to $45.
The $35 calls are expected to be exercised (bringing my allocation down to the desired level) and the $40 and $45 were sold in order to generate added income. I am willing "lose" the shares if the prices go above $40 and/or $45 as I believe the yield would have fallen to an unattractive level. And, while I am a proponent of the use of covered calls, the premiums aren't currently enticing enough for me to recommend that someone use them at the current share price and option premium levels.
Summary
I remain neutral on the stock, mostly because I find the current yield attractive, especially with the covered call strategies recommended and put in place over the past year. While I see only small downside risk, I can find no compelling reasons to expect the share prices to move significantly higher over the next couple of quarters.
As we find out more about the performance of the Green Giant acquisition over the next several quarters, these views could change. Perhaps the Jolly Green Giant could even have the last laugh if the share price races through my covered call strike prices.
Disclosure: I am/we are long BGS.
I wrote this article myself, and it expresses my own opinions. I am not receiving compensation for it (other than from Seeking Alpha). I have no business relationship with any company whose stock is mentioned in this article.
Additional disclosure: I currently have $35, $40 and $45 covered calls written against most of my BGS position. I also participate in BGS dividend re-investment. I have no plans to trade any of the stocks mentioned in this article over the next 72 hours.