In January we picked out Express (NYSE:EXPR) as a stock we expected to outperform the market in 2016. Well, it certainly has done that. Its shares are up by a huge 24% so far this year. But there are fears in the market that it could have climbed too high too quickly. There have been positive developments recently, but is it enough to sustain the current share price or take it even higher?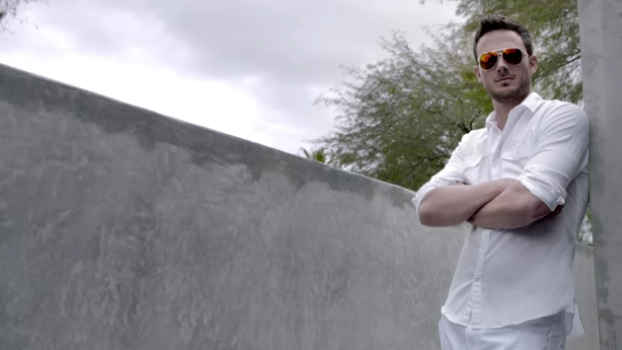 Express reported its fourth quarter results in March and things are definitely looking up. The company beat on earnings by 2 cents per share, but missed on revenue by $3.79 million. The immediate reaction was very positive, the market was clearly pleased, and the shares climbed 7% in pre-market trading. Since then they have kept on climbing and are now up at the lofty height of $21.39. When we spoke about the company at the end of January the share price was a lowly $16.96, so it is clear to see how far they have come in that time. The fear the market has now is that they have actually become overvalued.
For those that are not entirely familiar with the company, it is often referred to as the more expensive version of the hugely popular retailer Forever21. The quality of the clothing is almost certainly of a higher standard, with many consumers saying Forever21 lasts a few washes, and Express lasts a few years. At Forever21, a sweater might cost in the region of $20-$25 full price, whereas at Express a sweater can range from $40-$60.
We are big fans of fast-fashion and believe low prices and an ever-changing product assortment are key to success in fashion retail these days. We will regularly drop into a Zara or H&M store to see what's new once or twice a week, because we know there will be something new. But there is still a place for a company like Express if it can adapt to the changes in consumer habits. If the company cannot match the prices, we believe it needs to work on its speed-to-market in order capitalise on trends and keep consumers coming back. With disposable income rising we do feel the company could see a huge boost to sales if it can get its assortment right.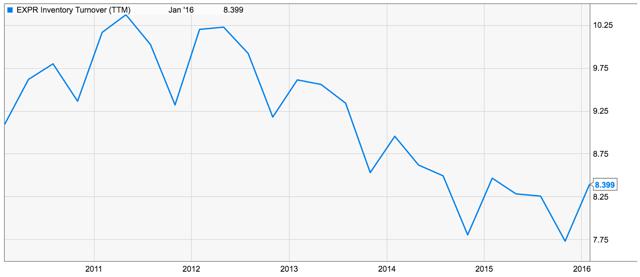 Click to enlarge
(Source: Ycharts)
Inventory turnover has been on a decline for a good number of years, but things do look to be improving now. When investing in retail we like to see positive comps and could inventory management. Express appear to be achieving this. Comps were up 6% for the year, and although this is expected to drop to low single digits this year, it is still in positive territory which we look kindly on.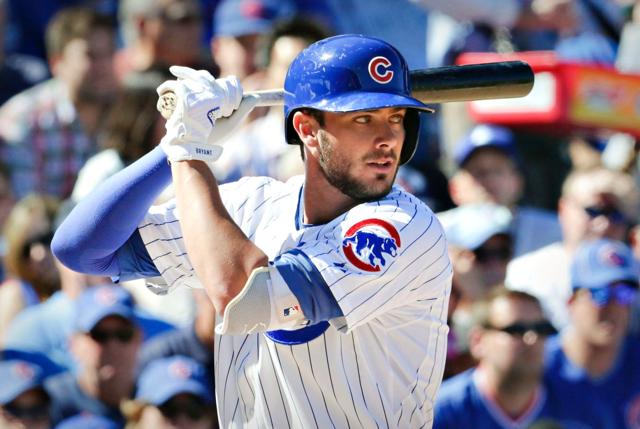 Click to enlarge
(SOURCE: OTC:ESPN)
The recent signing of rising baseball star Kris Bryant as a brand ambassador could prove to be a great move. He is undoubtedly going to be one of the sports biggest stars in the future and having him promote the brand is fantastic. But we don't think it will be enough to give the bottom line much of noticeable lift any time soon. Perhaps in a few years' time, but for now we don't expect to see much difference.
Management's guidance for the full year is for adjusted earnings per share of $1.56 to $1.71, and we are forecasting earnings per share to come in at $1.67. We think they will achieve this thanks to increases in consumer spending, an improved product assortment, and operating efficiencies. Management has advised that the Spring assortment has been well-received by consumers and that the positive momentum at the end to the year has carried through to the start of the latest fiscal year. This is great to hear, in our opinion.
As we believe a price-to-earnings ratio of 15 is fair for Express, we have a price target of $25.05, providing further upside of 17%. We believe 15 times is about right for the shares to trade at, putting it in line with American Eagle Outfitters (NYSE:AEO) which also trades at the same level.
With its strong growth ahead and its incredibly robust balance sheet with zero debt, there is a lot to like with Express. The share price has increased dramatically so far this year that is true. But if the strong performance of the end of the last fiscal year can be sustained into the new fiscal year, then we see no reason why the company cannot deliver on its guidance. Delivering on this guidance will almost certainly take the share price higher.
Disclosure: I am/we are long EXPR.
I wrote this article myself, and it expresses my own opinions. I am not receiving compensation for it (other than from Seeking Alpha). I have no business relationship with any company whose stock is mentioned in this article.