At the start of this month, the Gaming, Inspection, and Coordination Bureau of Macau released monthly revenue data for the gambling market in the region. In that report, the organization revealed that the positive data released last month was, indeed, a temporary reprieve from the major downturn in the gaming industry and that tough times are nowhere near being over. In what follows, I will look at the organization's most recent data and talk about its implications for companies like Las Vegas Sands (NYSE:LVS), Wynn Resorts (NASDAQ:WYNN), MGM Resorts (NYSE:MGM), and Melco Crown Entertainment (NASDAQ:MPEL); four major operators with a stake in the region.
Tough times are back
For the month of March, the Bureau estimates that gaming revenue in Macau came in at 17.98 billion patacas. While this is a nice chunk of change, coming out to $2.39 billion at today's exchange rates and still implying that the industry in Macau is larger than what exists in the Las Vegas Strip, it's well below the 21.49 billion patacas (or $2.85 billion) reported the same month last year. This represents a decline of 16.3% year over year.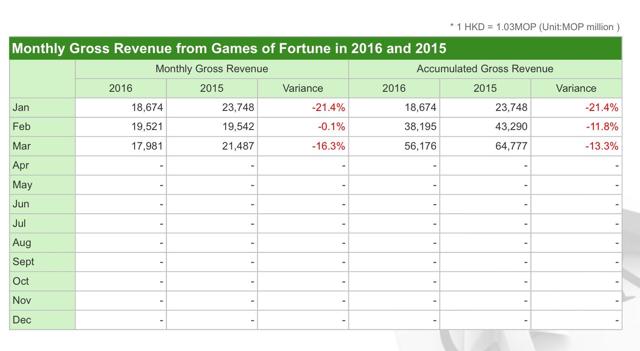 Click to enlarge
Investors new to looking at this data may be perplexed by the fact that we saw such a massive decline in March after seeing gaming revenue fall by just 0.1% in February compared to the same month a year earlier, but there's a logical reason behind this. During early February, the industry likely benefited from a shift in the Lunar New Year compared to a year earlier. In fact, if you look at the monthly data spread out throughout 2015, you'll see that February's performance was, indeed, an anomaly.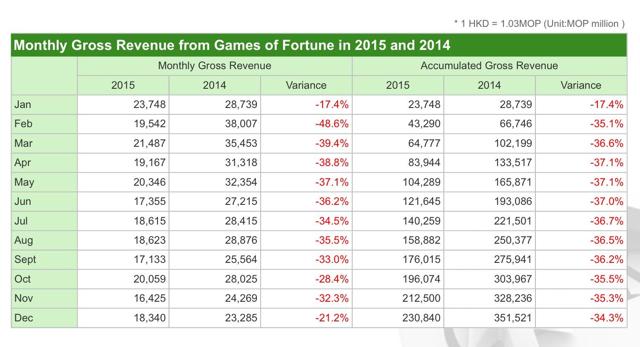 Click to enlarge
Overall, the picture looks bad and is likely to stay that way this year. Analysts expect for gaming revenue in the region for this year to drop by about 10%, implying year-end revenue of 207.76 billion patacas, down from 230.84 billion patacas reported for 2015 and down a whopping 40.9% from 2014's 351.52 billion patacas.
Casino operators could be in for some pain
As gaming revenue in Macau falls, investors should expect pain to visit the operators in this space. Despite this realistic assumption, though, Mr. Market hasn't really cared all that much about the data. Since news broke about gaming revenue in the region, share prices are mixed, with Wynn Resorts and MGM up 0.7% and 0.9%, respectively, while shares of Las Vegas Sands and Melco Crown were up 2.1% and 2.9%, respectively. Year-to-date, shares of Wynn Resorts are up 40.4% and shares of Las Vegas Sands are up 18.1% while Melco Crown and MGM are down 1.8% and 4.8%, respectively.
Irrespective of market price, however, the risk moving forward could be material if the picture does continue to stay bad or if it, God forbid, worsens. The reason behind this comes down to one thing; exposure to Macau. Although Las Vegas Sands and Wynn Resorts are U.S. companies, they receive a majority of their revenue from Macau despite the fact that sales in the area dropped last year. During 2015, for instance, Wynn Resorts generated 60.4% of its revenue from Macau while Las Vegas Sands generated 57.9%.
MGM is also a U.S.-based casino operator but it has, for some reason, decided to not grow its presence as quickly in Asia as its rivals have. Last year, sales from Macau represented just 24.1% of the company's top line. The big exception in this list is Melco Crown, which is a foreign operator incorporated in the Cayman Islands but which is almost completely dedicated to Macau from an operational standpoint. Last year, for instance, the company generated 92.9% of its revenue from the area, with the remaining amount coming from its City of Dreams Manila resort located in The Philippines.
Takeaway
At this moment, Mr. Market seems to not care so much about what is happening to Macau, even rewarding shareholders of both Wynn Resorts and Las Vegas Sands. In the event that the industry posts a recovery in Macau this year or can level off more or less, the potential upside for all businesses that operate in the region could be significant but, absent this taking place, I feel as though investors should be cautious moving forward as any additional downside in gaming revenue could impair the value of some of these businesses.
Disclosure: I/we have no positions in any stocks mentioned, and no plans to initiate any positions within the next 72 hours.
I wrote this article myself, and it expresses my own opinions. I am not receiving compensation for it (other than from Seeking Alpha). I have no business relationship with any company whose stock is mentioned in this article.