The recent remarks by Saudi Arabia's Deputy Crown Prince Mohammed bin Salman has sent oil prices tumbling back on Friday. He said with respect to the oil freeze talks in the forthcoming summit of Russia and OPEC members on April 17 in Doha Qatar that if Iran doesn't join the agreement to halt any rise in production, then there will be no output freeze. And base the limited success that Saudi Arabia has had so far with regaining its market share it seems less likely that any of the participants will hold off from raising output.
Ramping up production
Saudi Arabia and Russia - the two major global oil producers - continue to produce at record levels, and Iran is still on course to increase its yield. And as I have pointed out in a previous article, the rally of oil prices was, for the most part, related to the weaker U.S. dollar and a slow decline in U.S. production. I will also add that China may have also purchased oil to stock up and take advantage of the low prices recorded earlier this year. And now the futures markets is slowly moving away from Contango and into Backwardation territory, which suggests the market expects the rally of oil prices may have picked and they could start coming down in the coming months. But let's turn to the main reasons the Saudis started this journey to bring down oil prices.
Does the Saudi's plan works?
The main idea was to drive down U.S. production (mostly shale oil) and regain its market share. On both fronts, after more than a year since oil prices collapsed, we can say that there is limited success. Let's examine the following chart: As you can see below, the share of Saudi's market share from U.S. total imports has risen from around 9% back at the beginning of 2015 to around 11-13% as of the end of last year. But the chart also shows that the share of imports hasn't risen to the levels recorded back in early 2014.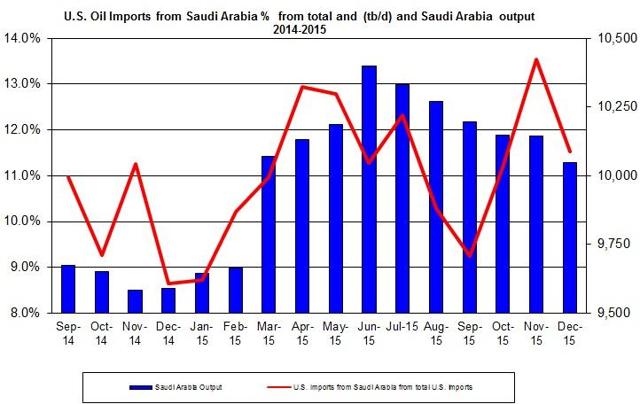 Click to enlarge
Source: EIA and OPEC
And this comes even though Saudi Arabia keeps producing at record levels of 10 million barrels per day. Also, the Saudis still face strong competition from Russia, which hasn't slowed down its output: According to one report, Russia's March output rose to 10.91 million barrels per day -a 30 year high. This doesn't account for Iran, which plans to ramp up its output in the following months.
But at least when it comes to U.S. oil shale there has been a drop in production: The current output is down to 9.05 million barrels per day. And the EIA expects U.S. oil output to fall to an annual rate of 8.7 million barrels per day. Nevertheless, based on recent analysis by the Federal Reserve oil producers have become more efficient and keep extracting oil with fewer wells. This allows oil producers to keep extracting oil even at the current low oil prices. And then there is the U.S. oil storage, which continues to pick up, as indicated in next chart.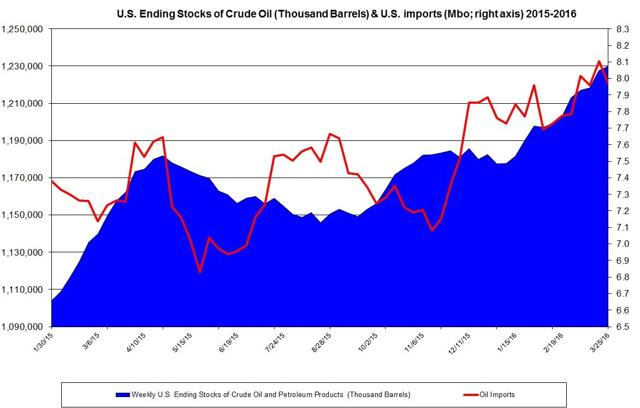 Click to enlarge
Source: EIA
As you can see, U.S. storage keeps picking up mostly due to growing imports. The rise in imports isn't only from Saudi Arabia but also from other countries including Canada - its market share grew from 37% back in January 2014 to 41.6% in December 2015. It's worth pointing out that since the market puts a lot of weight on the progress of U.S. storage: As long as it keeps rising, oil prices aren't likely to climb much higher than their current levels (if at all).
Final point
The Saudis weren't able to regain their market share, so far, in the U.S. and they still face strong competition in Asia from Russia and Iran. The slow decline in U.S. oil production isn't fast enough to bring down U.S. storage, and is offset by strong growth in imports. So while the Saudis benefit from regaining some market share in the U.S., other oil exporting countries such as Canada. And in other oil importing countries in Europe and Asia Saudi Arabia will keep encountering strong competition from Russia and Iran.
Disclosure: I/we have no positions in any stocks mentioned, and no plans to initiate any positions within the next 72 hours.
I wrote this article myself, and it expresses my own opinions. I am not receiving compensation for it (other than from Seeking Alpha). I have no business relationship with any company whose stock is mentioned in this article.