Ralph Lauren (NYSE:RL) had a terrible third quarter as it reported a 4% decline in sales, way below the company's guidance of 0-2% growth. For the nine months ended, RL's net revenue failed to grow in all of its three geographic locations: Americas, Europe and Asia. As RL derives at least 65% of its revenues from North America, the steep 4% net revenue slump in that region in Q3 2016 hurt the company's top-line considerably.
I was expecting to see better results because now it has been almost a year since RL announced its global reorganization plan, aimed at re-elevating the company's brand and improving cost structure, but unfortunately the results have been disappointing. Although RL demonstrated good expense control this quarter, managing to deliver better-than expected operating margin, the company's profitability is still far from impressive. Return on equity has been falling since 2013 and if we look closely, the combination of factors leading to this decline is particularly disconcerting.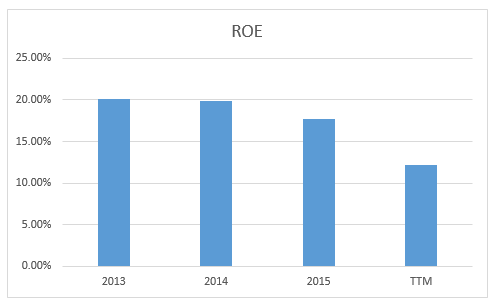 (Source: Morningstar)
| | | | | |
| --- | --- | --- | --- | --- |
| | 2013 | 2014 | 2015 | TTM |
| Net Margin (NYSE:NM) | 10.8% | 10.42% | 9.21% | 6.46% |
| Asset Turnover (NYSE:AT) | 1.28 | 1.29 | 1.25 | 1.17 |
| Equity Multiplier (NYSE:EM) | 1.46 | 1.48 | 1.54 | 1.61 |
| ROE = NM*AT*EM | 20.17% | 19.85% | 17.72% | 12.16% |
(Source: Morningstar)
The table above shows the breakdown of RL's ROE from 2013 onwards. Net margin has consistently declined while asset turnover, except for the marginal increase in 2014, has also been falling. These two factors have directly contributed to the drop in ROE each year and the regularity of this trend is ominous to say the least. In addition, RL's financial leverage has also crept up, so this is the worst possible combination that a company can hope for. RL's reorganizational scheme must, above all, reverse these trends.
Unfavorable foreign currency effects, low foreign tourist traffic and unfavorable weather have all contributed to the reduction in net margin over the years. Given these conditions, RL has been compelled to dig deep in an increasingly competitive retail environment. The company, rather unsurprisingly, became increasingly dependent on promotional selling and discounts and now the management is desperately trying to reduce this reliance by intentionally maintaining low inventory level. They are also planning to reduce the contribution of apparel to the company's total sales because apparel isn't a high margin category. If RL can expand the contribution of premium handbags and leather goods to overall sales, then we could see an improvement in margins. RL's growth in Asia and e-commerce, furthermore, can be a catalyst too but currently there isn't enough evidence to be overly optimistic.
RL's stock is trading at 17.6X TTM earnings, roughly 14% below its 5-year average. Compared to the apparel manufacturing industry average, RL seems to be trading at a discount but nevertheless it is slightly more expensive than PVH (NYSE:PVH) and Michael Kors (NYSE:KORS) as shown below.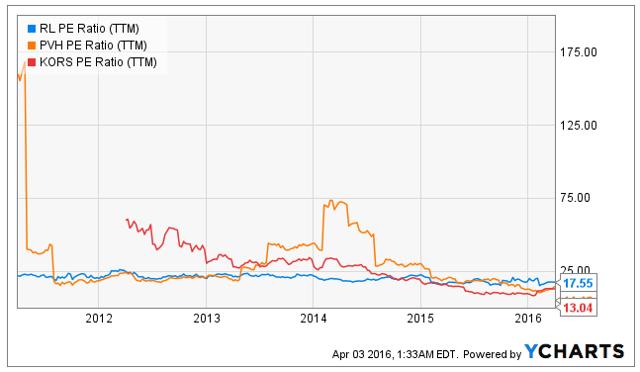 To calculate the intrinsic value of RL's shares, I use a valuation technique outlined by Stephen Penman in his book 'Accounting for Value'. Fair value of a company's stock is the aggregate of the known (current) book value and speculative value. The speculative value per share is based on the future earnings on book value that can be made. In particular, we have the following mathematical formula:

where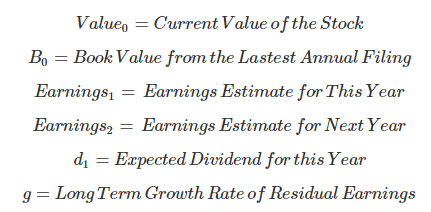 This model is sensitive to the required rate of return which I have set to 6.5% as per the CAPM:
Required Rate of Return = Risk Free Rate + (Beta X Market Risk Premium)
So 6.5% = 1.91 + 8.5 X 0.54
Instead of using analysts' consensus earnings estimate, I have used the slightly more conservative EPS estimate of $6.29 for this year, which happens to fall right in the middle of analysts' low and average estimate. For next year, I project RL's EPS to be in line with analysts' mean estimate.
With no residual earnings growth, we have:

On the other hand, with a 0.51% long-term growth rate implied by the current market price, we have:

A value of $113.48 represents a nearly 17% upside from the closing price on 1st April but this is not my target price for RL's stock. I believe the fair value is close to $103, average of the two numbers calculated above. This suggests that RL's shares possess little upside potential.
Conclusion
RL, as it stands, is in a rut and the company has to do a lot of work to improve its woeful financial performance and effectively compete against the likes of PVH. Benefits of the reorganization scheme ought to go beyond the promised $110 million reduction in annual operating costs next year if the company actually wishes to realign the performance of its business with the power of its brand. Regardless of the valuation, I am staying away from RL until the company's switch to an integrated international brand-based operating structure starts yielding solid results.
Disclosure: I/we have no positions in any stocks mentioned, and no plans to initiate any positions within the next 72 hours.
I wrote this article myself, and it expresses my own opinions. I am not receiving compensation for it (other than from Seeking Alpha). I have no business relationship with any company whose stock is mentioned in this article.