General Electric (NYSE:GE) was recently downgraded from Outperform to Market Perform at Bernstein, but I believe that it would be a wise decision for long-term shareholders to treat this news as short-term noise and maintain their long positions in this storied conglomerate. In my opinion, GE has several catalysts in place that will help shares outperform the market through 2018; as such, any significant dip in the stock price caused by a broader market selloff, or analyst downgrade, should be treated as a buying opportunity.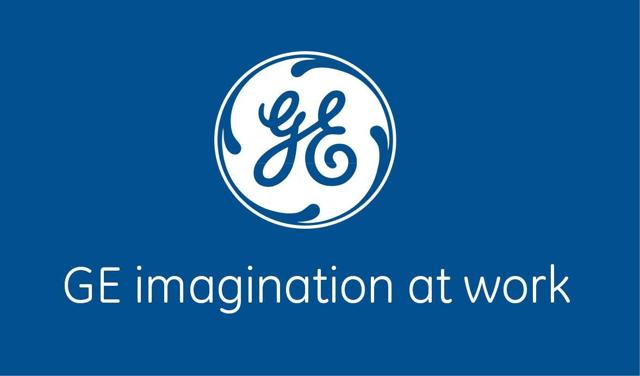 Click to enlarge
The Catalyst, The Plan
To start, GE is in the midst of a multi-year plan that will transition the company from heavily relying on earnings from its financing business (i.e. GE Capital) to a company that will have at least 90% of consolidated earnings come from the industrial operating segments by 2018. The plan is fittingly referred to as: "A simpler, more valuable GE."
Since this plan was first announced in April 2015, GE shares have outperformed both the broader market and the company's peers - Honeywell (NYSE:HON), United Technologies (NYSE:UTX), and 3M (NYSE:MMM) - by a wide margin.

Click to enlarge
(Source: Nasdaq.com - edited by author)
So why downgrade a company that still has its long-term plan intact and that has outperformed the market over the last year? It's simple - too much of a focus on the short term.
Investor Sentiment, The Focus Should Be 2017/2018 Instead of 2016
The current sentiment for shares of GE, per data obtained from Fidelity.com on April 3, 2016, is bearish.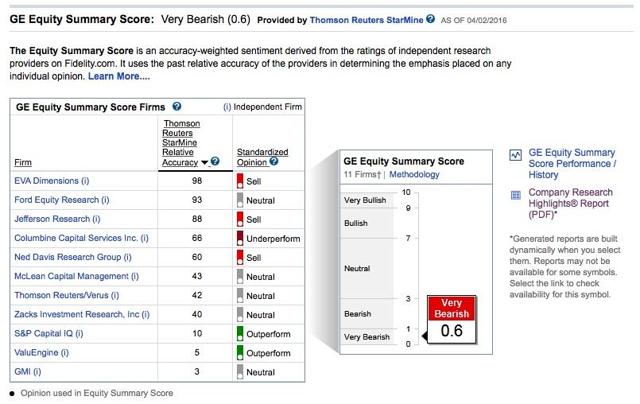 Click to enlarge
(Source: Fidelity)
Therefore, the Bernstein downgrade should come as no surprise. However, on the other end of the spectrum, analysts from other outfits are starting to realize the long-term prospects of GE's industrial businesses, especially the integration of the Alstom (OTCPK:ALSMY) assets.
For example, last week a team from Citigroup released bullish comments about the conglomerate saying that "we are more confident that GE's Power business (including the newly acquired Alstom) will be a meaningful driver of our estimated mid-teens EPS growth through 2018." It is encouraging that (some) analysts are starting to realize the long-term benefits of GE returning to its industrial roots, and more specifically, the prospects of the Alstom acquisition to the company's Power business.
The Alstom acquisition is not expected to significantly impact earnings in the near term, but the story dramatically changes the further that you look out.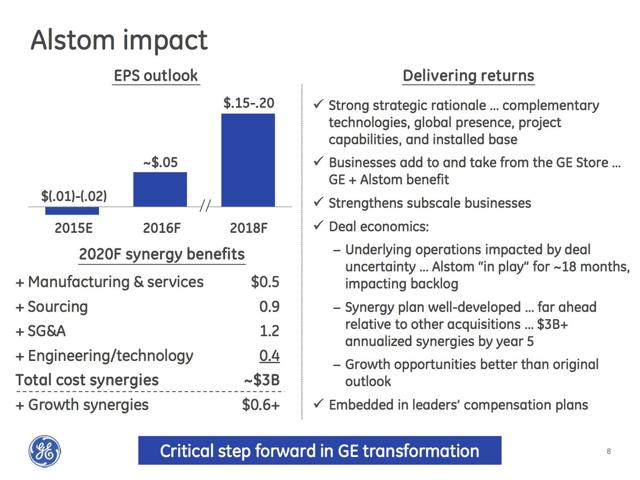 Click to enlarge
(Source: 2016 Outlook Meeting)
The company expects for the Alstom assets to contribute earnings in the range of $0.15-0.20/share by 2018, which is a large portion of the anticipated $2.00+/share of earnings that the company is currently projecting for fiscal 2018.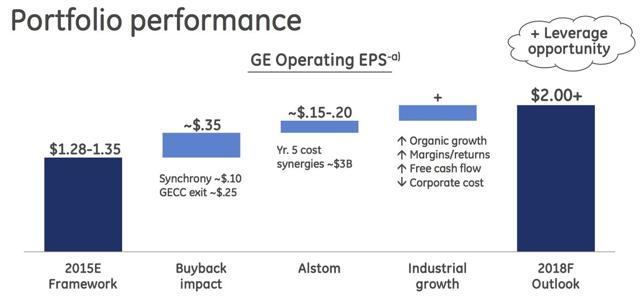 Click to enlarge
(Source: 2016 Outlook Meeting)
There is a lot to like about the late-2015 Alstom acquisition, and the fact that the meaningful benefits are a few years away does not change my view of this acquisition being a game changer for GE. A positive change in market sentiment, which will come once more analysts begin to realize the long-term benefits of a more industrial-focused GE, is another catalyst that will help propel the stock price higher.
Valuation
Based on earnings estimates per Yahoo! Finance, GE is trading at ~20x 2016E earnings. As such, GE shares are trading at a premium when compared to peers (HON, UTX, and MMM). In my opinion, the catalysts that are in place - buybacks from the GE Capital asset sales (see this article for further detail on the topic), SIFI de-designation (discussed below), Alstom asset integration, Industrial Internet of Things, and more earnings coming from the industrial businesses - will help GE shares maintain this premium valuation in the quarters/years ahead.
Bottom Line
In a recent article, I highlighted the significant progress that has been made by management to transform GE into a more shareholder-friendly company. As described in the article, GE released a report that not only allows for investors to better understand operations but that also helps investors better understand the metrics used by management to measure achievement of the short-term and long-term financial targets. Furthermore, the newly created report discloses the company's capital allocation plans, which shows that GE is expected to return ~$26b to investors in 2016 (~$8b in dividends and ~$18b in buybacks).
GE shares are indeed fairly valued from an earnings perspective, but the catalysts described above will contribute to GE shares outperforming the market over the next two-to-three years. Investors should treat any significant dips in GE's share price as buying opportunities (especially the dips caused by analyst downgrades), because management's plan is still intact and the direct result will be a more valuable GE.
Not mentioned in this article is the potential catalyst of GE receiving approval to shed the systemically important financial institution, or SIFI, designation. If this occurs, management will have the opportunity to pull additional levers to create shareholder value in late 2016/early 2017.
If you found this article to be informative and would like to hear more about this company or any other company that I analyze, please consider hitting the "Follow" button above.
Disclaimer: This article is not a recommendation to buy or sell any stock mentioned. These are only my personal opinions. Every investor must do his/her own due diligence before making any investment decision.
Disclosure: I am/we are long GE.
I wrote this article myself, and it expresses my own opinions. I am not receiving compensation for it (other than from Seeking Alpha). I have no business relationship with any company whose stock is mentioned in this article.