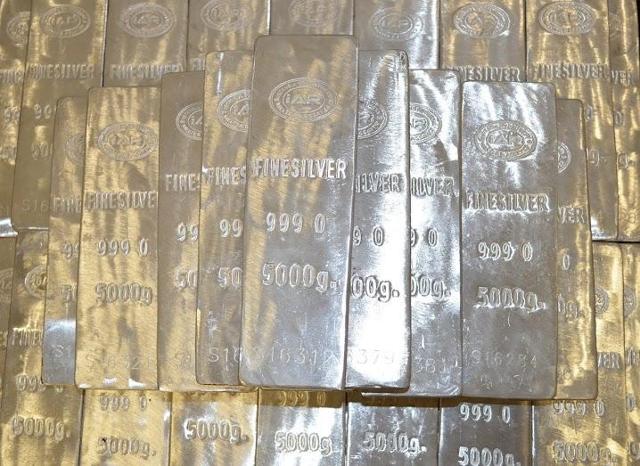 On March 30, Silver Wheaton (NYSE:SLW) announced that it has entered into an agreement with a syndicate of underwriters, pursuant to which they have agreed to purchase 30,125,000 common shares of Silver Wheaton at a price of $16.60 per share.
Aggregate gross proceeds for the company were estimated to be $500 million. On March 31, the company announced an increase of the deal to 33,135,000 shares at $16.60 per share, leading to aggregate gross proceeds of $550 million.
There is little surprise that the news had a negative short-term effect on Silver Wheaton's shares. Almost any dilution pushes stocks lower and puts some pressure in the following trading days. However, the impact of the dilution over longer time frames is a more interesting question.
Timing
Announcing a bought-deal financing in March becomes a tradition for Silver Wheaton. In March 2015, the company issued 38,930,000 shares at a price of $20.55 per share to finance the purchase of an additional 25% gold stream from Vale's (NYSE:VALE) Salobo mine.
In hindsight, this was a very smart move. After topping in early 2015 at $24.22, Silver Wheaton's shares were on the way down almost all the year and finished it at $12.42. This time, Silver Wheaton's high was $18.50. A deal at $16.60 does not look that bad at all if you are not short-term bullish on gold and silver.
I'd argue that it makes more sense to make such deals when the shares are on the rise rather than when they are falling. Investors often frown at such dilution news as they see an immediate negative impact on their portfolio, but they are also the first ones to criticize "selling cheap" when a company does an equity offering near yearly lows.
In my view, Silver Wheaton's timing was good. In my previous article on Silver Wheaton, I argued that the stock increased too far too fast and that levels near yearly highs were not suited to initiate new long positions. If you imagine that Silver Wheaton was trading its own shares like a stock trader does, the company just sold them after a rally - which most often is a sound strategy in the short term.
Rationale
Silver Wheaton stated that it intended to repay a portion of debt that was drawn on the company's $2 billion credit facility for the $900 million purchase of the silver stream on the Antamina mine in Peru.
I believe that paying for growth with equity rather than debt is a sound strategy that protects the company in case of future downside in precious metals prices. Debt buried many companies who were too optimistic in their predictions. Silver Wheaton's approach looks conservative and prudent to me.
Bull vs. bear
If you are a raging precious metals bull, you will interpret the recent dilution as negative. Whether the company itself is bullish (at least in the short term) on precious metals prices is an interesting question. Recently, Kinross Gold (NYSE:KGC) also completed a bought-deal financing. I think that these deals could be seen as a sign that industry participants are skeptical of additional short-term upside in gold and silver.
Source: goldprice.org
With gold/silver ratio at 81.50, a precious metals optimist might argue that there must be additional upside in silver. However, it looks like gold has gone too far too fast and that it could correct faster. I am quite skeptical of gold's short-term upside potential. I believe that the recent equity deals support my skepticism.
Long-term perspective
Taking into account my perception of a nearly perfect timing of the deal, Silver Wheaton did a necessary thing from a long-term point of view. Once again, the streaming model showed its attractiveness, as underwriters were willing to participate even after a decent rally from the lows of early 2016.
The growth of Silver Wheaton's streaming business will likely involve a combination of debt and equity financing in the future, so the company's ability to market its shares to new investors at good times will be of paramount importance for long-term returns.
The dividend
Silver Wheaton was hardly a stock for income-oriented investors and the recent deal is another blow to those who dreamed about higher payouts. I believe that Silver Wheaton has not entered into a cash-cow mode yet. Investors should expect that the company will be using its resources for growth rather than increased payouts unless there is a substantial increase in precious metals prices.
Bottom line
A negative momentum in Silver Wheaton's shares might develop due to downside in gold and silver prices and the short-term impact from the recent dilution. The company's business model is very sound from a long-term point of view, but in the current market environment, your investment horizon should be really long to fully appreciate the benefits of the model.
Disclosure: I am/we are long KGC.
I wrote this article myself, and it expresses my own opinions. I am not receiving compensation for it (other than from Seeking Alpha). I have no business relationship with any company whose stock is mentioned in this article.