The Solid payroll report had some mixed results in the details but overall was in line with expectations. Favorable weather supported job growth and jobless claims fell to a record low in March but a rise in claims in late March comes after a substantial rise in announced job cuts in the past three months as companies broadly cut earnings expectations. The recent pace of job growth has been high compared to the 1% annualized GDP growth in the last quarter of 2015 and 2016 first quarter so it seem productivity growth has not been going well. Probably what we will see is slower job growth in the coming months. March has been strong at 215 K, with small revisions in Feb and Jan. The unemployment rose a tenth to 5,0% as the household survey's measure of unemployment was in line with payrolls but the labor participation rate added to a recent rebound. Average hourly earnings rose a larger than expected, 0,3% leaving the YoY rate unchanged at 2,3%, in line with the trend but the average workweek failed to rebound after a two day low of 34,4 hours. The 0.3% rise in average hourly earnings was strong compared to a calendar pattern in March that has consistently downwardly biased reported earnings growth in the post‐recession period. February's downward bias was even larger, resulting in the 0.1% decline in AHE. There have been very few examples of back‐to‐back downward biases like that seen in February/March, but it looks like there was some catch up from the February distortion even with the March calendar in isolation pointing to more downside bias.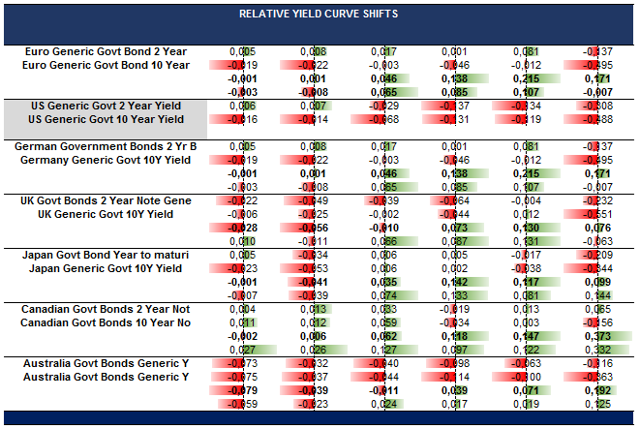 Click to enlarge
A modest bear flattening sell off Friday peaking at 3 bp losses in 2's and 3's after a generally as expected, solid employment report only reversed a bit of the substantial front end and real yield focused rally in response to Fed Chair Yellen's dovish resetting of the FOMC's policy bias by reemphasizing asymmetric risks of tightening too early versus too late near the zero lower bound, conceding more risk of inflation expectations breaking down, shifting away from brushing off external risks as just "transitory" headwinds, and underlining rising uncertainty about whether the neutral real rate really will rise over time. The result over the past week was much lower short-end yields and a steepening of the curve, though to still very flat levels looking back over the post-recession period, and a substantial dovish re-pricing of the near and medium-term Fed rate outlook in futures. Large declines in real yields and a further recovery in TIPS inflation break evens led the rally in nominals, though break evens also are still very low historically. A further drop in implied rates volatility to near the lowest levels since the end of 2014 additionally reflected investor conviction in a more cautious Fed approach. Stocks and credit CDS, meanwhile, posted good gains to their best levels so far this year, and the broad trade-weighted dollar index pulled back 1.3% we estimate to a five-month low. Oil prices were substantially weaker, with May WTI down 7% on the week, but aside from that important negative overall there was a significant further general easing of financial conditions. So there's been a broadening in the "automatic stabilizers" that Chair Yellen approvingly noted had been provided by the huge rally in rates markets earlier in the year to contain downside risks to the economic outlook that otherwise might have forced FOMC participants to cut their growth and inflation outlooks significantly more than they ended up having to in the March SEP.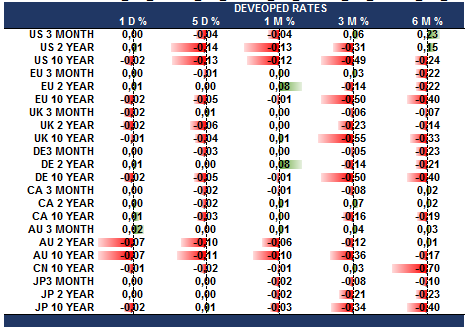 It still makes sense to buy high-yielding emerging market and commodity currencies. With few US economic data releases it will be the dovish tone of the FOMC minutes and investors' hunt for yield that should support further USD weakness. The 7% oil price decline last week and the inability of other sub-industrial raw material prices to rally despite USD's 1.2% weekly decline suggests to not get too ambitious with the current risk rally. Sure, falling US real rates have increased the relative attractiveness of other currencies and assets, but this has not taken away the global overcapacity problem. The oil market provides a good example with Saudi Arabia unlikely to agree a production cut if Iran fails to join a global agreement. Russia confirmed that it is now producing oil at a record pace to generate a sufficient cash flow to keep its economy including its raw material sector afloat. Iran, desperate to modernize its infrastructure after the lifting of trade sanctions, does need the oil cash too. The upcoming meeting of the most relevant oil producers on April 17 will likely find it difficult to agree on a oil price-supportive production cut. Note, oil did peak in technical terms near a level consistent with a bear market interpretation. Brent crude falling below the March low of 38.32 would bring it out of its recent range and provide a bearish technical signal.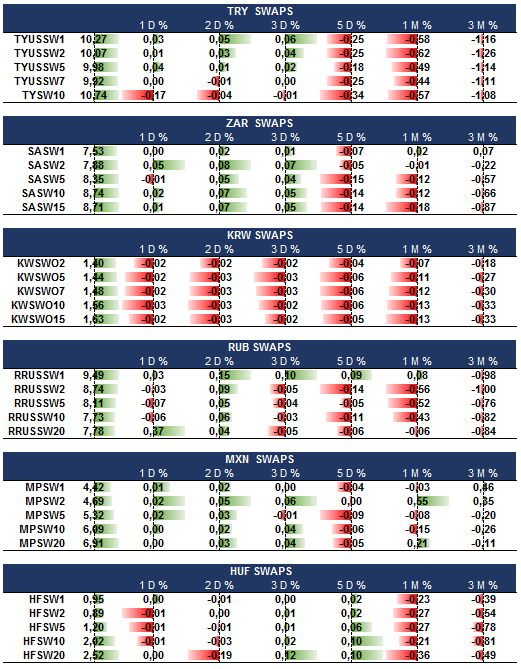 (NYSEARCA:EEM), (NYSEARCA:VWO), (NYSEARCA:EDC), (NYSEARCA:DEM), (NYSEARCA:EMB), (NYSEARCA:PCY), (NYSEMKT:ABE), (NYSEARCA:FXA), (NYSEARCA:FXC)
Disclosure: I/we have no positions in any stocks mentioned, and no plans to initiate any positions within the next 72 hours.
I wrote this article myself, and it expresses my own opinions. I am not receiving compensation for it (other than from Seeking Alpha). I have no business relationship with any company whose stock is mentioned in this article.