Monday opened the new week with plenty of developments. The markets fell modestly, with all three major indices putting in mild declines. The Nasdaq (NASDAQ:QQQ) led the way, falling by 0.5%, but across the board, losses were contained and volatility was fairly light.
Beyond the broad markets, Monday brought all sorts of drama. After the Easter doldrums, we've got action again.
Kicking things off was the energy complex. Natural gas (NYSEARCA:UNG) moved 3% higher, while oil continues to careen lower. Crude (NYSEARCA:USO) dropped 3% Monday and dropped further after-hours:

Click to enlargeRussia precipitated the latest decline, as news came out Monday that the country's production level hit new highs, regaining a production level last seen in 1987. Hopes for an oil production freeze almost certainly included Russia, and yet Russia is still pumping at top speed.
It's becoming increasingly apparent that the latest round of oil supply chatter - such as the other gossip heard since November 2014 - was designed more with the intention of propping up the futures market than actually fundamentally altering the supply/demand balance.
Oil producers face a classic game theory situation. If all cut supply, they all win. If all maintain supply, they all lose. If anyone tries to cheat, the cheater wins and everyone else loses. Given that certain of the players are much more desperate than others, and that incentives are so unequally aligned, it's almost inconceivable that the world's oil producers will fail to curtail supply voluntarily. And expecting Russia, with its extremely low costs of production, to blink first would be foolhardy.
A retest of oil's lows in the 20s looks increasingly likely. We'll see if the broader stock market is strong enough to endure the blow.
M&A Funds Get Inverted
After-hours Monday, the Treasury Department spooked investors with its new rules regarding tax inversions. The department issued the following statement:
For years, companies have been taking advantage of a system that allows them to move their tax residences overseas to avoid U.S. taxes without making significant changes in their business operations.

After an inversion, many of these companies continue to take advantage of the benefits of being based in the United States - including our rule of law, skilled workforce, infrastructure, and research, and development capabilities - all while shifting a greater tax burden to other businesses and American families [...]

Today, we are taking further action to make it more difficult to invert. Some companies are serial inverters. They acquire multiple U.S. firms in stock-based transactions over a short period of time. This increases their size and reduces the negative tax consequences of a subsequent inversion. Today's action takes away a significant amount of the tax benefits of these serial inversions.
If there's been a theme to proposed political regulation in the markets lately, it's that companies have to stop taking advantage of legal loopholes to do questionable things. The meltdown in biotech (NYSEARCA:XBI) stocks kicked off following politicians' anger at what serial price-hikers such as Valeant (NYSE:VRX) and Martin Shkreli were doing to the pharma space.
Similarly, it appears that there has been and will continue to be backlash against the spate of operating companies turning their owned land into REITs to dodge taxes and get something for nothing.
Now comes this, another development in the government's increasingly forceful push against tax inversions. While the concept was originally novel and not particularly common or harmful to the treasury, there's been a whole rash of them lately.
At the point where huge companies started inverting, the clock started ticking for the government to step in and stop it. In a way, the situation resembles Canada's move a decade ago to shut down the income trust loophole, causing untold pain to yield-seeking investors up north. Once investors are comfortable with a strategy for dodging tax obligations and it goes mainstream, the rules will soon be changed.
The Treasury's latest move appears to perhaps be specifically targeted at the Allergan (NYSE:AGN)/Pfizer (NYSE:PFE) deal. That deal narrowly escaped the Treasury's last round of tax inversion rule tightening. Regardless of intent, Allergan shares got hit with a brutal 22% selloff in Monday's after-hours session, while Pfizer advanced 3% higher.
Barring a major reversal in the share price, Allergan will open today at new 52-week lows. The instant chatter is that Allergan is trading well below where it was when the Pfizer deal was announced and as such it's a good value down here in the low 200s.
But that is to miss the point. Allergan was running a business model that took advantage of unique pricing opportunities that have now passed. As I discussed in my recent article on ANI Pharma (NASDAQ:ANIP), the whole specialty pharma model is taking on water following Valeant's implosion. The "platform value" these companies got for rolling drugs up is gone now.
Allergan is worth much less now than it was last year simply due to the sector's troubles. Without Pfizer to insulate it, Allergan may get exposed to a lot more unwanted scrutiny. Anything that was closely associated with Valeant in the past is sure to raise more questions going forward. For Pfizer shareholders, you guys dodged a bullet, and your stock is rightly up because of it.
Down We Go? Keep Watching Brazil
Last Thursday, the Briefing noted that Brazil was, from my vantage point, the most important global risk indicator currently available. Brazil had become the hottest momentum trade of all for low information algos and swing traders seeking a fast move. The Brazilian ETF (NYSEARCA:EWZ) is averaging $600 million a day in volume, making it a big enough pond for even large momo hedge funds to safely wade into.
This past Thursday, I noted that the chart had put up a troubling reversal that might indicate a top. And once that happened, it was time to get cautious. I commented:
Once you see Brazil drop 10% or 20% in a week, look out, because the rest of the world will then be on watch for a correction.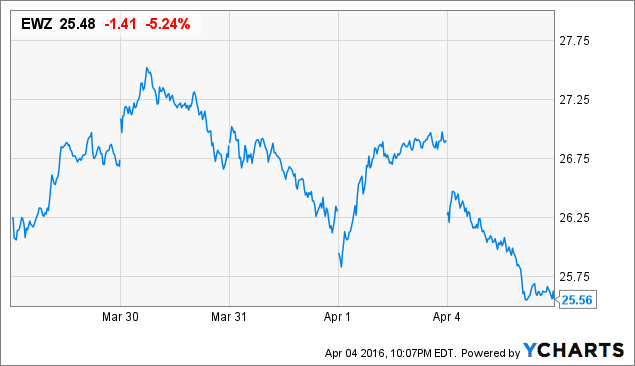 EWZ Price data by YCharts
Over the past four trading days, Brazilian stocks have already fallen 8% from their peak, with them dropping more than 5% yesterday. Due to rumors of government action that will harm already struggling Petrobras (NYSE:PBR), Brazilian stocks plunged to start the day and faced unrelenting selling throughout the session. Petrobras shares dropped more than 10% on the day.
We're not quite at the 10% down threshold I warned of yet for Brazilian stocks as a whole, but we could easily get there in the next day or two. Complications are arising in the efforts to impeach Rousseff, and the commodity rally is quickly losing steam. Traders that chased Brazilian stocks up from 17 to 28 in two months may think twice about holding onto the hot potato.
As of this press time, Japanese shares are off sharply in their Tuesday morning trade, and US S&P 500 futures are dropping. The US market is running out of time for another push at 2,100. With oil back in steady decline and Brazil - the canary in the coal mine - looking pale, it's time to start thinking about taking shelter if you've got shorter-term trades in play.
Disclosure: I am/we are short EWZ.
I wrote this article myself, and it expresses my own opinions. I am not receiving compensation for it (other than from Seeking Alpha). I have no business relationship with any company whose stock is mentioned in this article.