The Biotech index had a bumpy winter, but so far, spring has shown strength. The biotech iShares (NASDAQ:IBB) index held above February lows, and today it made higher highs, reaching above the highs of February and March. It also crossed above its 50 day moving average for the first time this year.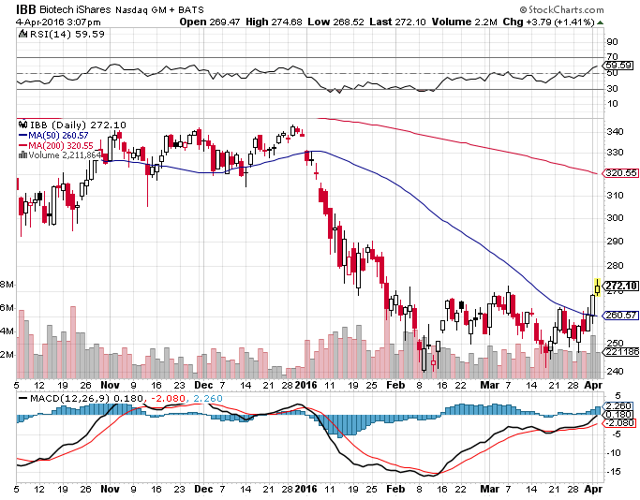 Click to enlarge
In the CAR-T space, three leaders saw sustained runs with considerable pullbacks. Juno Therapeutics (NASDAQ:JUNO) and ZIOPHARM (NASDAQ:ZIOP) have held their gains relatively well, and both have made a steady advance over the past week, presenting a good chance that they have already established a higher low. Today ZIOPHARM reclaimed its lead by a few percentage points.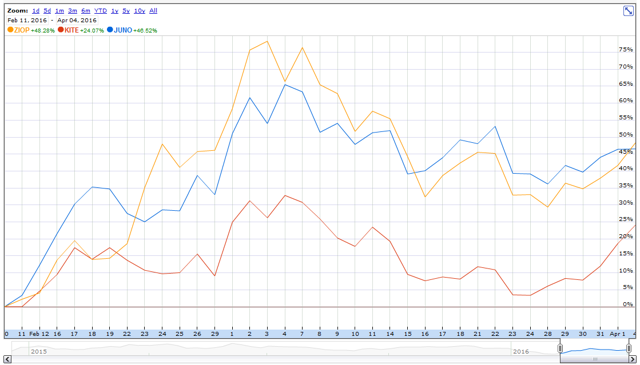 Click to enlarge
In previous articles I analyzed advantages and benefits that ZIOPHARM and Kite Pharma (NASDAQ:KITE) bring to the competitive area of CAR-T and cellular therapy, and I also explained the basics of CAR-T and TCR technology. This article explain Juno's position in the field and attempt to provide a guide to valuing the company.
Juno's Program
Juno doesn't have a neat package for their treatments, but they do have a lot of ongoing trials. Four of their trials are in stage I/II. It has been a leader in the CAR-T area for many years, thanks largely to its roots as a collaborative effort between three major cancer clinics. In 2014, "researchers from Memorial Sloan Kettering in New York, the Fred Hutchinson Cancer Research Center in Seattle," and pediatrics partner Seattle Children's Research Institute founded the company. According to this article in Forbes, the company raised $300 million before its IPO, which, in addition, raised $265 million.
Juno's science is similar to ZIOPHARM's and Kite's, although it lacks the flair of ZIOPHARM's "Sleeping Beauty" and RheoSwitch or Kite's patented platform, eACT. It uses CAR-T and TCR technology to introduce genetically modified cells into the patient's body. These cells target cancer antigens, primarily CD-19. The three companies primarily focus on similar treatment programs: Acute Lymphoblastic Leukemia (NYSE:ALL), Non-Hodgkin lymphoma (NHL), and Diffuse large B cell lymphoma. Based on data on ALL studies and blood cancer studies presented at ASH in December of 2015, they have demonstrated complete response rates above 80% in terminally ill patients with ALL and various blood cancers, an astonishing achievement.
Currently, the company's market cap is $4.15 billion. It is currently in tight competition with Kite Pharma to be the first to have an FDA approved CAR-T therapy. Juno recently announced that it would be leasing a manufacturing space in Washington for the purpose of supporting "JCAR015 multicenter clinical trial, additional clinical programs in Juno's pipeline, and the company's first commercial products." Both companies should have phase II data later this year, with Kite's coming in the middle of 2016 and Juno's near the end of 2016.
Juno's People
While ZIOPHARM and Kite are partnered primarily with one medical research institute, Juno is comprised of three. It includes six personalities on the Scientific Founders page of their website. Stan Riddell, M.D., presented at the Association for the Advancement for Science (AAAS) in February of this year. Stan has led some important studies, and is also a leader in some important developments for the company, including a next-generation advancement in CAR-T therapy which "purifies and tracks" the modified T-Cells, according to a news release from the Fred Hutchinson Cancer Research Center.
Another important Scientific Founder is Renier Brentjens, who works at Memorial Sloan Kettering Cancer Center. He has also helped to develop next-generation CAR-T therapy. These treatments involve several approaches to overcoming some of the risks and setbacks of this novel treatment. One is armored T-Cells, which "send out a chemical signal that recruits the patients' non-engineered T cells to come join the attack," according to an article from Xconomy. Another features include a "kill-switch," which means the treatment is responsive to a separate anti-body and dies when it is introduced into the patient.
President and CEO Hans Bishop was Chief Operating Officer of none other than Dendreon, one of the most well-known biotech stories of all time. Unfortunately, Bishop misguided investors of Dendreon by consistently offering guidance which appeared to have been questionable, three times the real sales figures. Bishop was never implicated in any case of fraud, but investors should be aware of Dendreon's performance during his time as COO. Before starting at Dendreon in 2010, Bishop worked as president of specialty medicine business at Bayer. He has a B.S. in chemistry from Brunel University in London.
Juno's Pipeline
The following studies are listed as either active or planned, according to the corporate report.
Click to enlarge
(Source: Juno Corporate Presentation, March 2016)
Juno's leading treatment is currently in a phase II study, and results for the study are expected to be released late this year. Based on the recent leasing of a manufacturing facility as well as a rough mental tally (AKA, my opinion) of current sentiment, is fair to say that positive results are expected. The reason enthusiasm is so well tolerated for these treatments is the tremendous benefit that this revolutionary technology has been touted to offer. The trial, also known as "Rocket" (JCAR015), treats 90 "adult patients who have relapsed or refractory B-ALL." The phase I trial achieved a complete response rate of 82% (see previous link to ASH, 2015).
As you can see, most of the therapies target CD-19. One exception is WT-1: JTCR016 (a TCR therapy), which can be used to treat acute myeloid leukemia (AML) and non-small-cell lung cancer (NSCLC). The company also has the capability of targeting CD-22, which is being developed to treat ALL and NHL. There is also a possibility that CD-22 can work in combination with CD-19 to improve patient responsiveness. Combining antigen targets does have important potential, but there have not been significant evidence to indicate the potency of such an approach.
Other important treatments include two studies with "Armored CARs," for patients with ovarian cancer as well as a B Cell Malignancies. To cure ovarian cancer, CAR-T therapies must overcome a major obstacle: solid tumors. Applying the armored T-Cells to this therapy offers a possible edge that could help with the challenging application of attacking resilient tumors. To overcome these challenges will require time and resources. No clear advantage has yet been established, and any breakthrough will be loudly heralded. For now, attention is mostly on ALL and NHL, for which the first CAR-T therapy may be approved by the end of next year.
Juno's Partnerships and Acquisitions
Aside from the ongoing collaboration between the three founding cancer institutes, Juno made big news in 2015 when it agreed to a $1 billion partnership with Celgene. CEO Hans Bishop has proven to be a formidable salesman, having sold some Series A shares to Amazon CEO Jeff Bezos, among others, in 2014. The Celgene deal, however, was a record breaker, according to Bloomberg. "Celgene will pay $150 million in cash and buy 9.1 million newly issued Juno shares at $93 a share, more than double Juno's closing price Monday. In return, Celgene will get the right to sell Juno's therapies around the world."
In a less-friendly and un-intentional partnership, Novartis and Juno are also linked through a 2015 settlement. Surprisingly, the issue was brought to court not by the companies, but by St. Jude's, who claimed that the University of Pennsylvania "wrongly used material covered by St. Jude's patent," which was licensed by Juno. As a result, Novartis agreed to pay $12.25 million, as well as "future milestone payments, and 'mid-single digit' royalties from U.S. net sales of product candidates based on the patents at issue."
Since 2014, the company has made the following deals or acquisitions, per Wikipedia:
Agreement with Opus Bio, Inc for a chimeric antigen receptor (CAR-T) cell product candidate targeting CD22
Collaboration with MedImmune (a subsidiary of Astra Zeneca) investigating combination treatments for cancer
Acquisition of Stage Cell Therapeutics for up to $223 million
Collaboration with Editas Medicine, to create CAR-T and high-affinity T cell receptor therapies to treat cancer, with the potential to generate up to $737 million-plus for Editas*
Acquisition of X-Body for more than $44 million
Acquisition AbVitro, allowing it to use next-generation single cell sequencing platforms to compliment its ability to create T cells engineered to target a broad array of cancer targets.
*Editas is the originator of CRISPR, a gene editing technique. Read more about the deal in this article from Bio-IT World.
Juno's Price
In their corporate presentation (previously cited), Juno presented this slide: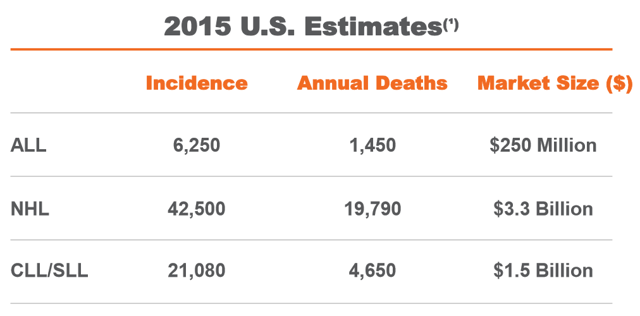 Click to enlarge
What makes valuation difficult for CAR-T treatments is that while they are revolutionary, they are also novel. Currently, the treatment is only offered as 3rd line therapy, in other words, a last resort. More data is needed to determine the nature of the risks involved with CAR-T technology. In addition, it is no secret that CAR-T therapies are intensive and expensive. Without an ingenious production technique, cost could be a prohibitive factor when it comes to application. Currently, there's a sense that with the right combination of need and effectiveness, CAR-T will prevail as a second or first-line treatment. For the time being, I will assume that CAR-T therapies will eventually be used for 10% of first-line treatments, 20% of second-line treatments, and 60% of third-line treatments.
NHL
I do not have information on how many patients receive which treatments over the course of their illnesses. However, a useful guide is provided on the corporate presentation. For diffuse large B-cell lymphoma (which includes NHL), the most common treatment option is R-CHOP, "which is a mixture of rituximab and several chemotherapy drugs (cyclophosphamide, doxorubicin, vincristine, and prednisone). When treating patients with DLBCL, doctors may also add etoposide (Vepesid), another chemotherapy drug, to R-CHOP, resulting in a drug combination called R-EPOCH." In rare cases, stem cell transplants are performed. The numbers provided in the presentation for DLBCL are 58.8% receiving first-line R-CHOP treatment, 20% receiving 2nd-line treatment, and 17.6% receiving 3rd-line treatment.
The following table indicates how many patients would be treated with CAR-T based on what percent of patients receive a specific line of care and what my conservative estimates of those treated with CAR-T therapy would be (10%, 20%, and 60% of 1st, 2nd, and 3rd-line treatments, respectively).

Click to enlarge
The slides provide a 2015 sales estimate for Rituxan, which is used to treat DLBCL, at $7.1 billion. The drug is a blockbuster treatment for chronic lymphocytic leukemia (CLL) as well as rheumatoid arthritis (an application which generates over $1 billion a year). Rituxan's sales figure far exceeds the total current cost of treating NHL in the U.S., and it could be an useful comparison for the new CAR-T treatments. Rituxan targets CD-20, but, according to this article from mAbs, CD-19 is a more effective target for cancer treatment: "CD19 has a broader expression profile than that of CD20 and it is thought to be a better target for antibody-drug conjugates (NYSE:ADC) compared with CD20, which suffers from inefficient internalization. CD19 was also shown to be expressed in cases where rituximab is ineffective due to CD20 downregulation or other factors.5,6 Lastly, because CD19-targeting agents have a mode of action that is distinct from that of anti-CD20 antibodies, they could complement existing rituximab regimens."
Acute lymphocytic leukemia
The corporate presentation also provides treatment numbers for CLL but not acute lymphoblastic leukemia . Because these figures are the best guide available, I will apply the numbers to ALL. These figures are: 40% of patients receiving 1st line treatment, 22.5% receiving 2nd-line treatment, and 10.9% receiving 3rd-line treatment.
Below are sales estimates for ALL using the same estimates for percentages of CAR-T market share (10%, 20%, and 60% of 1st, 2nd, and 3rd-line treatments, respectively).

Click to enlarge
Of course, in the coming years, CAR-T therapy may become a mainstay of cancer treatment. It could capture the majority of first line treatment, and it seems worthwhile to project a rosier forecast. Here is what the projected revenue would be for 60% market share across all lines of treatment.
NHL

Click to enlarge
ALL

Click to enlarge
Of course, it seems there will soon be at least two CAR-T options so it would make sense to divide this number by two or three. Lastly, one should also factor in the probability that the drug will or will not be approved for commercial treatment. If we average the two models (one conservative, one rosy) there would be revenue of nearly $1 billion; I divide that by 2.5 to account for two or three competitors and give the treatment an 80% probability of success to project and we have $320 million in revenue from NHL and ALL. A more bullish estimate might assume that treatment costs will rise with the coming of CAR-T therapy, and I presume that this will be true. In addition, there are many other possible applications for these novel therapies, and they may be billion dollar breakthroughs. However, these two leading applications do not justify the current market cap, and success in other trials is likely a long ways off.
Given the high costs of production and the potential time required for this treatment to be widely accepted, it is hard to imagine Juno being profitable any time in the near-future. Unfortunately, we are still years away from any FDA application for the application of CAR-T therapy to treat NHL. Valuations for this treatment are speculative, especially considering the enormous amount of competition in this space. Given these considerations, it seems as though Juno is priced like a dream at over $4 billion. I suspect investors will eventually wake to a harsher reality, but then again, the 50% decline from December 2015 to February 2016 might have steeled us for what may come. For the time being, excitement is rising, and the trend is up.
Disclaimer: Do your own due diligence. I am not an investment advisor.
Disclosure: I/we have no positions in any stocks mentioned, and no plans to initiate any positions within the next 72 hours.
I wrote this article myself, and it expresses my own opinions. I am not receiving compensation for it (other than from Seeking Alpha). I have no business relationship with any company whose stock is mentioned in this article.