Anyone who has read my previous articles will know that I am primarily a short term trader with a focus on preferred stocks and closed end funds. When markets are volatile they provide mis-pricings and opportunities. In the current low VIX environment these opportunities have dried up so it is time to look for some safe income issues. This is the first article from the series that will present some of the safest income securities.

General Electric (NYSE:GE) is a defensive stock that many turn to when high flying stocks seem frothy and overvalued. The conglomerate structure, diversifying in products as diverse as Household Appliances, Weapons, Oil and Gas, and Software Development will have its pros and cons; we cannot expect triple digit annual returns, but neither should we lose any sleep over our investment.
The 27% gain in 2015 was perhaps exaggerated due to a well received shift in focus back to GE's industrial roots. We would expect a good defensive stock to underperform the S&P 500, and historically that is the case excluding last year. The annual rate of return since 2009 is in fact 12%, and with 2011 and 2014 closing slightly down, it is clear that timing an entry is still important, especially considering GE is trading up to prices where the 2008 sell off originated. This article though is not about stock picking. It is about finding a safe haven with better reward.
Why I like the General Electric Notes
There is only one word: safety. Capital appreciation is not a possibility here. Usually I would compare the common stock with the baby bonds as an alternative, but when you have an AA+ rating the only thing you have to consider are the yield metrics. The 3 notes General Electric Capital Corp. 4.70% Notes due 5/16/2053 (GEK), General Electric Capital Corp. 4.875% Notes due 1/29/2053 (GEH) and General Electric Capital Corp. 4.875% Notes due 10/15/2052 (GEB) all have slightly different call dates which affects their yield to worst. This can be seen by the table below:

Click to enlarge
Usually I would compare the notes to other exchange-traded debt securities with a similar AA+ rating. However, I cannot find any that are comparable. Most banks issue notes and preferred stock that are usually BBB+ at best, and for that added risk you may expect about 1% extra on the coupon. One of the closest instruments in terms of risk and maturity date is the US Treasury 30 year note. The US credit rating currently stands at AA+ after the S&P downgrade in 2011. So let's look at how the yields compare: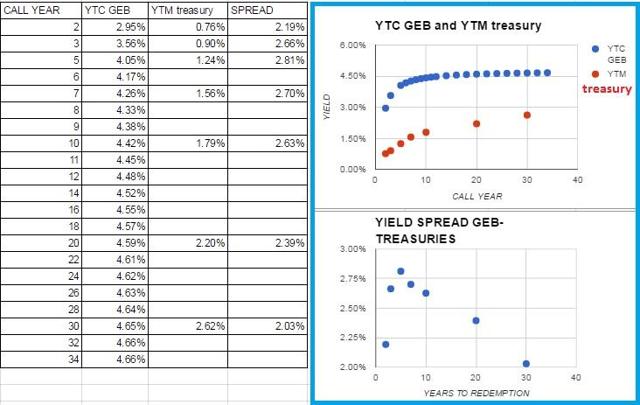 Click to enlarge
source author's database.
On this picture you can see how the GEB yields compare with the treasury yields. 'Call year' represents the year you expect GE to redeem GEB. The 2% spread, which is the most common over different maturities, gives the extra reward for taking GE debt over treasury debt. It is up to the reader to decide if the 2% spread for a corporate AA+ is justified against the US Treasury AA+.
Risks:
Standard and Poor's are not infallible. All the credit ratings agencies maintained at least an A rating on Lehmann brothers right until the end. However, GE is not going to be up to its neck in sub-prime loans; in fact it announced in 2015 that it is re-shaping its portfolio of assets to focus less on financials. So we must trust the ratings agencies and assume they have it right this time.
With any exchange traded fixed income there is an interest rate risk. Rising rates will cause the price of the notes to fall, responding to the parallel shift in the yield curve. As noted earlier, we already know our yield to worst, so if the prices sell off really hard we can still hope to get called at par at a later date whilst still receiving the coupon. The maturity date is 2052 so no matter what the prices fall to, we can expect them back up to par nearer to maturity. The important thing is that both GE debt and Treasury debt carry the same interest rate risk so it is irrelevant if you use those bonds as a safe heaven.
Conclusion:
An AA+ exchange traded security is really rare. This is definitely a safe haven among baby bonds. Once you decide to "hide" from risk, you should consider GE notes as an alternative even to US Treasuries. You get a 2% reward on adding zero credit risk (as far as S&P is concerned).
Disclosure: I/we have no positions in any stocks mentioned, and no plans to initiate any positions within the next 72 hours.
I wrote this article myself, and it expresses my own opinions. I am not receiving compensation for it (other than from Seeking Alpha). I have no business relationship with any company whose stock is mentioned in this article.