Summary
On February 17, Jumei International (NYSE:JMEI) received a management-led buyout offer that valued the company at $1.02B ($7 per ADR). Just last Friday, April 1st, co-CFO's Mona Meng Jao and Yunsheng Zheng announced their resignation. They leave the company at a time of great uncertainty. Jumei continues to generate impressive top-line growth through its merchandise platform, but the combination of higher competition and lower profits calls into question its sustainability. A forward P/E ratio 15.09 is low for a company with Jumei's growth potential, and it reflects skepticism about Jumei's ability to maintain share against larger, more established e-commerce firms. This report discusses the key issues affecting Jumei to help you decide whether the company is worth the risk.
Business
Jumei is China's leading online retailer of beauty products, with 21.5% share of the online cosmetics market. The company launched its website in 2010 and has grown active users from 4.8 mil to 13.3 mil, and orders from 15.7 mil to 42.6 mil between 2012 and 2014. Jumei operates through two channels: merchandise products (86% of revenue) and marketplace (14%). In the merchandise segment, the company purchases inventory and sells directly to customers through its online platform. In the marketplace segment, Jumei charges fees for the sale of apparel and other lifestyle products through a network of third-party merchants.
Jumei has made big adjustments to its business model during the past two years. In 2014 the company shifted marketplace beauty products sales to its merchandise segment in response to reports that third-party vendors were selling counterfeit goods. The company also launched Jumei Global, China's first cross-border cosmetics platform, which lets customers directly purchase products from overseas. To help drive customers to its new platform, Jumei expanded into new business categories including baby and maternity products, health and wellness items, and luxury goods. Management expects its steady-state product mix to consist of the following: beauty and wellness (60%), baby and maternity (10%), and apparel and accessories (30%).
Industry Outlook
China is the world's second largest cosmetics market. But despite double-digit growth in each of the past five years, market penetration is still low. According to Nomura Research, Chinese cosmetic consumption per capita in 2014 was just $24, compared to $139 in the United States, $171 in France, $174 in South Korea, and $223 in Japan. Compared to beauty consumers in other countries, Chinese customers put a greater premium on quality and brand, and are more likely to purchase high-end cosmetics. Women between the ages of 20 and 30 (the industry's main demographic) have shown a particular willingness to splurge. Foreign firms, known for their trusted brands, quality offerings, and innovative ideas therefore dominate the market. Imports account for approximately 70% of domestic demand, and have increased 25% annually over the past five years. IBISWorld estimates that rising disposable incomes and higher Internet penetration use will drive annual cosmetic industry growth of 7.5% over the next five years.
Figure 1: Foreign brands in China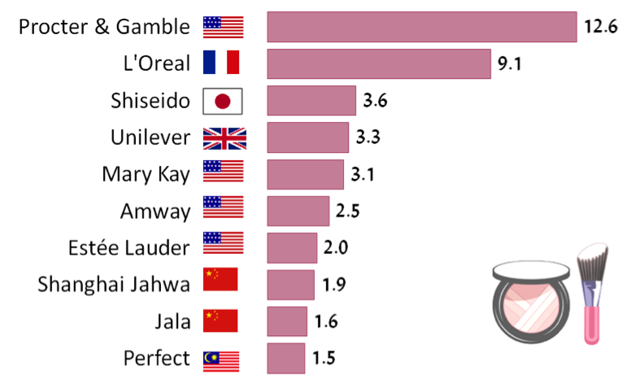 Click to enlarge
Source: Fung Group
Brick-and-mortar retail accounts for 70% of China's beauty market, but e-commerce captures a larger share each year. The number of Internet users in China has grown 13.3% on average over the past five years, but market penetration is low compared to developed countries. As of 2014 China had 632 mil Internet users, equal to 46% of the population. Rising incomes, improved Internet services, and greater mobile use are expected to grow China's e-commerce market by 23% annually through 2020. The rebalancing of China's economy away from manufacturing to consumption has made cross-border e-commerce a key sales channel. Cross-border platforms allow customers to buy foreign goods cheaper and receive them quicker compared to traditional import networks. Items shipped through these channels are subject to lower tariffs and regulations than standard imports, and the government continues to implement reforms designed to promote use of these networks.
Competitive Position
China's cosmetics market is fragmented. The largest four firms account for 38% of sales. While Jumei holds a leading position in online cosmetics, it has a negligible share of China's overall e-commerce market, dominated by Alibaba (NYSE:BABA) with 77% of industry revenues, followed by JD.com (NASDAQ:JD) with 7.2%. These companies are similar to Amazon in that they sell just about any type of consumer good you can think of (including cosmetics), and Jumei's expansion into new product categories means that they represent the firm's most direct competitors and most immediate threat. Competition intensified during the last year. Alibaba (Tmall) and JD.com (JD Worldwide) introduced their own cross-border platforms, as did Vipshop Holdings (NYSE:VIPS), a retailer of apparel and accessories, and Amazon China. Growth in the proportion of import volumes occurring through cross-border platforms will encourage more firm to do the same, the majority of which will be B2C retailers. Large infrastructure investments and government customs requirements make cross-border channels impractical for many B2B merchants and distributors.
Figure 2: E-commerce market segmentation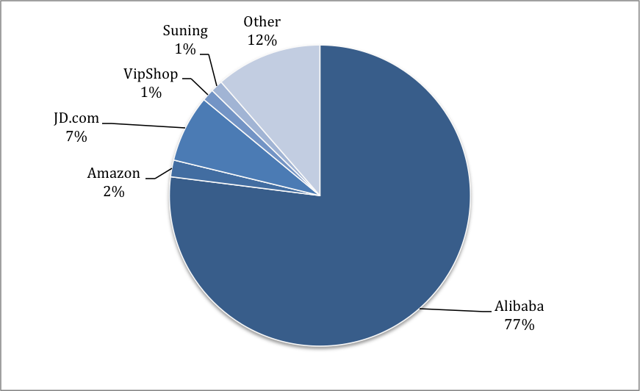 Click to enlarge
Source: IBISWorld
Jumei has some important advantages, particularly in the niche beauty segment of the online market. The company is the first mover in cross-border and has a strong global supply chain and logistics infrastructure that can deliver a wide range of products on the cheap in three to four days. Jumei Global accounts for 51% of the cross-border cosmetics market, with 10-30 times more orders than the next largest players, and a higher GMV (gross merchandise value) per order to boot. Thanks to exclusivity agreements, 90% of the company's imported cosmetics have no direct competition in China (except for the grey market). The lack of an import tariff or VAT on goods purchased in other countries incentivizes customers to buy beauty products for friends and family members when they travel abroad rather than purchase them in China. But the government recently cracked down on this market by limiting the number of items people can bring back into the country, and Jumei will be one of the bigger beneficiaries of this policy.
Jumei's reputation is another important advantage. The Jumei brand carries a lot of weight in the cosmetics space, and it helped the firm brush aside negative buzz caused by third-party counterfeit sales. Customers flock to Jumei for the range of authentic in-demand brands the company is able to offer at competitive prices. Buying decisions in China are based on word-of-mouth recommendations more than anything else (including advertising and promotions), and Jumei's popular online platform benefits from a network effect where an increasing number of customer reviews leads to more purchases and attracts new customers. This creates a significant entry barrier for lesser-known competitors who may never be able to catch up. Repeat customers averaged 87% of sales over the past three years, and orders per repeat customer reached a new high in Q215, reflecting strong customer satisfaction and loyalty.
Beyond cosmetics, however, the outlook is less certain and the sustained success of Jumei Global is anything but a guarantee. The expansion into baby and maternity, health and wellness, and luxury categories creates compelling cross-selling opportunities, but puts Jumei directly in the crosshairs of Alibaba, JD.com, and Vipshop, and away from the cosmetics segment where Jumei is the undisputed leader. Jumei has few exclusive agreements in these areas, and many of the products (which are not differentiated) earn low margins. Alibaba and JD.com, the largest players in cross-border, have considerable brand, financial and scale advantages over Jumei, and can obtain supplies on more favorable terms. Jumei's 2015 acquisition of BabyTree, the world's largest online parenting company by traffic volume, gives the company scale in baby/maternity, but Jumei will be less competitive in most of these categories. There are already signs that Jumei is having trouble coping with higher levels of competition. Marketplace GMV has declined for two consecutive quarters, most likely reflecting higher competition from Vipshop, and Jumei's share of online cosmetics declined 0.6 percentage points in 2014. Inventory turnover fell from 10.07 in 2012 to 3.77 in 2014, and during the most recent quarter the company had to offer "temporary" discounts in order to liquidate excess health and wellness items.
Financial Analysis
Jumei grew revenues at a 64% annualized rate from 2012-2014, and reported strong Y/Y growth in active customers and orders throughout 2015 thanks to the expansion of Jumei Global. But profitability continues to decline. Compared to 2014's gross margin of 39.53%, gross margin was 26.2% in Q3 2015. There are number of explanations. First, the shift of certain beauty products from marketplace to merchandise had an impact because Jumei doesn't recognize COGS for products fulfilled by third-party merchants. Second, the expansion into new product categories, namely baby/maternity and health foods, lowered GMV per order. These are permanent adjustments to JMEI's business model that will prevent the company from generating the same gross margins it did in the past. The inventory liquidation in Q3 had an impact as well, but management passed it off as a one-time event. We are not so sure. Efforts to attract new customers to Jumei Global are further hurting profitability. Jumei offers free shipping on all orders delivered through its cross-border platform, regardless of the number of items, as opposed to free shipping on two-or-more items on its domestic platform. Management tells analysts that they are prioritizing customer acquisition and category expansion at the expense of short-term "margin volatility".
After Jumei grows its customer base it plans to focus on attracting more private labels and exclusive brands. Management forecasts steady-state gross margins of 40% for beauty and wellness and 16% for baby and maternity, which equates to a blended gross margin of 30% and operating margin of 12-15%. Unfortunately, management does not specify the percentage product mix between beauty and wellness, which would provide a better estimate of future profitability (cosmetics command higher prices than most health and wellness items). But given the economies of scale embedded in SG&A, a 12% operating margin is an attainable target if the reported numbers are accurate. The more pertinent issue is the length of time it will take Jumei to execute. The current price reflects that analysts don't expect the company to reach these levels until 2018.
Conclusion
The biggest question marks hanging over Jumei relate to the firm's ability to integrate into new product categories where it is less competitive, and whether the company can maintain market share as Alibaba, JD.com, and others turn up the heat. The resignation of two young and healthy CFOs adds a new layer of uncertainty. Maybe they know something we don't. This is a high risk but potentially high reward play. Fears about a slowdown in China's economy matter little in the context of the long-term growth prospects for both cosmetics and e-commerce. But the company's short operating history and evolving business model makes valuation difficult if not meaningless.
Disclosure: I/we have no positions in any stocks mentioned, and no plans to initiate any positions within the next 72 hours.
I wrote this article myself, and it expresses my own opinions. I am not receiving compensation for it (other than from Seeking Alpha). I have no business relationship with any company whose stock is mentioned in this article.