By Parke Shall
It was only a couple of days ago, on March 29, that we wrote an article stating that SunEdison (NYSE:SUNE) will soon be trading at or under $0.10 per share.
At the time we wrote this article, the company stock was trading at about $0.86. Our reasoning for writing this article was very simple. We had read some of the headlines that were sourced to our liking around the SUNE story, specifically that the company was in debtor-in-possession financing talks and exploring options for restructuring.
We knew if the company went to Chapter 11, which is the only reason to really begin DIP talks, the equity would likely become worthless.
Pretty simple scenario.
It wasn't until a day or two later that the Wall Street Journal broke the news that the company was being investigated by the SEC and that the company may not have as much cash on hand as everybody thought. That was just icing on the cake.
This all applies directly to MannKind (NASDAQ:MNKD) shareholders, too. Why?
With MannKind, we have been writing a series of articles looking at the company's precarious liquidity position and its inability to generate meaningful revenue or cash flows compared to the debt that it carries. Its current Yahoo Finance stats list it with $194.9 million in debt and just $32 million in cash with a negative book value of -$0.30. It burned $61 million last year and had operating cash outflows of $22 million last quarter alone.
In these articles, we have tried to inform shareholders that the Board of Directors has a fiduciary obligation to do what is best for the company's creditors and shareholders, even if that means putting the company through a restructuring or a bankruptcy.
Now, back to SunEdison for a moment. SunEdison was a real company, continues to be a real company, and continues to sell real products and services that could generate significant cash flow streams as the company moves forward. SunEdison's bankruptcy came as a result of the company growing through acquisitions too quickly. In other words, the company put the cart in front of the horse and took on too much debt to service before they started reaping the rewards of their acquisitions.
This means that interest expenses from the debt would likely going to be far too much for the company to handle in the next few years. SUNE, along with its yieldcos Frick (NASDAQ:GLBL) and Frack (NASDAQ:TERP), have a fairly certain number of high rated projects that pose little or no counterparty risk that they can generate cash from. The problem is that this cash isn't going to be accessible until many quarters (or years) out from now and isn't readily available now when the company needs it. This is again a product of growing too quickly and too much. Because of its convoluted structure with the yieldcos, it was very difficult for the average investor to ascertain how much liquidity the company actually had left and whether or not they were going to be able to push through this tight spot before becoming the resultant cash flow generating hog that it will likely be 10 years from now.
Towards the end, over the last few quarters, we correctly guessed that SunEdison was going to head lower and then eventually into bankruptcy. As a matter of fact, we've been warning about SUNE since summer of 2015, when it was trading around $8 per share.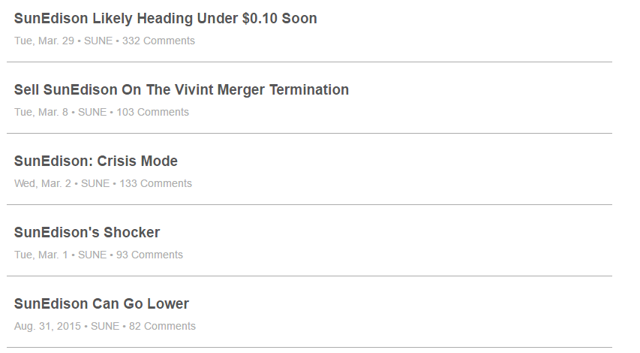 Click to enlarge
This wasn't a product of some prescient super complex financial analysis, it was simply some deductive reasoning about the company's actions over the last few quarters. They have been quiet on financing, they have done an extremely poor job communicating with shareholders, many of the negative articles published on the company were sourced or cited to our satisfaction, and the corresponding delay of the 10-K and questions regarding the company's liquidity tied everything together. The SEC investigation and bankruptcy confirmation that came last week were nothing more than formalities in terms of moving the equity price lower.
Now let's talk about why bankruptcy is likely going to happen for MannKind as well. Using the same deductive reasoning and common sense approach, we are fairly certain that MannKind will likely be the next total shareholder wipe out.
Since we started writing about MNKD, we have received a litany of complaints both formal and informal (and some very informal) in our Seeking Alpha inbox and elsewhere trying to refute some very hard facts about MNKD. For example, the company's debt cannot be argued. Also, the fact that their only product has failed to generate meaningful revenue cannot be argued. (Meaningful defined as revenue that could push them to cash flow positive).
MNKD is a far simpler in the sense that it is just one company that needs to be looked at, and it is extremely apparent why the company may head to bankruptcy. MNKD is also the best example of divergence from reality in terms of the equity price that we have seen in a long time. With the equity priced at $1.69, giving the company a market cap of $730 million, we are not sure what the market is thinking, but it is certainly not the same reality we appear to be looking at.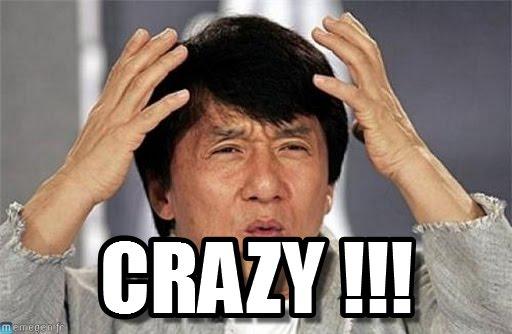 MNKD was a one product company.
They took on debt in order to hopefully create a revolutionary product that would change the world for those suffering from diabetes. It was a one-shot bet on a product that had noble and honorable intentions, but failed to create a financial footing for itself. The company paired with Sanofi (NYSE:SNY) to try and get the product launched, SNY was not happy with the product results and now the two companies have terminated their relationship.
What shareholders are left with is a company that is over-levered and burning cash, very much like SunEdison but a far worse scenario in the sense that MNKD doesn't even have any real future cash flows or future revenue to extrapolate out or leverage against. The company literally appears to be a dead duck.
Companies go bankrupt when they can't find any more counterparties to step in and help them out. When the risk of a company becomes too much for even the most unscrupulous lender, the company becomes uninvestable from the debt side. Short of a massive dilutive equity offering, which would ostensibly in and of itself ruin the company for common shareholders, both SUNE and MNKD really had/have very few options. While the idea for an equity raise may be on the table for MNKD, it only makes sense if the company has an organic path for growth going forward. Otherwise, you're just taking measures to dilute existing shareholders, likely significantly, and delay the inevitable.
In order for MNKD survive, you have to believe that they are going to figure out a path to generate organic growth and be able to service their debt while pushing forward. We just don't think that is reasonable. Similar to the way the bankers finally exercised their option to pull out of the Vivint (NYSE:VSLR) deal near the end of SunEdison, we believe that bankers are probably finding it more and more fruitless to look at capital injection scenarios for MNKD.
Any road forward for MNKD now would likely include large dilution and numerous reverse splits. It would, for all intents and purposes, be a bankruptcy for the equity.
MNKD continues to be a lose/lose scenario and we think it's number one in the running to become the next SunEdison.
Disclosure: I/we have no positions in any stocks mentioned, and no plans to initiate any positions within the next 72 hours.
I wrote this article myself, and it expresses my own opinions. I am not receiving compensation for it (other than from Seeking Alpha). I have no business relationship with any company whose stock is mentioned in this article.
Editor's Note: This article covers one or more stocks trading at less than $1 per share and/or with less than a $100 million market cap. Please be aware of the risks associated with these stocks.