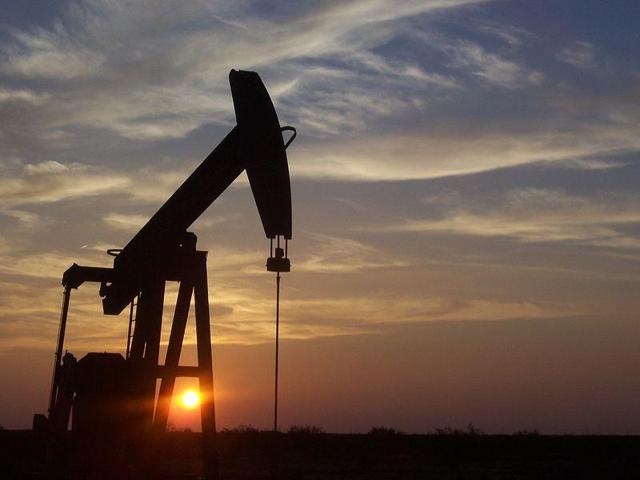 Click to enlarge
Parsley Energy (NYSE:PE) did it again. The company announced another major equity raise to fund acreage acquisitions in the Permian Basin.
As I have argued earlier on several occasions, the "Permian charm" - the rich trading multiples relative to the peer group - creates a strong incentive for several Permian Basin-focused E&P operators to issue new equity, pursue equity acquisitions and fund capital spending above internal cash flow.
The Transaction
Parsley is paying $359 million in cash for ~22.9 thousand net acres and ~2,300 Boe per day of associated production acquired in several separate transactions.
To fund the acquisitions, Parsley launched a 16 million share offering (Class A common stock). Assuming an 8% discount to today's closing price of $22.56 per share, 15% upsizing and full exercise of the green shoe, the company may be able to raise ~$440 million in net proceeds. The company's Class A common stock share count would increase by over 15%. I expect the offering to price before the market's open tomorrow.
In conjunction with the transactions and the equity raise, Parsley now expects capital expenditures to be $410-$460 million in 2016, up from a previous range of $380-$430 million. The capital spending is expected to significantly exceed Parsley's internally generated cash flow this year.
The majority of the acquired properties are located adjacent to the Company's existing operating areas in the Southern Delaware and Midland Basins, but also include some standalone acreage parcels. A portion of the acreage is being acquired from an affiliate entity. Working interest in the properties or estimated PV-10 value of the existing production were not disclosed.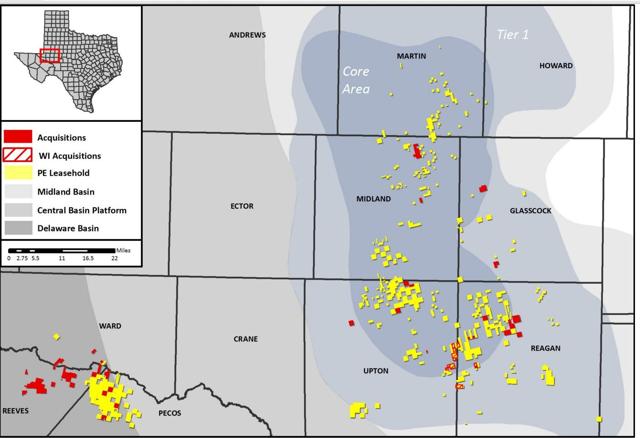 Click to enlarge
(Source: Parsley Energy, April 2016)
Transaction Valuation Analysis
The properties have nine producing horizontal wells and 97 vertical wells; six additional horizontal wells are in various stages of drilling and completion. Estimated current net production from the properties is ~2,300 Boe/d. In its press release, Parsley estimated 2016 contribution from the acquired properties of approximately 1,500 Boe/d. Based on these data points, I estimate the fair market value of the existing production and wells in progress at ~$70 million. The implied value of undeveloped acreage comes out at ~$290 million, or ~$13,000 per undeveloped acre.
While on average the acquisition price may appear moderate, a more detailed review indicates that the price paid for the acreage in the Midland Basin is quite high.
In the Midland Basin, Parsley is acquiring ~8,700 net acres in Midland, Upton, Reagan, and Glasscock Counties, TX for approximately $215 million. Estimated current net production is approximately 1,100 Boe per day from two horizontal wells and 77 vertical wells. I estimate the price paid at ~$22,000 per undeveloped acre.
In the Southern Delaware Basin, Parsley is acquiring ~14,200 net acres in Reeves and Ward Counties for ~$144 million. The estimated current net production is ~1,200 Boe/d from seven horizontal wells and 20 vertical wells. I estimate the price paid at ~$7,000 per undeveloped acre.
The price paid for the Midland acreage is in fact in line with what the company paid in the five previous significant acreage acquisitions in the Basin.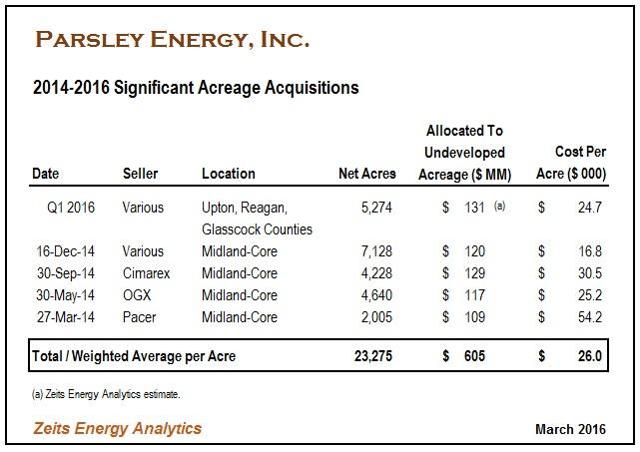 Click to enlarge
A Related Party Transaction
The bulk of the acquisitions in the Midland Basin represents a transaction with Riverbend Permian L.L.C., a related entity. Randolph J. Newcomer, Jr., a member of Parsley's board of directors, is the President and CEO of Riverbend.
Riverbend is selling interests 6,269 net (8,800 gross) acres located in Glasscock, Midland and Reagan Counties for an aggregate purchase price of $175.5 million in cash. The properties to be acquired have an estimated current net production of approximately 900 Boe/d from two horizontal and 37 vertical producing wells. I estimate the price paid in the transaction at over $25,000 per undeveloped acre.
For more in-depth data and analysis of commodity fundamentals, please consider subscribing to Zeits OIL ANALYTICS that provides analysis of the crude oil market.
Disclaimer: Opinions expressed herein by the author are not an investment recommendation and are not meant to be relied upon in investment decisions. The author is not acting in an investment, tax, legal or any other advisory capacity. This is not an investment research report. The author's opinions expressed herein address only select aspects of potential investment in securities of the companies mentioned and cannot be a substitute for comprehensive investment analysis. Any analysis presented herein is illustrative in nature, limited in scope, based on an incomplete set of information, and has limitations to its accuracy. The author recommends that potential and existing investors conduct thorough investment research of their own, including detailed review of the companies' SEC filings, and consult a qualified investment advisor. The information upon which this material is based was obtained from sources believed to be reliable, but has not been independently verified. Therefore, the author cannot guarantee its accuracy. Any opinions or estimates constitute the author's best judgment as of the date of publication, and are subject to change without notice. The author explicitly disclaims any liability that may arise from the use of this material.
Disclosure: I/we have no positions in any stocks mentioned, and no plans to initiate any positions within the next 72 hours.
I wrote this article myself, and it expresses my own opinions. I am not receiving compensation for it (other than from Seeking Alpha). I have no business relationship with any company whose stock is mentioned in this article.