We have seen that simple value strategies tend to outperform. This has been the case with each one we have looked at so far, including the P/E ratio and its alternatives, the Piotroski F Score, net-net investing, and the Magic Formula.
Today's article will change that trend. Normally there would not be much point in writing an article about what doesn't work. But this particular ratio is one of the most frequently reported and used, so I think it's worth discussing.
The price to book (P/B) ratio is defined as:
P/B = Market Cap / Book Value
The low P/B strategy buys companies that are trading at the largest discounts to their net asset values.
Backtesting the P/B Strategy
As with the other articles in this series, I'm going to use Portfolio123 for each backtest. Here are the results since 2000 of a portfolio of the 100 Russell 3000 companies with lowest P/B ratio using annual rebalancing: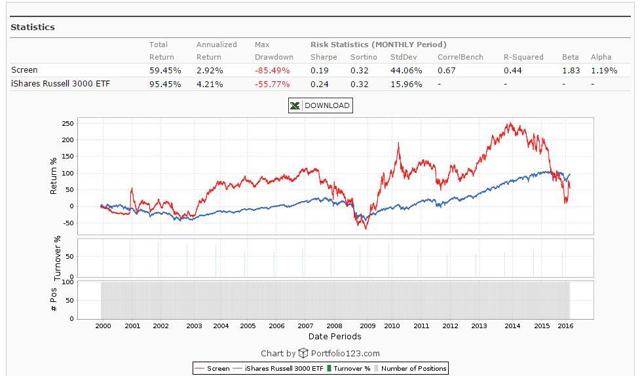 The strategy's 2.92% annualized return since 2000 underperforms the benchmark. Why has the P/B ratio done so poorly?
One problem with P/B is that the book value of non-current assets may differ significantly from their market value. Additionally, the value of most companies comes from their ability to generate earnings, rather than their assets.
With that said, I still find the results of this backtest to be surprising. Buying the lowest P/B stocks is certainly not a perfect approach, but it is still a consistent strategy that should identify many undervalued companies.
Perhaps we can answer this question further by looking at improvements to the P/B ratio.
Improving the P/B Strategy
Net-net investing is essentially an improvement on the P/B ratio, with total assets in the denominator replaced by current assets. But there is an even simpler change we can make to improve on the P/B ratio: Excluding intangible assets.
Tangible Book Value = Book Value - Intangible Assets
Here is the same backtest from the previous section with P/B replaced by price to tangible book value: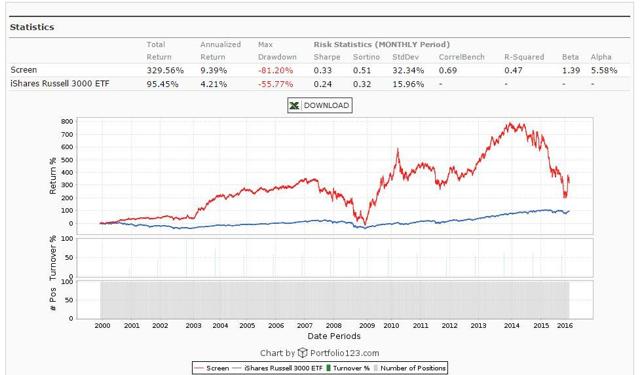 This strategy has also done poorly in the past couple of years. But relative to the normal P/B ratio, annualized returns have increased from 2.92% to 9.39%.
The price to book strategy is based on identifying balance sheet bargains. While an intangible asset like goodwill does appear as a balance sheet item, it is not one that can be readily sold at auction. If we are valuing companies based on some proxy for liquidation value, it is reasonable to only consider tangible assets.
So in our next section, we will use price to tangible book.
Price to Tangible Book in the Large-Cap Space
We now see how our improved P/B strategy does in the large cap space. The following backtest shows the performance of the 50 S&P 500 companies with the lowest ratio of price to tangible book value, rebalanced annually since 2000: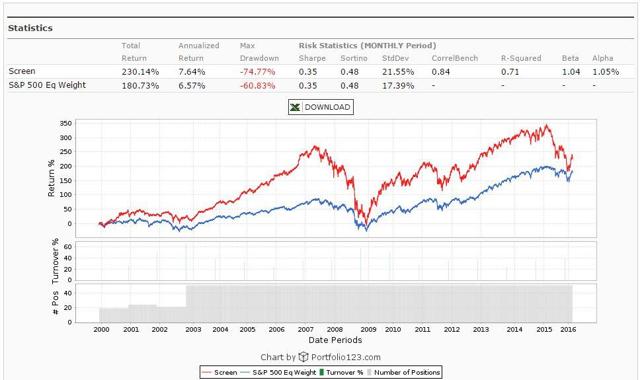 While this strategy has a worse max drawdown compared to the equal-weighted S&P 500, it still outperforms the benchmark.
Here are the 10 S&P 500 companies with the lowest ratio of price to tangible book value:
The Ten S&P 500 Companies with Lowest Price to Tangible Book Value

| | |
| --- | --- |
| Company | Price to Tangible Book |
| Deutsche Bank (NYSE:DB) | 0.38 |
| Citigroup (NYSE:C) | 0.70 |
| Hess Corp (NYSE:HES) | 0.76 |
| American International Group (NYSE:AIG) | 0.76 |
| Loews (NYSE:L) | 0.78 |
| Morgan Stanley (NYSE:MS) | 0.84 |
| Prudential Financial (NYSE:PRU) | 0.88 |
| Annaly Capital Management (NYSE:NLY) | 0.89 |
| Citizens Financial Group (NYSE:CFG) | 0.91 |
| Bank of America (NYSE:BAC) | 0.96 |
Conclusion
The price-to-book ratio, while one of the most common value ratios, has underperformed the market since 2000. Mechanically buying low P/B companies may no longer be an effective investing strategy.
The best improvement to the P/B ratio is made by swapping out book value in favor of tangible book value. This low price to tangible book value strategy outperforms both within the Russell 3000 and S&P 500.
The next article in this series will be a conclusion showing the results of each strategy, and stating the best overall performer. We will also answer the question: Why have value strategies as a whole performed so poorly the past few years?
Disclosure: I/we have no positions in any stocks mentioned, and no plans to initiate any positions within the next 72 hours.
I wrote this article myself, and it expresses my own opinions. I am not receiving compensation for it (other than from Seeking Alpha). I have no business relationship with any company whose stock is mentioned in this article.