Swisher Hygiene (NASDAQ:SWSH) used to operate in two segments: Hygiene and Waste. The Waste segment was sold on November 2012 and the Hygiene segment was sold on November 2015. Following the sale transaction of the Hygiene segment, the Company has no operating assets remaining and no revenue producing business or operations. In the Annual Meeting on October 2015, the shareholders approved a Plan of Dissolution and Complete Liquidation. The Board is currently determining whether or not to proceed with the liquidation. Assuming the board approves the Plan of Dissolution, shareholders should receive around $1.02/share. At today's price of $.90 investors should receive a 13% return on investment.
My NAV analysis will be based upon the following assumptions:
Liquidation will be complete by December 31, 2016.
Cash and Accounts Receivable will be fully valued ($2mm of the $2.16mm was received from Ecolab in January 2016).
Other current assets and all noncurrent assets will be assigned a value of $0.
All on balance sheet liabilities will be fully valued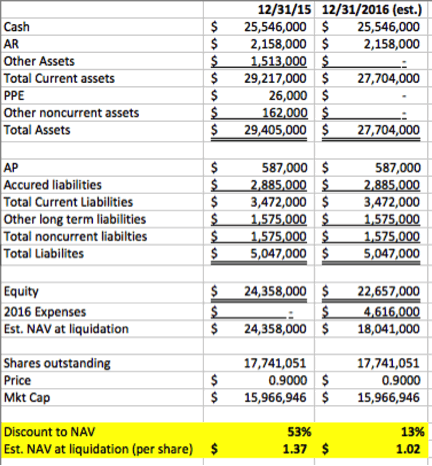 At December 31, 2015, NAV was $1.37. Upon liquidation, NAV will be significantly lower than this due to ongoing expenses including executive's compensation and professional fees (tax preparation, audit and review related fees and financial statement printing and related filing expenses) and ability of the company to convert other assets to cash.
Other risks include:
Liquidation takes longer than expected.
Uncertain legal liabilities.
Uncertainty regarding liquidation expense.
Uncertain fees related to compensation for consulting agreement with Richard Handley and CFO.
For FY 2016, expenses were calculated by taking FY 2015's SG&A and subtracting all extraordinary items whilst also taking into account the company's new structure.
Compensation is calculated for Handley (NYSE:CEO) and the unnamed CFO at $300k each.
Professional fees (other than legal) assumes a $2mm reduction due to a onetime expense for the USA settlement and a decrease of $1.5mm in compliance cost for being a public company.
Legal fees were adjusted to reflect the one time expense of $1.6mm for the USA settlement
Other expenses took into account the two ongoing lawsuits (best guess).

Click to enlarge
Plugging in the estimated expenses of $4.62mm, estimated NAV at December 31, 2016 should be $1.02. At today's price of $.90, investors should receive a 13% return on investment.
Disclosure: I am/we are long SWS.
I wrote this article myself, and it expresses my own opinions. I am not receiving compensation for it (other than from Seeking Alpha). I have no business relationship with any company whose stock is mentioned in this article.
Editor's Note: This article covers one or more stocks trading at less than $1 per share and/or with less than a $100 million market cap. Please be aware of the risks associated with these stocks.