Newmarket Gold (OTCQX:NMKTF) has sure been in the news a lot lately. In early March, the company reported a strong Q4 and year, recording $76.5 million in operating cash flow, on top of 222,671 oz of gold produced in 2015, which exceeded the upper range of guidance.
Later in the month, Newmarket announced that mineral reserves at its flagship Fosterville mine have increased by 34%, to 244,000 oz due in large part to the discovery of the high-grade Eagle Fault Zone, which has also helped boost reserve grades up to 6.11 g/t, a 25% increase over 2014.
At the conclusion of March, the company made the decision to redeem an aggregate $34.29 million of its $34.5 million 8% convertible debentures, which were converted by the holders into common shares prior to the redemption date, with an aggregate of 10,287 common shares issued.
The company now has 174.7 million shares issued and outstanding. Current up to the March 2016 corporate presentation, the company is operating with $36.5 million in cash, and just $1.3 million in debt.
Today's Announcement
To get things started in April, today, the company announced that legendary billionaire gold and silver investor Eric Sprott has agreed to purchase 10 million common shares of Newmarket Gold common shares.
From Newmarket Gold:
Newmarket Gold ("Newmarket" or the "Company") (TSX:NMI)(OTCQX:NMKTF) is pleased to report that Eric Sprott has agreed to purchase 10,000,000 common shares of Newmarket from Luxor Capital Partners LP ("Luxor") and affiliates at a price of $2.25 per share for total consideration of $22.5 million. Together with Mr. Sprott's prior shareholdings in Newmarket, Mr. Sprott will own 15,151,196 common shares in Newmarket representing an approximate 8.7% ownership in the Company. Luxor also granted Mr. Sprott a right of first refusal to purchase up to an additional 16,200,000 common shares of Newmarket that expires December 31, 2016.

Douglas Forster, President and Chief Executive Officer of Newmarket stated: "Mr. Sprott is a renowned and respected leader in the investment community and one of the world's premiere gold and silver investors. Newmarket is very pleased to have Eric as a larger shareholder of the Company and we appreciate his continued support as we continue to focus on creating shareholder value from our three producing gold mines in Australia."

Eric Sprott stated: "Newmarket has a strong management team and Board of Directors. I am impressed with the progress that Newmarket has made with record gold production in 2015, the very positive outlook for production growth and operating cost reductions and its strong balance sheet with essentially no debt. I look forward to being a supportive shareholder and participating in the growth of the Company."
Thoughts
Newmarket Gold has been firing on all cylinders as of late, and this most recent news can't help but be viewed upon as anything other than another positive for the company -- A wealthy, well respected name in the industry, Eric Sprott, is interested in increasing his ownership stake by ~200%.
What a turnaround story the former Crocodile Gold company has experienced in just a little under one year's time. It wasn't that long ago when this mid-tier Australian gold producer was a relatively obscure name in the industry that received very little press.
With a new leadership team at the helm, led by President and CEO Doug Forster, the company has already been quite successful in rebranding itself and attracting growing interest from investors.
Since the time of the Crocodile consolidation, shares of Newmarket Gold have climbed up 90%: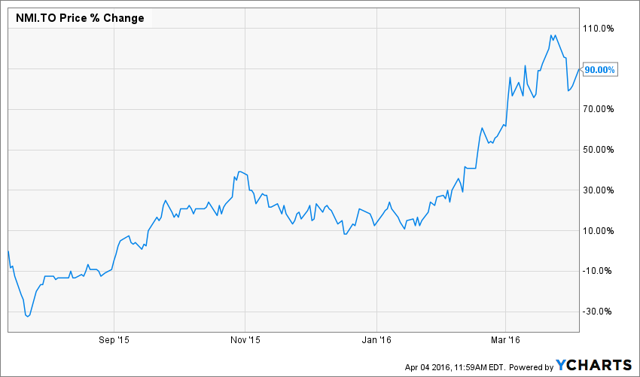 Valuation
Shares of NMKTF are currently trading at a market cap of ~$240 million, with an enterprise value of ~$215 million. Per the most recent March 2016 corporate presentation, Enterprise/consensus 2016E EBITDA is 3.1, price/consensus 2016E cash flow per share is 3.3, and enterprise value/2016E production is $1,205.
The following slide shows a peer group comparison to other mid-tier Australian and Canadian gold producers: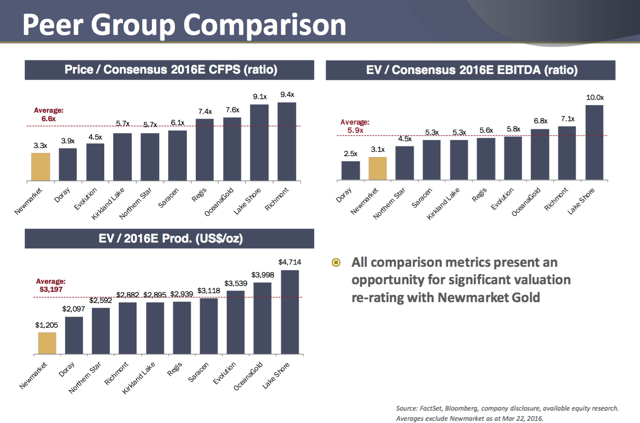 Source: Newmarket Gold Corporate Presentation
In the ~200,000 oz/year gold producer space, Newmarket Gold compares favorably to Lake Shore Gold (NYSEMKT:LSG), which was recently acquired by Tahoe Resources (NYSE:TAHO) for C$945 million.
In February, at the time of the Tahoe merger announcement, here is what the comparison between Newmarket Gold and Lake Shore Gold looked like: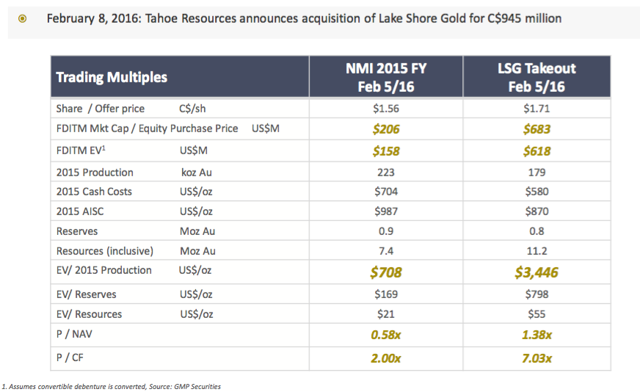 Source: Newmarket Gold Corporate Presentation
With similar production profiles and reserves base, shares of NMKTF would have to rise significantly from this point on to bridge the valuation gap with LSG.
Please note, the share price shown in the table above is quoted in Canadian dollars. In the US market, NMKTF is up 77.48% YTD, and currently trading at $1.75 as of April 4.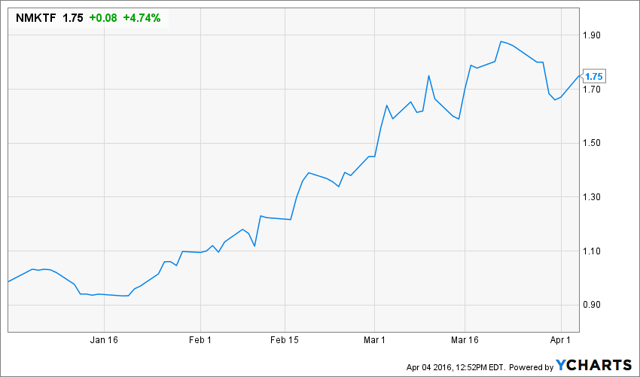 Outlook
In 2016, Newmarket Gold is guiding for gold production between 205-220k oz at cash costs of $650-725/oz, with all-in sustaining costs (AISC) between $950-1,025/oz.
Capital expenditures are projected to be $50-57.5 million, with an additional $5-10 million allocated for growth programs at the company's existing 3 producing gold mines in Australia (Fosterville, Stawell, and Cosmo).
Operating cash flow is projected by analysts to increase by 65% to $126.3 million (shown in the graphic below), which would be a rather impressive accomplishment considering that 2016 gold production isn't expected to exceed 2015 numbers. The significant decline in the Australian dollar (down 10.8% Y/Y to the USD) certainly helped to reduce operating expenses (down 30% Y/Y) in 2015, but can we expect this trend to continue into 2016? A key component in continued cost reduction will be if the high-grade visible gold hits at Fosterville's Eagle Fault and East Dipper Zones keep improving still.
With decent cash in the bank and minimal debt, it will be interesting to see if Newmarket goes hunting for acquisition targets this year. In 2015, 55% of production came from its flagship Fosterville mine.
Source: Newmarket Gold Corporate Presentation
Pertaining to its growth strategy, management has addressed this topic before in the past.
From The Northern Miner:
Forster says the goal is to boost Newmarket's annual gold production to 400,000 oz. with organic growth and further acquisitions. The company has some in-house potential via satellite deposits at its existing operations, including Maude Creek near its Union Reef mill and the Big Hill deposit at Stawell.

"Those could definitely add ounces, but what our team has done in the past is what we call a 'gold roll up.' Our plans are to look at other producing assets in Australia and the Americas that can add to our annual production profile. It's a lot like the strategy behind New Gold, where you have an incremental build to a producer," Forster elaborates.
Stay tuned and we'll see what unfolds in 2016. For Newmarket Gold, so far, so good. Eric Sprott certainly seems to think so, anyway.
Disclosure: I am/we are long NMKTF.
I wrote this article myself, and it expresses my own opinions. I am not receiving compensation for it (other than from Seeking Alpha). I have no business relationship with any company whose stock is mentioned in this article.
Editor's Note: This article discusses one or more securities that do not trade on a major U.S. exchange. Please be aware of the risks associated with these stocks.