Donald Trump is known for saying things that many people are thinking but are too afraid to say. Recently, Trump said that the U.S. economy is "sitting on a big, fat beautiful bubble that's waiting to explode". I agree with much of that, mostly the part about many assets being in a bubble; I am less certain about when or if it will "explode".
The global economy is awash in debt and easy money thanks to the policies used by the U.S. Federal Reserve since the 2008 Financial Crisis. Quantitative easing and other policies were ways for politicians and other officials to pump up the economy and it amounts to total manipulation. These officials made it extremely painful and unappetizing to be a saver and hold cash in the bank. This is what made risk assets ranging from real estate to vintage Ferraris to artwork and the stock market very attractive. You don't have to look far to see signs of excess, or "irrational exuberance," in any of these markets. Just a few months ago, a Chinese billionaire spent over $170 billion in order to buy a piece of art by Modigliani and he used his American Express (NYSE:AXP) card for the purchase in order to get airline miles. In 2014, this same person paid $36 million for a teacup. When you reach a point where you are paying that kind of money for a teacup, or $170 million for one piece of art, that might be saying that there is some "easy money" sloshing around in the global economy.
Depression-era types and those that have worked really hard for their money, don't typically blow money, but if you made it without much work, you may not appreciate the value of a dollar. That is where the "easy come, easy go" expression comes from. This easy money seems to have reached the classic car market with some rare Ferraris now selling for about $35 million.
In terms of the stock market, the S&P 500 Index (NYSEARCA:SPY) looks pretty frothy now and as shown in the chart below, it really looks like it has hit a wall of resistance near current levels for the past year or so.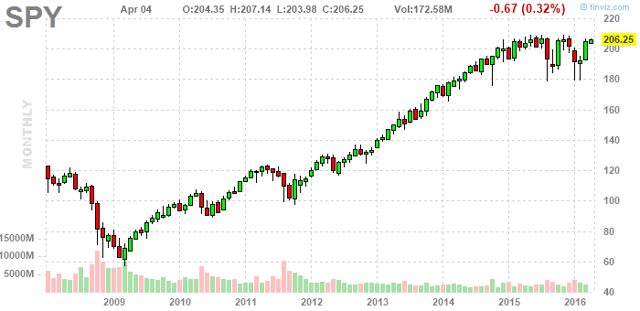 Click to enlarge
As for real estate, prices have been running wild in cities like San Francisco and appear vastly overvalued when considering historical norms. Affordability is way above historical norms and that is even with interest rates near record lows. A recent Economist.com article states:
"As a gauge of frothiness, The Economist has compared prices against two affordability metrics: income and rents. On this basis, affordability looks stretched in San Francisco with prices at nine times household income and nearly 20 times annual rents. This compares to a long-run city average of six times income, and a national average of 3.3 for income and 11 for rents. "
The chart of U.S. home prices looks extremely inflated at current levels: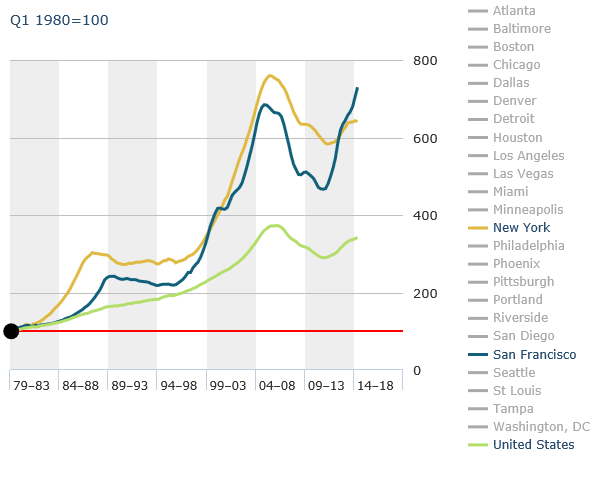 Based on all this, I absolutely agree that we are in a bubble, but it might get bigger and last longer than expected. On the other hand, it could all blow up very quickly if some event or policy mistakes are made by the Federal Reserve. Early this year, investors in the stock market were reminded of how fast prices can fall when selling pressure accelerates and when sentiment turns negative. I believed the market correction we saw just recently was a great buying opportunity and on February 10, 2016, I wrote an article titled "Multiple Indicators Suggest This Market Pullback Is A Big Buying Opportunity." I point this out to counter any arguments that I am overly negative and also to show that it often pays to be a contrarian and buy when there is some panic selling. There was not a lot of optimism when my bullish article was published and you can see that in some of the comments left by some who had a bearish view. Now that the market has rebounded, the contrarian trade would be to take at least some profits and that is what I have done on many stocks.
There is a good chance this bubble will get bigger or just last at current levels for a very long time. Because of this, I don't think investors should sell everything, but if you were in pain in February and did not have the stomach to buy more stock as I suggested when the market was melting down, it probably makes sense to not be overly confident right now.
In the past couple of weeks I have raised cash and I am prepared for any major downturn which could be sparked by terrorism, politics, policy mistakes and more. I don't see a lot of upside in the market right now, and that is making it easy for me to want to pull a significant amount of cash to the sidelines. It's worth noting that we are now in April and next month, the old adage "sell in May and go away" will be on the minds of many investors. I would rather sell some stocks before May and "go away" a little ahead of the crowd.
Data is sourced from Yahoo Finance. No guarantees or representations
are made. Hawkinvest is not a registered investment advisor and does
not provide specific investment advice. The information is for
informational purposes only. You should always consult a financial
advisor.
Disclosure: I/we have no positions in any stocks mentioned, and no plans to initiate any positions within the next 72 hours.
I wrote this article myself, and it expresses my own opinions. I am not receiving compensation for it (other than from Seeking Alpha). I have no business relationship with any company whose stock is mentioned in this article.