Introduction
In my two previous articles about Dollarama (OTC:DLMAF) in 2015, I always reached the same conclusion. The company is posting robust financial results (and proves its concept works), but I didn't feel comfortable with the company's total valuation nor with the decision to buy back stock when it's trading too expensive.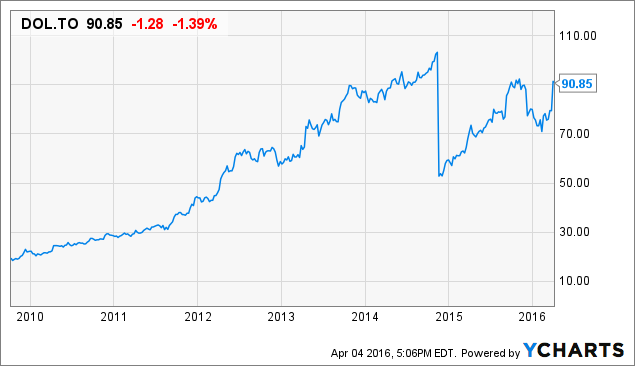 Dollarama's main listing still is on the Toronto Stock Exchange where it's trading with DOL as its ticker symbol. The average daily volume is approximately half a million shares, resulting in a daily dollar volume of approximately $35M. So, for liquidity purposes, you should try to use the TSX to trade in the company's shares.
2015 was a year with hundreds of millions of free cash flow…
Back in December, I wasn't fully convinced of the company's attractiveness, and in the conclusion of that article I said I was still on the sidelines, hoping for a more attractive price to get in. I did like the concept of this company (and I admit I always step inside one whenever I'm in Canada. I usually never need anything but always leave the store with 'something' (not necessarily something useful)).
'Right now, Dollarama is trading at a free cash flow yield of almost 2.5% which is already much better than the company's valuation in September. It's still not a bargain, but if you believe in the business model, it could be a very interesting long-term buy-and-hold company at the current share price. The company's Halloween sales were very strong, and I hope Dollarama will be able to continue this trend towards the Christmas sales! That being said, despite the recent drop in its share price, the free cash flow yield still doesn't meet my criteria, and I'm personally still on the sidelines.'
Don't get me wrong, Dollarama earns a ton of respect by being able to continue to increase its total revenue. Of course, this does go hand in hand with opening new stores, but it's also a sign the new stores aren't 'stealing' any revenue from existing stores as the market doesn't seem to be saturated just yet! The revenue increased from C$2.33B ($1.75B) to C$2.65B ($2B) and the gross profit jumped by approximately 20% to C$1.03B ($775M). That's an excellent result and due to the slower increase in the G&A expenses, the operating income increased by more than 25% to C$550M ($407M). Fantastic, truly fantastic as this meant the operating margin increased from 18.15% in 2015 to 20.72% in FY 2016. That's a strong result and it shouldn't surprise you to see Dollarama was able to increase its bottom line by approximately 30%. Thanks to the company's share repurchase program, the EPS increased by approximately 36% as the company repurchased approximately 5% of its total amount of outstanding shares.
Click to enlarge
Source: financial statements
That's very nice, and again, a great performance from Dollarama, but as the current share price is in excess of C$90 (US$67.5+), the company is still trading at approximately 30 times its net income so it's not particularly cheap. And considering the total value of the depreciation was just US$37M, I wasn't really hopeful to see Dollarama having a higher free cash flow than net income.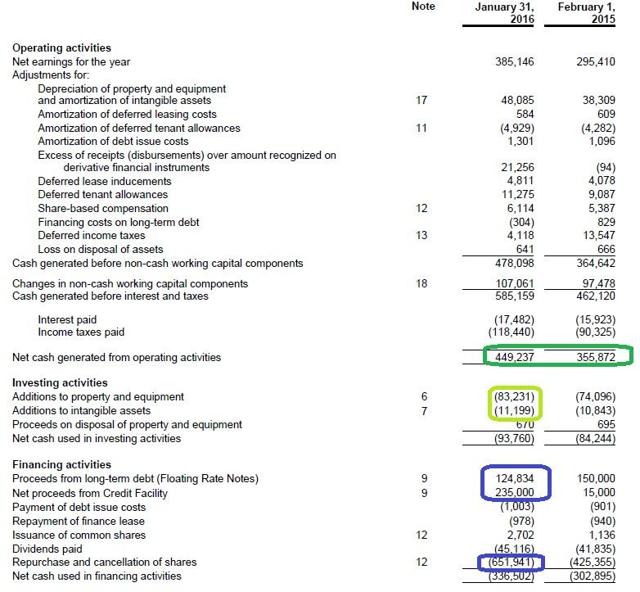 Click to enlarge
Source: financial statements
With a net operating cash flow of C$340M ($255M) (including interest and tax payments but excluding changes in the company's working capital that allowed it to unlock cash from its WC) and a total capex of C$94M (US$70M), the adjusted free cash flow was just C$250M ($185M), and that's even lower than the company's net income.
…But despite liking the business concept, the valuation is extremely rich
And in theory, there's absolutely nothing not to like about Dollarama's financial results, but more importantly, the improvement compared to the previous financial year didn't really reduce my concerns about Dollarama being overvalued.
Let's have a look at this from an objective angle. The company is generating less than US$1.5 per share in free cash flow and is thus trading at in excess of 40 times its free cash flow (which thus means the free cash flow yield is less than 2.5%). 1/5th of the free cash flow has been spent on dividends which would leave approximately US$150M on the table to spend on share buybacks. Buying back stock usually is a good way to increase shareholder value as the future profit will have to be divided over a lower amount of outstanding shares.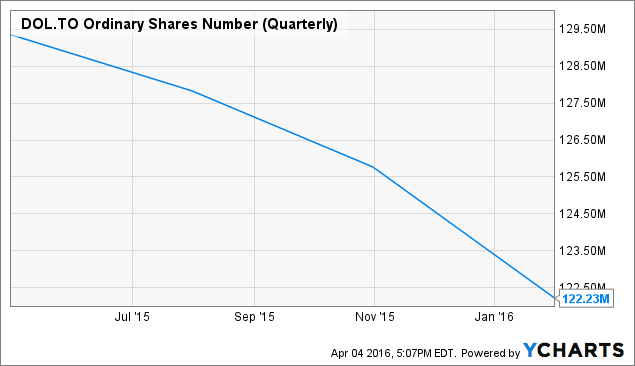 DOL Ordinary Shares Number (Quarterly) data by YCharts
I would have had no problem if Dollarama would have spent US$150M on share buybacks, but I'm not particularly happy to see the company having borrowed a net amount of in excess of US$300M for a substantial buyback program. Sure, it will help Dollarama down the road but what's the point in buying back stock at a free cash flow yield of 2.5% if the senior debt maturing in 2018 is costing you 3.095% per year? Wouldn't it be nicer to just being able to retire the 3.095% bonds and thus save approximately US$10M per year in interest expenses?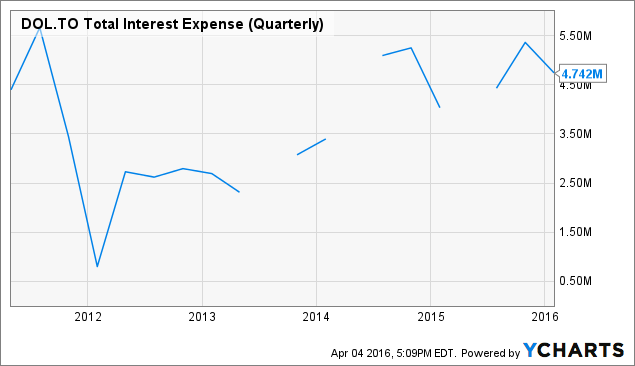 DOL Total Interest Expense (Quarterly) data by YCharts
Yes, I obviously realize Dollarama's financial performance will improve as more stores will open and more free cash flow (per share) will be generated and I'm not against any buyback plan, but I'm against 'overspending' on buybacks. Is the best and smartest way to allocate capital right now really buying back stock at a 2.5% free cash flow yield (whilst the 'fresh' debt to fund these buybacks is also costing you money?).
Investment thesis
For 2017, the company expects an increase in its capex as it will build a new and large warehouse, so the free cash flow in FY 2017 but as this is growth capex rather than sustaining capex, this will be a one-time event and nothing to be worried about. Dollarama is getting ready for yet another year of growth, but I wish the company would keep its share buyback rate more or less in line with the free cash flow it's generating on an annual basis.
Again, I really like Dollarama's business plan and I guess you could say that I'm a 'returning customer' in some way, but I won't buy the shares here.
Disclosure: I/we have no positions in any stocks mentioned, and no plans to initiate any positions within the next 72 hours.
I wrote this article myself, and it expresses my own opinions. I am not receiving compensation for it (other than from Seeking Alpha). I have no business relationship with any company whose stock is mentioned in this article.
Editor's Note: This article discusses one or more securities that do not trade on a major U.S. exchange. Please be aware of the risks associated with these stocks.