Wealth Management Madness
In parallel with the "March Madness" NCAA basketball tournament every year, WealthManagement.com runs its own tournament featuring innovators and leaders in the financial advisory space. This year's winner was Aaron Klein of Riskalyze, as the tweet screen captured below shows.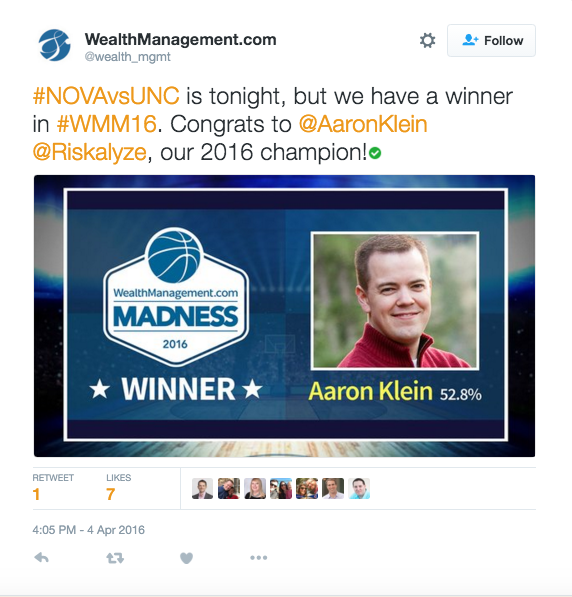 Aaron was kind enough to answer our interview questions via email from East Africa, where he has been completing the adoption of his son Teddy.
Interview With Aaron Klein
David Pinsen: Thanks for taking the time to talk with us about your firm, Aaron. You're the CEO of Riskalyze which, judging by the growth in its headcount, appears to be one of the fastest-growing Fintech companies in America. Let's start by discussing your signature product, Riskalyze, which determines a "risk number" for each investor, and helps advisors align the investor's portfolio with his risk tolerance. It seems like everyone has some sort of tool to measure a client's risk tolerance -- what differentiates yours?
Aaron Klein: Thanks! It has been a wild ride for the last three years as we've zoomed from 4 to 100+ employees, and advisors managing $139 billion in assets on our platform. We invented something a bit different called the Risk Number, which is the only quantitative and objective approach to aligning how much risk a client can handle, with how much risk they actually have in their portfolio. The traditional industry solutions stereotype clients based on age, ask nonsensical market sentiment questions, and then never connect that to portfolio allocation. And the results are bad: Emotional reactions to risk drive poor short-term decisions that blow up long-term financial goals.
DP: You've mentioned in the past that advisors can use Riskalyze not just to align their clients' portfolios but also to expand their businesses. Can you explain how that works?
AK: We hear at least once a week that a prospective client pinpoints their Risk Number as a 45. Then the advisor plugs in their current portfolio, and they're invested like an 87. When an investor suddenly understands that they have far more risk than they want or need, that's a recipe for an advisor to quickly gain a new client.
DP: In a recent article, we interviewed Robert Wyrick, a leading financial advisor in Texas who tries to limit his clients' downside risk to drawdowns of 7% or less. While that seems very conservative, he made the point that a typical 60/40 stock/bond portfolio would have been down about 22% in 2008, and this represents too much risk for most of his investors. What is the maximum drawdown the average Riskalyze investor is willing to tolerate, and how do advisors using Riskalyze work to limit their risk accordingly?
AK: I love that Robert is thinking about downside risk as the benchmark. That's exactly how his clients are thinking and that will protect them from making bad short term decisions that blow up their long-term financial goals. However, I can pretty much guarantee you that Robert has a big problem -- many of his clients would probably prefer more risk. These are the clients who will be frustrated about their returns when the market is up. And many of his clients might prefer even less risk. These are the clients who will still be emotional and fearful when markets are down.
Riskalyze allows advisors to put risk first in the discussion -- exactly as Robert is doing -- but to individualize that process and create scalability in their businesses.
DP: You are able to see what Riskalyze advisors are recommending their clients. What are the most common individual securities and funds you're seeing them recommend today?
AK: Great question. From a broad view, most advisors focus on an ETF and mutual fund family, and then use a mix of those funds to build portfolios. Vanguard and Dimensional continue to grow in popularity. Managed account programs like SEI and AssetMark are growing. And our Autopilot platform is also growing in popularity -- the Autopilot CLS product delivers 8 portfolio choices spread across the Risk Number spectrum with fully automated asset management.
Specifically, some of the most heavily used ETFs we see advisors using are:
DP: Let's talk about your Autopilot, automated asset allocation product. How does it work? Is it meant to compete with robo-advisors such as Wealthfront and Betterment?
AK: Most of the firms the press writes about as "robo advisors" are actually self-directed investing services -- let's call them self-directed robos. They're fine products, but they aren't advice. And we believe that just as TurboTax didn't put tax preparers or H&R Block out of business, self-directed robos aren't going to put advisors out of business either.
However, the great thing about "robo" is that it demonstrated how much more of the day-to-day things clients want to do for themselves, even when they have an advisor. Five years from now, an advisor without client-facing "robo" style technology is going to be like a bank without ATMs. (Conversely, Wealthfront and Betterment are like ATMs without banks!)
Our Autopilot platform takes the Risk Number process that our advisors love and flips it to be client-facing, so clients can open accounts, make transfers, update their Risk Number, and tweak their long-term goals, while still working in concert with their advisor. This helps advisors to drive down cost and complexity, and drive up scale in their businesses.
DP: More generally, how do advisors who work with Riskalyze view robo-advisors? Do they see them as a threat to their businesses, or more of a placeholder for younger investors who will end up using human advisors when their financial needs become more complex?
AK: A lot of advisors still see them as a threat. More and more, advisors are beginning to see what we've been preaching. The segment of the industry that wants to self-direct their money is getting better technology to do so. The segment of the industry that wants a "neck to wring when things go wrong" and a financial consigliere to call when trying to make a financial decision is going to keep using an advisor.
DP: You measure risk tolerance based on the drawdown investors are willing to risk over a six-month period. Why do you use a six-month period for that?
AK: Great question! It's a bit counter-intuitive, because the goal is to get clients to think long-term. But clients blow up long-term goals and results by reacting emotionally to risk and making bad short-term decisions. In all of our research, a year was just too long for clients to "hang in there;" they need a shorter time frame to truly understand what is "normal" for their portfolio and stick to it during volatility.
DP: One ongoing challenge for financial advisors is keeping up with compliance. Let's wrap up by talking about your Compliance Cloud product which addresses that. How exactly does it work?
AK: The core Riskalyze product is great at helping advisors to quantify their compliance with the fiduciary standard, and prove that they are acting in a client's best interests. Compliance Cloud is really for big enterprises who need to sift through millions of accounts and spot the accounts with the wrong amount of risk, or too much cash, or high- risk securities, or heavily concentrated securities.
DP: Thanks again for taking the time, Aaron.
AK: My pleasure!
Disclosure: I/we have no positions in any stocks mentioned, and no plans to initiate any positions within the next 72 hours.
I wrote this article myself, and it expresses my own opinions. I am not receiving compensation for it (other than from Seeking Alpha). I have no business relationship with any company whose stock is mentioned in this article.