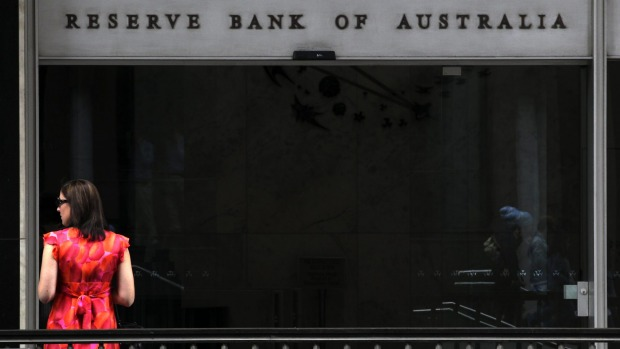 Rates stay at 2.0 percent for now.
As expected the Reserve Bank of Australia decided to keep rates on hold at the historic low of 2 percent for the tenth straight meeting. As much as we would love to see rates cut in an attempt to bring the Australian Dollar down from its lofty heights, we have to acknowledge that recent central bank moves would indicate it may not be enough.
Two key examples are the Reserve Bank of New Zealand and the Bank of Japan which both lowered interest rates but watched on as their respective currencies strengthened. For this reason, we would expect Governor Glenn Stevens and the Reserve Bank of Australia to smartly resist using one of its key weapons when it could prove futile, unless it is absolutely necessary and all other avenues have been used.
Let the jawboning begin.
The first of these avenues was tested today. Although the wording was not incredibly strong, the Reserve Bank's statement did attempt to jawbone the Australian dollar somewhat. In April's monetary statement released by RBA governor Glenn Stevens today he stated:
The Australian dollar has appreciated somewhat recently. In part, this reflects some increase in commodity prices, but monetary developments elsewhere in the world have also played a role. Under present circumstances, an appreciating exchange rate could complicate the adjustment under way in the economy.
Over the period ahead, new information should allow the Board to assess the outlook for inflation and whether the improvement in labor market conditions evident last year is continuing. Continued low inflation would provide scope for easier policy, should that be appropriate to lend support to demand.
The acknowledgement that the Australian dollar could complicate the transition away from being reliant on commodities was a key part of the statement for us. The resurgent Australian dollar has prompted a lot of speculation the Reserve Bank will be forced to resume interest rate cuts this year in order to protect a recovery in trade-exposed sectors such as tourism and other exports. We would expect to see board members attempt to continue to talk down the currency over the next few weeks.
The market reaction was mixed.
The immediate reaction to the statement was a strengthening of the Australian dollar versus the U.S. dollar as a likely short squeeze took place, but it has found its way back down now to 0.7585 as you can see below.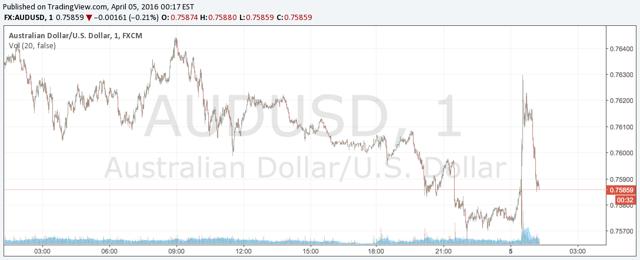 Sourced from DailyFX
This could be the start of firmer wording in its statements in order to tackle the currency. With a 2 percent cash rate it is certainly an attractive destination as a safe haven, though. So any jawboning will only go so far before something greater needs to be done.
Some economists believe there will be as many as two rate cuts before the end of the year, with one coming as early as next month. We are a little less optimistic on this now and believe the Reserve Bank will resist taking action until the Federal Reserve have raised interest rates in the United States. We don't personally think this is the right move, but we can understand why this may be the case.
All eyes will be on Janet Yellen.
Attention will now turn to the United States and the Federal Reserve's next meeting on April 27 2016. Despite non-farm payrolls coming in strongly once again and there being more and more calls for rate hikes, Janet Yellen looks unlikely to take any action. This is despite recent comments from Boston Fed President Eric Rosengren who said:
The U.S. has weathered foreign shocks quite well [...] and I believe it will likely be appropriate to resume the path of gradual tightening sooner than is implied by financial-market futures.
If Doctor Yellen does intend on raising rates at the April meeting, then she has an incredibly poor ability to convey the feelings of the Fed to markets worldwide, because very few are prepared for one.
What to do.
If patience is a strength of yours, then shorting the Australian dollar versus the U.S. dollar will undoubtedly prove to be very profitable. The only doubt we have is timing and how long you will have to wait to see these gains. The Reserve Bank know that the long-term prosperity of the Australian economy now relies heavily on a weaker Australian dollar. Without commodities to back it up, the economy needs to transition and a weaker currency certainly will help.
We still believe there is a strong chance the Australian dollar will drop as low as 65 U.S. cents this year. This represents a decline of 14.3 percent at the time of writing and well worthy of a trade. There are several obstacles that will need to be overcome for this to happen, and the most notable is for U.S. interest rates to climb or for the Fed to become hawkish. Until that happens it will be increasingly harder for the Australian dollar to weaken to this level. Also, few people believe the jump in iron ore prices will be sustained. When this weakens it should help pull the Australian dollar down a little also.
We continue to short the AUD/USD pair via futures contracts, but you can achieve similar results by shorting the CurrencyShares Australian Dollar Trust ETF (NYSEARCA:FXA). There is of course a chance the currency could strengthen against the U.S. dollar before it weakens, so traders should be aware that they could be making paper losses before they make these gains.
Trade safely and best of luck!
Disclosure: I/we have no positions in any stocks mentioned, and no plans to initiate any positions within the next 72 hours.
I wrote this article myself, and it expresses my own opinions. I am not receiving compensation for it (other than from Seeking Alpha). I have no business relationship with any company whose stock is mentioned in this article.
Additional disclosure: Short the AUD versus the USD through futures contracts