"Visions of sugar-plums danced in their heads." ~ Clement Clarke Moore
Some highly bullish statements regarding Kinder Morgan's (NYSE: KMI) dividend growth and capital appreciation prospects have recently been made. The first thing that came to mind was the above "visions of sugar-plums" line from a Christmas poem.
You see, I had the same visions of dividend growth and capital appreciation sugar plums last year. This was prior to the enormous slide in the stock culminating in a 75% dividend cut. The following are two major bull case opinions I beg to differ with.
Massive upside potential when stock returns to more normal value
Many say Kinder Morgan has tremendous upside potential if the stock simply returns to a more normal valuation. Some say the upside is over 40%. The issue with this statement is we are now operating in a "new normal" regarding the way Kinder Morgan is valued. The company is no longer a MLP, it is a C-corp. A paradigm shift has occurred in the structure of the company and the shareholder base.
- MLP Valuation model defunct
The valuation metrics used to build the upside case were based on the now defunct MLP valuation model. This calls into question the results altogether. I submit we have experienced a major paradigm shift in how we value midstream entities. Let's take a look at current analyst price targets for the stock.
- Only 10% upside based on consensus estimates
Stifel maintained a Buy rating on the stock and increased the target price to $19 recently. Moreover, the median price target of 17 brokers is $20 according to Yahoo Finance. This amounts to approximately 10% upside potential from current levels, well short of 40%. This makes me question the 40% upside target. Now let's address the thesis put forth that a massive dividend growth is in the cards.
Massive dividend growth in the cards
- Dividend manageable at 12%
Some suggest the current dividend has a high potential for growth based on the fact the dividend yield was once manageable at 12%. Furthermore, they purport the reason the dividend was cut was that it was high and had little chance for growth. I don't remember it transpiring in that manner.
My take on the cut
From my recollection, the dividend yield quickly shot up and over 12% due to an extreme sell off in the stock specifically because the dividend was seen as unsustainable with the heavy debt load.
The fact is the 12% yield was not manageable and actually signaled a dividend cut was inevitable. Let's take a look at the chart to see how things actually played out.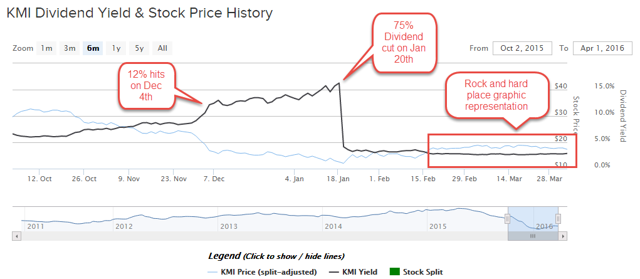 Click to enlarge
(Source: Dividend.com)
The fact is the dividend only topped 12% for a little over one month as the selloff escalated. The dividend eclipsed the 12% mark on December 4th and reached a crescendo quickly. The yield spiked to 16% in short order. Panic selling ensued when the cut of 75% was announced on January 20. I submit it was never manageable at 12%. What's more, unless the bottom falls out of the stock once more we won't see 12% again.
As a matter of fact, KMI slightly reduced its outlook for 2016 distributable cash flow to $4.61 billion from $4.8 billion recently. Nonetheless, Stifel expects excess coverage of $3.48 billion which should cover the $3 billion growth capital budget for 2016 with a little left over. Kinder Morgan will most likely use any excess cash to reduce the debt, not increase the dividend.
Bottom line
Kinder Morgan remains stuck between a rock and a hard place. The company has a high debt load that needs to be addressed. The high hopes for exponential dividend growth and/or 40% upside in the stock have little chance of coming to fruition anytime soon. The stock now represents a value trade or trap depending on your perspective. I'm leaning more towards trap.
Therefore, the risk currently outweighs the reward. There are numerous investment alternatives available with 3 percent yields and much lower risk profiles. On top of this, a slew of newly minted headwinds will make 40% upside or a three-fold dividend increase highly elusive, I surmise. I would avoid the stock presently.
Final thought
Please use this information as a starting point for your own due diligence. Always consult an investment advisor prior to making any investment decisions. Those are my thoughts on the subject. I look forward to reading yours. If you found this article interesting, please click on the follow button below. It would be greatly appreciated.
Disclosure: I/we have no positions in any stocks mentioned, and no plans to initiate any positions within the next 72 hours.
I wrote this article myself, and it expresses my own opinions. I am not receiving compensation for it (other than from Seeking Alpha). I have no business relationship with any company whose stock is mentioned in this article.