Source: CNN Money
With Tesla's (NASDAQ:TSLA) recent delivery miss for Q1 2016, I thought it was a good time to explore demand.
Elon Musk has often referred to things Tesla can do to trigger demand. With the delivery miss, let's explore what some of these options may be, beyond the already seen referral program and pop-up store events. In my mind these things are:
Marketing/advertising
Enter new markets
New product lines
Product refreshes and OTA updates
Increased charger speed, availability and car range
Decreased price (or increased value)
Increased luxury (autopilot refinement & physical interior)
Increased reliability (coupled with more locations for sales and service)
Model X Design Studio
Marketing/Advertising
For several reasons, Tesla does not advertise. As bears would point out, Tesla does not have extra money to spend on advertising right now. A quick glance at the current financial statements of the 2015 year confirms this. There is also a growing consensus here on Seeking Alpha and elsewhere suggesting Tesla may need or choose to raise billions of dollars soon by issuing shares. This requires it to resort to other means.
Luckily, Tesla has an excellent public relations machine, from Elon's Twitter (NYSE:TWTR) account and "trending on Facebook (NASDAQ:FB)," plus extensive conventional media coverage. Tesla also has an extremely devoted fan base, loyal to the mission statement, the brand and even the CEO. Many have compared Tesla to Apple (NASDAQ:AAPL) in the past (myself included) and I believe this is another area where the two companies are paralleled by none other than each other.
Additionally, Tesla has fan-made advertising that matches some of the best ads I have ever seen.
Entering New Markets
One way Tesla has previously stimulated demand is by continuing its entry into new markets. While the company, by and large, did not do this in 2015, after entering much of the first world before then, it is now expanding into some smaller, but easily dominated markets. This year's lineup includes Ireland, New Zealand and several others. I argue this is one of the easiest things Tesla can do, as likely 1% (and growing) of any population is affluent and environmentally conscious. This is also fundamental in creating a ubiquity in availability pre-Model 3.
New Product Lines
Beyond the deleted Model Y tweet, there is much speculation on this in the TMC forum, and elsewhere on the web.
The widespread belief is that beyond the Model 3, Tesla will introduce a new Roadster before 2020, a CUV Model Y and eventually a truck. With Tesla's largest issue now, in my opinion, being supply chain-related - with sub-par suppliers, insufficient internal testing and lack of options for many critical components - I think it will be truly remarkable to watch Tesla expand from 50,000 a year of one model being delivered to a huge array of product offerings with a multitude of variations for each one. While helping to stimulate demand, I think this is the biggest looming threat for Tesla. I would not have to point past the Model X, "the hardest car to build ever" to prove this is the case.
Product Refreshes And OTA Updates
There are also increased rumors of an imminent Model S (and possibly X) upgrade. With a hacker leaking software information related to a "P100DL," and rumored Model S price increases in April, this is arguably Tesla's second strongest "lever" it can pull, which ties in with the following.
Tesla has also been making inroads on this with the introduction of Ludicrous mode, now making Tesla's the fastest accelerating four-door vehicles on the planet. Tesla can improve here a lot more than people realize, however. Teslas only have a top speed of 155 MPH, hardly a yawn for those who like driving the autobahn at over 200 MPH. Teslas also have the drawback of only being able to sustain "racetrack" speeds for a few laps. If Tesla can continue to improve its top speed and sustained speed ability, as well as acceleration, the company will continue to experience robust demand for its top-end vehicles like The S, X, coming Roadster replacement and whatever else it might introduce down the line.
Increased Charger Speed, Availability And Range
Another one of Tesla's strongest advantages is with its status as the longest range pure plug-in electric vehicles, charger speed and availability. While in some cases this may cost more than a mere OTA update unlocking higher speeds or other features, this is one of the key ways Tesla differentiates from the competition. By having more chargers, less time needed at a charger and further distance traveled between chargers, Tesla is creating a powerful brand statement and statement about the viability of EVs in general.
Tesla is arguably pulling this lever as well, with plans to double and quadruple Supercharger locations before the Model 3 hits the streets. To give a sense of the implications of this, here is a picture of the networks today in the United States: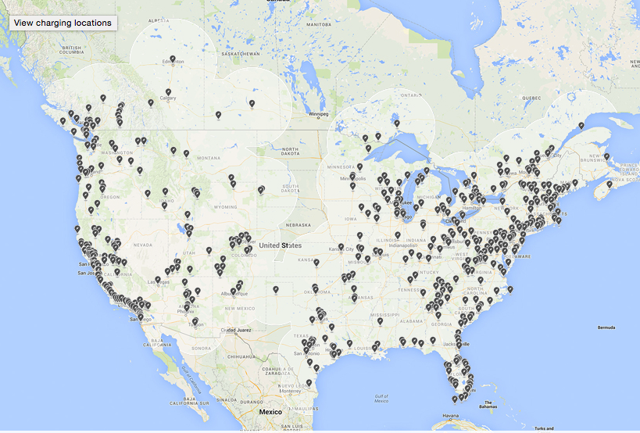 Click to enlarge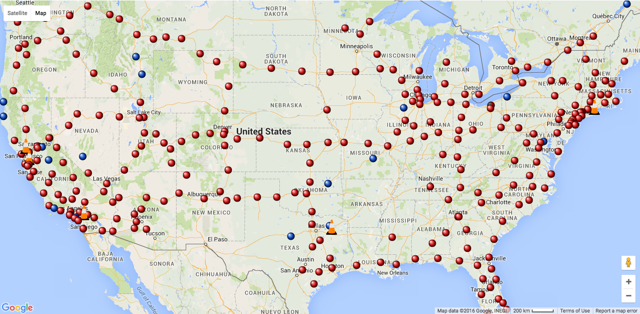 Click to enlarge
Image Sources: Tesla and Supercharge.info
With the destination network just beginning to expand in Europe, Tesla has a lot of work cut out for it in this regard, but I believe it is an investment that will more than pay off in the future. The more chargers Tesla has, the more likely another competitor is to want to pay to use it, and the quicker it will spread. Additionally, if no competitors wish to adapt the standard, Tesla's customers can enjoy an exclusive network of parking spaces, free chargers, fast chargers and perhaps more. This is an obvious win-win for Tesla, other than the free marketing it provides.
Decreased Price (Or Increased Value)
Needless to say, Tesla is doing this by continuously adding more value without raising prices, and working down market with the Model 3 and its future iterations.
Increased Reliability (Coupled With More Locations For Sales And Service)
If Tesla can continue to improve the reliability of Model S vehicles coming off the line to the point that it regains the Consumer Reports recommendation, this will also surely help demand. I am sure many buyers consult them as a source before making a purchase, especially for a daily driver or as a first EV. Further to this point, Tesla will be able to be more reliable in another sense, with a faster turnaround time for repairs, if it has more services to handle requests, can handle the requests quicker, and the requests are closer to the consumer in need.
Combined with expanding the number of locations you can go to buy or service a Tesla, this will help to reinforce the notion that Tesla is a dependable company, an important notion when choosing a vehicle for most people.
Increased Luxury
I don't want to make this article much longer than it already is here, particularly because I am sure most of you are just scrolling down to the comments at this point to argue and because I have covered this topic more extensively here. Tesla can improve upon autonomy, introduce things like the vented seats on the S, and other features found in competing luxury vehicles not yet found in Tesla's. This is another area that Tesla incrementally improves in, but could definitely take more drastic measures down the line if needed.
Add Model X Configuration Studio To Website For Prospective Purchasers
One of the easiest ways to increase demand for Tesla would be to make the Model X Design Studio available to those who have not placed a deposit. To me this is the biggest and most obvious sign Tesla is attempting to divert Model X sales to the S, and in other words stifle demand on its newest vehicle. With the recent admission that suppliers were constraining X deliveries, this makes sense. I believe being able to customize your own vehicle is a great stimulator of interest for any car enthusiast or prospective buyer in general. Especially when ordering online and waiting to take delivery instead of driving off the lot with your purchase like at a conventional dealer, this helps to make the item more tangible. With a high ticket item such as a luxury automobile, I would argue that this is especially true.
Your Takeaway
What all the above means is that Tesla has many methods it could utilize to increase deliveries and grow its market share. Some of these are relatively cheap and easy, like OTA updates and Elon's Twitter and some are capital intensive and difficult, like new product lines and sales and service center expansion to match.
While perhaps delaying profitability further, Tesla can remain confident in its ability to hit guidance for this year and continue to have robust demand beyond. The Model 3 reservations that have come in this past week are a good indication of the consumer demand and brand loyalty Tesla has created, and despite what some may think, it does not show any signs of slowing.
For these reasons, Tesla is a buy despite financial statements or coming equity raises if you are willing to hold long-term.
Disclosure: I am/we are long TSLA.
I wrote this article myself, and it expresses my own opinions. I am not receiving compensation for it (other than from Seeking Alpha). I have no business relationship with any company whose stock is mentioned in this article.
Additional disclosure: The author is not responsible for any investment decisions made as a result of information contained in this article. As an investor, you should do your own due diligence including consulting a professional analyst or broker before making any financial decision.