Though prior media reports suggested Facebook (NASDAQ:FB), Amazon (NASDAQ:AMZN), Verizon (NYSE:VZ), and Yahoo (NASDAQ:YHOO) were battling for digital rights to the NFL's Thursday night package, hard-luck Twitter (NYSE:TWTR) has won out, as first indicated by media reports and later confirmed in a PR. Shares are up slightly at the time of this article, after having risen 6.9% yesterday.
The details
A Re/code report states Twitter paid less than $10M for the rights to stream 10 of next year's 16 Thursday night NFL games, a tiny fraction of the $450M CBS (NYSE:CBS) and NBC (NASDAQ:CMCSA) paid for Thursday broadcast rights.
Why did Twitter land the deal for so little? It has much to do with the fact CBS and NBC will also broadcast the games (along with the NFL Network) and own most of their digital ad inventory - Twitter will reportedly "have the rights to sell a small portion of the ads associated with each game." Yahoo reportedly paid $20M+ last year to stream a single London game between the Buffalo Bills and Jacksonville Jaguars, but had exclusive control over the ad inventory.
Re/code also observes Verizon still has mobile rights for Thursday games. However, the NFL's PR states Twitter will stream the games it has secured on mobile devices, in addition to PCs and connected TVs.
What Twitter gains
Ad sales restrictions or not, Twitter is reportedly paying less than $1M/game for prime time weekday live streams from America's most popular sports league (sorry, MLB). Moreover, Twitter reportedly bid less than rivals, who were offering over $15M for the Thursday Night digital package.
From the looks of things, the NFL was willing to take less money from Twitter - a small difference for them in the context of their total annual TV ad revenue - in order to benefit from Twitter's reach - 320M monthly active logged-in users, with hundreds of millions of other logged-out content viewers - as well as its cult status among many sports fans as a way to follow and talk about big games in real-time. What happened on Twitter last night at the end of the Villanova-UNC NCAA title game gives some idea of the company's power as a sports media platform.
A deal with Facebook might have also given the NFL a chance to benefit from greater social media buzz for its content. However, according to a recent Bloomberg report, Facebook backed out in part because it wants its live videos to remain ad-free. Twitter apparently has no such qualms.
In February, Twitter reported Super Bowl 50 (not the most exciting of Super Bowls) produced 27M tweets that in turn generated 4.3B views. That kind of engagement - and the potential to dial it up further by letting users watch games on Twitter itself - can't be lost on the NFL. Twitter has already partnered with the NFL through its Amplify video ad program - ads are run against NFL video clips shown on Twitter, with the NFL getting a cut of the revenue. Other Amplify partners include Sports Illustrated, The Weather Channel, and FIFA.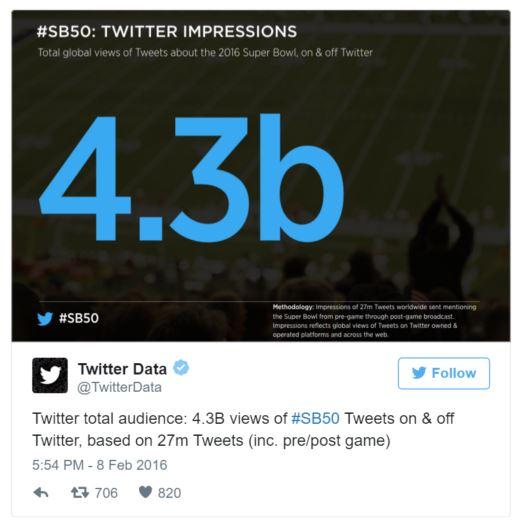 For Twitter, the deal is also a chance to boost its flatlining U.S. active user count. U.S. MAUs were up by only 1M annually in Q4 to 65M, and down by 1M sequentially. For reference, Facebook had 219M U.S./Canadian MAUs in Q4, up 11M annually.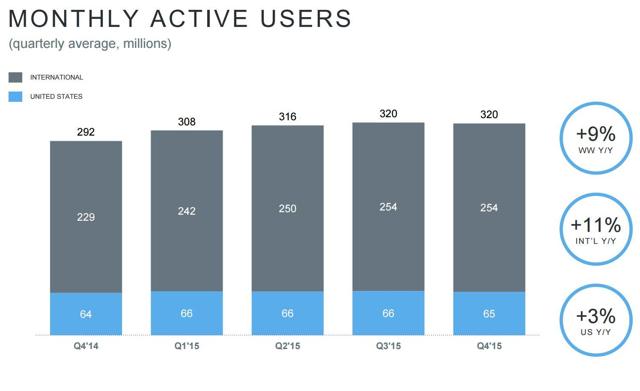 Click to enlarge
Source: Twitter's Q4 earnings slides
Also, though the U.S. was responsible for only 20% of Twitter's Q4 logged-in MAUs, it generated 64% of the company's Q4 ad revenue.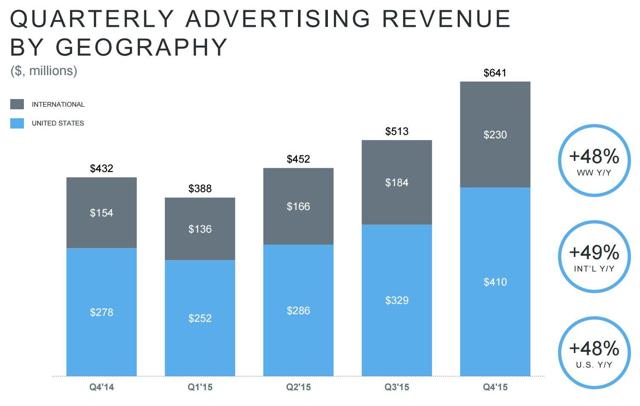 Click to enlarge
With Twitter's sales still heavily skewed towards the U.S., there's a lot of value in securing full game streams from the country's biggest sports league, even if its options for directly monetizing the content are limited.
Disclosure: I/we have no positions in any stocks mentioned, and no plans to initiate any positions within the next 72 hours.
I wrote this article myself, and it expresses my own opinions. I am not receiving compensation for it. I have no business relationship with any company whose stock is mentioned in this article.