There are just too many positives in my view to ignore eBay (NASDAQ:EBAY) as an investment for the long term. Nevertheless, there is still a great deal of negativity among sellers who have got stung in the past and it is understandable because we are talking about people's livelihoods here. However, I feel eBay's risk to the downside is small for a variety of reasons.
First of all, the stock is down over 12% year to date and is currently hovering around $24 a share. The stock has a present earnings multiple of just over 15 and forward earnings multiple of just under 12. This seems really cheap especially when you compare the stock to the current industry average of 31.7. Bears may state that eBay's price to sales ratio is currently too high (3.4) compared to the industry average (1.8) but one has to remember that this e-commerce company reported gross margins of almost 80% last year along with operating margins of 25.6% which were much higher than 5 and 10-year averages.
Net income came in at $1.725 billion last year and free cash flow amounted to $3.37 billion. These are all excellent numbers for a company with a market cap of only $15 billion irrespective of how one "feels" about the company. The other important area to look at is the balance sheet. The cash balance of almost $2 billion and equity of $6 billion+ illustrates to me that long-term debt is not an issue. eBay is not a value trap and I believe future quarters will confirm this with its numbers.
Speaking of earnings, the company announces its next set of numbers on the 27th of this month where the EPS forecasted is $0.45. This figure has been the main reason for the slide in the stock since the end of November, but the weakness in the dollar since then should act as a tailwind in the company's next set of earnings. Why? Well, the company derives 60% of its income from international markets, so a weak dollar would definitely decrease the cost of goods from US sellers (huge export market) for international buyers.
If we enter a bubble phase in the stock market (NYSEARCA:SPY), I believe it will take place with a sustained dovish stance from the Fed which should result in a weaker dollar over time. This will benefit eBay but also in the sense that despite all the negativity surrounding this company, it still accounts for almost 10% of all online global retail sales which are expected to keep increasing meaningfully every year (see chart).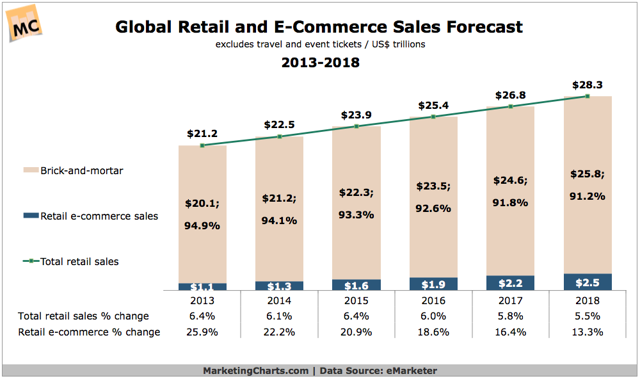 Click to enlarge
Also, although active buyer growth has slowed, eBay's trailing 12-month number after the fourth quarter still came in at $162 million (5% rolling year growth) which again brings stability to the table. Why? Well, we all know how Google's Panda update seriously affected eBay's listings which decelerated growth but with last quarter's 5% number, that negative growth trend has come to an end. Furthermore, if eBay can get its SEO (Search Engine Optimization) efforts in gear, it would do wonders for the share price as I'm sure the market would price the stock much more favorably. Inflection points is what it is all about and we should know in the next few quarters whether the new listings now classified in the product categories since February will make a meaningful impact to sales or not. Mastering SEO is all about listings differentiation which is difficult for a company like eBay, but the difference between more first-page listings and second place listings would be substantial for eBay and its sellers alike.
Click to enlarge
Source : eBay Fillings
On the technical chart, the 200-week average is acting as support (around the $23 level) and we may take another trip down there in the near future as the stock market is still in its timing band for a daily cycle low. In fact, futures are down 15 points as I write, so we may have some selling pressure over the next week or so, but as I have said in previous articles, I expect the market to charge higher. Wait for the 5-day RSI indicator on the S&P 500 to get oversold before pulling the trigger on eBay. If the stock gets crushed before it announces earnings later this month, it would be a good time to buy in my opinion. I will update here if or when we start scaling into this stock.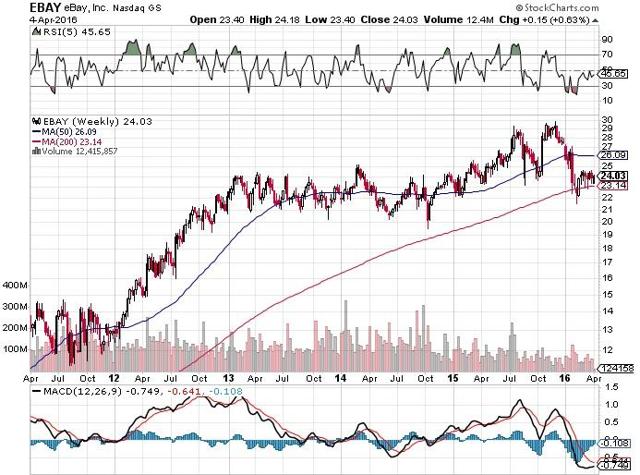 Click to enlarge
To sum up, eBay is on my watchlist as it has sound fundamentals, an attractive valuation, and is operating in an industry that continues to grow. It recently penned an agreement with the Tianjin government in China to help Chinese enterprises export their products abroad. The market just needs to see new growth avenues and this may be one of them. I believe they will come which is why we may want to be in before the market wakes up to the fact.
I'm going to be adding a few good dividend and growth stocks to the elevation portfolio over the next several weeks when I see value. It's imperative that they are not correlated and all don't have similar valuations to ensure that income is brought in every month, which, over time, will increase our share count. Follow along by pressing the "Follow" button above.
Disclosure: I am/we are long CSCO, WMT, WDC, EMR, FOLGF, SSRI, GDX, AXP, IBM, IBB, MOS.
I wrote this article myself, and it expresses my own opinions. I am not receiving compensation for it (other than from Seeking Alpha). I have no business relationship with any company whose stock is mentioned in this article.