This article was first published on criticalinvestor.eu, a platform for junior mining investors.
All images are taken from the company's latest presentation.
Lithium X Energy Corp. (OTC:ROCEF) is one of the new and upcoming stories on the junior mining scene, generating a lot of news and solid price action, and a lot of commentary because of this as well, some of it negative. However, after talking to Executive Chairman Paul Matysek at the CEO.CA's Subscriber Summit in Toronto the day before PDAC started, it dawned on me that Lithium X might deserve more credit than it has received from some quarters lately. That's especially true after the company's latest move, the acquisition of an Argentinian lithium brine project. A few weeks later, I decided to give Paul the opportunity to answer some tough questions about the company and its projects.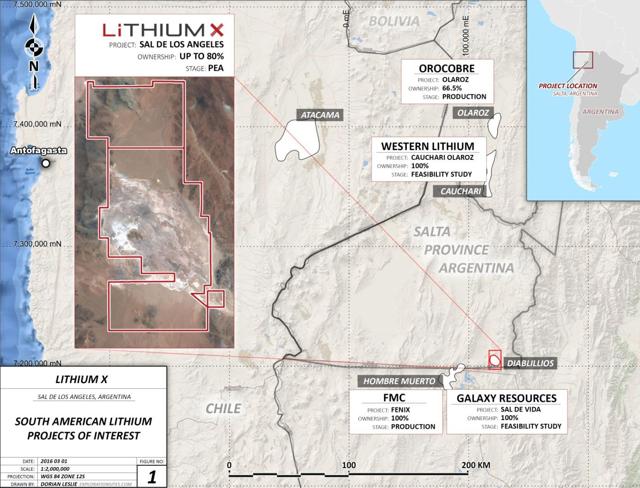 Sal de los Angeles, Argentina
The Critical Investor: Paul, congratulations on the latest financing at a very decent price and the Argentinean deal. Sal de los Angeles (SDLA) seems like it could be a game changer because of its much more advanced stage compared to Clayton Valley and robust but still historical PEA at current lithium prices. I suspect you were instrumental to the deal, with your connections in the mining space and in Argentina because of earlier projects and currently Goldrock (OTC:MFMNF).
But I also noticed a number of skeptical comments as Lithium X ran up due to higher lithium prices, and marketing efforts.
I must admit, I also couldn't find many fundamentals to justify the runup to a market capitalization of more than $50 million, particularly because Clayton Valley is so early stage from an exploration point of view and also has some work cut out on water rights and recovery methods. Sal de los Angeles looks much more substantial with a possible shortcut to eventual economic lithium production compared to Clayton Valley. Let's go over a number of questions so investors can get a better grasp on the company and its projects.
1. TCI: A lot has happened since Lithium X listed on Nov. 30. Did you find it surprising to see LIX trade fairly high before even one drill result was reported on Clayton Valley? Marketing and higher lithium prices can only do so much, in my view.
Paul Matysek: I believe our shareholders should be very happy with our stock price. In the midst of a lithium price boom, our team has delivered a liquid stock that responds to the ever-increasing value of owning the largest and a prospective land position beside the only north American lithium producer. Couple this with the acquisition of the Los Angeles Project - an advanced staged - resource rich lithium brine project in Argentina and you are going to get lots of eyeballs on the stock and traction in the market.

Sal de Los Angeles, Argentina
2. TCI: Could you elaborate a bit on how your Argentina experience helped secure this deal?
PM: I have been actively working in Argentina since 2009 while founding and leading Lithium One and Goldrock Mines. I believe that I have a good grasp on how things get done. Lots of hands-on experience dealing with local, state and federal politics, the legal and generally doing business in Argentina. Knowing the right people in the right places goes a long way in Argentina.
3. TCI: Argentina is changing rapidly under Macri now. Could you elaborate on relevant changes for Lithium X at this stage and on possible changes coming up when progressing as planned?
PM: One of Macri's major economic themes was to bring back investors and investment into Argentina. I think in his first 100 days, he has made tremendous strides in this endeavor. He recently settled a $4.65 billion deal with Argentina over defaulted bonds. The ability to attract lower cost loans and sovereign debt is now possible. He simplified and eliminated the logjam with respect to the importation of goods and services. He floated the Argentine peso against the US dollar so as to eliminate the multiple official and unofficial currency rates. The resultant devaluation up to 35% has improved the competitiveness for Argentina. At the project level, he eliminated the 5% export duty on lithium concentrate products. These changes are all very positive for the economics of Sal de los Angeles, and the upcoming Feasibility Study will probably provide a pleasant surprise to investors because of it.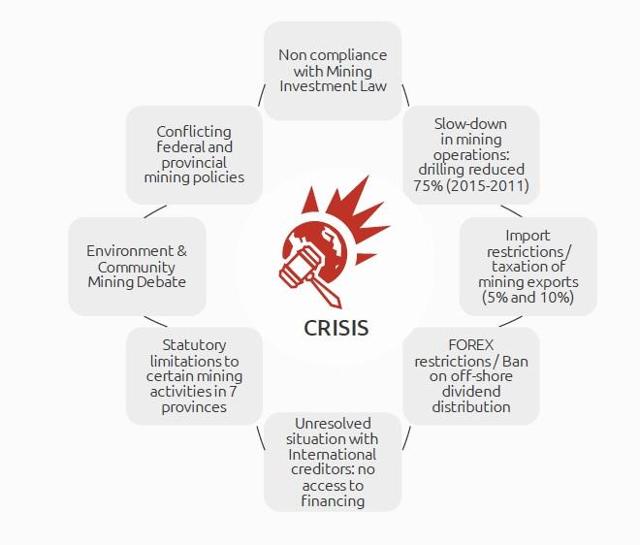 Before Macri presidency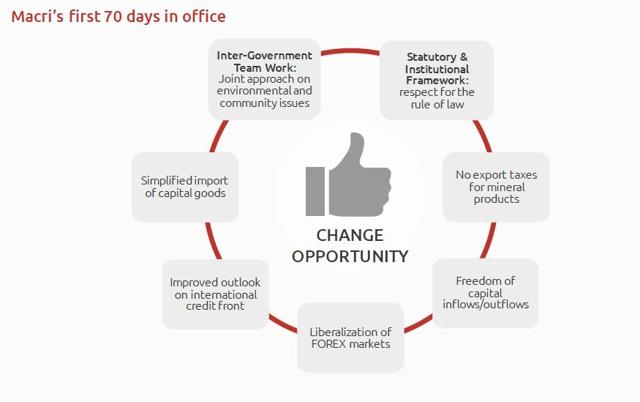 After 70 days of Macri presidency
4. TCI: The 2011 PEA for Sal de Los Angeles included lithium carbonate pricing of US$5,000 a tonne, and these figures:
"A Preliminary Economic Assessment for the Project (the "PEA") prepared by SRK Consulting (US) on Dec. 22, 2011, for Rodinia Lithium Inc. outlined an operation producing 15,000 tonnes of lithium carbonate ("LC") per year and approximately 51,000 tonnes of potash ("KCl"). The PEA projected a 34% internal rate of return ("IRR") pre-tax and a US$561-million pre‐tax net present value ("NPV") at an 8% discount rate. The PEA also outlined an option to increase production to 25,000 tonnes LC and 85,000 tonnes potash per year. This increased production scenario generates a much higher pre-tax NPV estimate of US$964 million, along with a pre-tax IRR of 36%. The PEA does not include an analysis of after-tax economics."
Clearly, a project of this size and current lithium prices could result in a much higher NPV when closing in on production in the future. What is your ultimate aim with this project?
PM: I believe the most upside in a relatively short period of time can be achieved in bringing it to Feasibility stage and getting it fully permitted. Concurrently, we also are investigating a number of innovative ways to shorten the time to cash flow production at SLDA.
5. TCI: Could you explain to me if you see ways of optimizing the 2011 PEA, which is of course outdated now?
PM: A major change is the Argentine government, which has brought fiscal stability and a freer economy, as well as a lower Argentinean peso, which combined will help us a great deal in reducing the risk factors and improving project economics. As for Sal de los Angeles specifically, we acquired a project that was advanced considerably beyond the 2011 PEA but never quite got to completing an updated resource and subsequent Feasibility Study. By completing an incremental amount of additional work, we expect to upgrade the resource to Measured and Indicated and push through to Feasibility Study, which will significantly de-risk the project. The study will incorporate updated lithium carbonate pricing and cost structures which should result in improved economics.
6. TCI: Are you focusing on low costs, or are you relying more or less on an elevated lithium price? I'm asking because in my view, when Australian mines like Galaxy come online, the current very high price levels could be unsustainable. What is your view?
PM: Yes, we are focusing on keeping our capital and operational costs low, as we don't regard the current lithium prices of US$10,000-$20,000 a tonne sustainable over the longer term. The current spike reflects a supply constraint in front of a surging demand, and as you say Australian projects coming online soon will likely take off some pressure. Supply wasn't expected to be such an issue - the Big Three (Albemarle (NYSE:ALB), SQM (NYSE:SQM), FMC (NYSE:FMC)) didn't ramp up as quickly as they said they had the ability to do. New entrants to the lithium supply market are either having difficulties reaching nameplate production or have changed their production time lines. I believe worldwide lithium demand to be strong for an extended period of time. How these prices will pan out in the long term, I don't know, but we will probably maintain a lithium price deck much less than US$10,000 for our base-case scenario in the upcoming Feasibility Study.
7. TCI: Can you share a timeline with us regarding this upcoming study, and any other updates?
PM: We will publish an updated resource by the end of this year and a completed Feasibility Study for Sal de los Angeles Q3 - 2017.
8. TCI: The project is located at considerable height - 4,050 metres. Could this be an issue in any way, increasing costs or causing permitting issues for example?
PM: Not really. In regards to permitting, Sal de los Angeles is optimal as it occupies an uninhabited enclosed basin in a barren part of the world. As such, there aren't any current claims or social demands for the surrounding land or water, which is a huge leap forward in terms of permitting. As far as costs are concerned, you have to transport all people and goods to the location of course, but here the cheaper peso, salaries and fuel come into play. The local infrastructure is already very good. Sal de los Angeles is actually located in the same province - Salta - as Lindero, the flagship project of Goldrock Mines. So I am very familiar with the local situation. Salta is one of Argentina's most mining-friendly provinces. One must also remember that without the climate and help of the high altitude, conventional low-cost evaporation processes would not be possible, so the high elevation combined with an extremely dry climate are a blessing. In this way, Sal de los Angeles meets the requirements for such a low-cost proven processing method.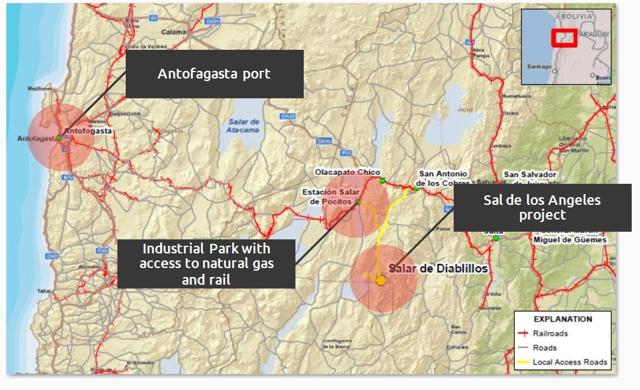 Infrastructure
9. TCI: Could you elaborate on possible pitfalls (for example water rights) regarding brine permitting processes in Argentina? What are you going to do to proceed as efficiently as possible?
PM: Brine permitting is primarily about reagent inputs and discarded salts. An operation has to ensure that the inputs are friendly to the natural ecosystem and the salts produced either saleable or of a composition natural to the salar. Fortunately, Sal de los Angeles required a minimum of reagent use due to its low magnesium to lithium ratio and produces salts that are natural to the environment. As such, we don't expect permitting issues as the conventional low-cost process we intend to apply will have minimal impact on the salar and surroundings.
10. TCI: Do you have timelines in mind for permitting?
PM: After we have completed an updated NI43-101 resource estimate, we are going to prepare the necessary paperwork and reports to file for permits, alongside doing additional metallurgical testing, more pre-production well/pump testing, engineering, etc., for the Feasibility Study. The start of the permitting process is anticipated to commence in conjunction with the updated resource. In fact, much of the base line studies and environmental work has been ongoing for the past three to four years, so we have a lot of the time consuming work already completed.
11. TCI: Let's talk a bit about Clayton Valley now. Could you tell me and the audience about this often-mentioned water rights issue? Why is it so important, where can you buy those rights, how much of those could be necessary in your view, and do you see opportunities or need to buy them shortly?
PM: That is a great question, because it is a complex issue where mining rights overlap water rights. In Clayton Valley, in order to ensure our ability to extract brine (that may be regulated by water rights, even though it is brine and not fresh water) it is our best course of action to apply for water extraction rights sufficient for an eventual operation suitable to any potential resource we should define in our claim blocks.
At this moment, it is too early to tell of course how much we would need, as we don't know how large of a resource we might have. However, we certainly believe water rights will be attainable in a pro-mining and pro-business state such as Nevada.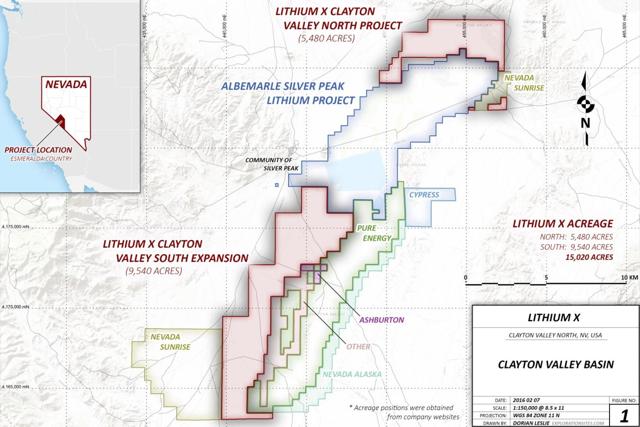 Clayton Valley
12. TCI: Is there a future permitting issue present because of those rights?
PM: Lithium X is taking a very proactive role when it comes to this. We have engaged top advisors to help with future permitting including Michael Montandon who used to be the Mayor of North Las Vegas for 12 years. He has put us in touch with many of the top mining officials in Nevada to further understand the process of future permitting if we are successful in delineating an economic resource.
13. TCI: Is evaporation possible, and if so, is it economically viable regarding these specific Nevada brines?
PM: Once extraction rights are secured, it's certainly possible to construct evaporation ponds. That being said, Lithium X is exploring using alternative processing technologies, such as the Tenova Bateman process, that may improve economics for a resource such as we expect to define in Clayton Valley.
14. TCI: Although Albemarle is mining its next-door deposit at a low grade, I'm concerned the average grade (150mg/l?) is too low to be economical at conservative price levels of $5000/t. What's your opinion on this, and why is Albemarle able to mine at such a low grade?
PM: In the current situation for a new project, one is highly dependent on new methodologies. A fellow company sharing a land position in the Clayton Valley is about to test a new processing technology, so we are very excited about their progress and results. Albemarle has been able to mine at such a low grade because they paid back their capital costs decades ago when their average grades were two or three times what we believe they are today.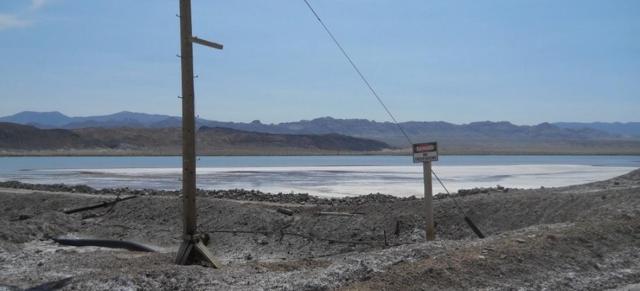 Silver Peak, Albemarle, Clayton Valley
15. TCI: One final question Paul. Could you explain to me and to interested other persons if Lithium X is under, fair or overvalued in your view, and why?
PM: Value is not a static measure and in the lithium space is dependent upon so many factors. Lithium price being dominant and the growing value of having a mineable resource that can be put into production in a relatively short time frame. Sal de los Angeles provides us with a well-understood, high grade, near-term lithium production situation. Competitors with similar characteristics trade at higher valuations.
TCI: Thanks a lot Paul for this interview, and my compliments for willing to address these questions, which are in part also shared concerns of bloggers, investors and shareholders.
Personally, I have just a small speculative position, but I must say that when a rainmaker like Paul Matysek with a touch for timing gets actively involved in a story, it is worth following, and I'm very interested in upcoming developments.
On a closing note: Paul Matysek got the chance to approve and edit this interview.
I hope you will find this article interesting and useful, and will have further interest in my upcoming articles on mining. To never miss a thing, please Follow me, in order to get an email notice of my new articles soon after they are published.
Disclaimer: The author is not a registered investment advisor, and currently has a position in this stock, but isn't compensated in any way by Lithium-X or related parties. All facts are to be checked by the reader. For more information go to lithium-x.com and read the company's profile on sedar.com for important risk disclosures. This article is provided for information purposes only, and is not intended to be investment advice of any kind, and all readers are encouraged to do their own due diligence, and talk to their own licensed investment advisors prior to making any investment decisions.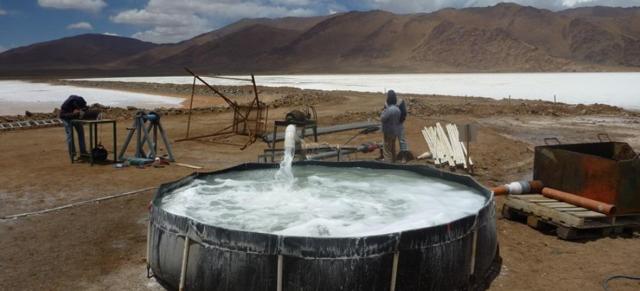 Sal de los Angeles, pump testing
Disclosure: I am/we are long ROCEF.
I wrote this article myself, and it expresses my own opinions. I am not receiving compensation for it. I have no business relationship with any company whose stock is mentioned in this article.