The momentum that Westport Innovations (NASDAQ:WPRT) had gained so far this year came to an abrupt end on April 1 when the stock dropped almost 17% in a single day. In fact, in the past four trading sessions, Westport shares are down almost 10%, which is not surprising in light of the company's woeful fourth-quarter results that were released last week.
Westport missed the bottom line estimate by a huge margin, posting a loss of $0.35 per share as compared to analysts' expectations of a loss of $0.26 per share. Additionally, despite posting a rise of 17% in revenue from the prior-year period, Westport missed the estimate by a small margin. Thus, due to a wider-than-expected loss, Westport shares took a heavy beating last week.
But, in my opinion, investors should not miss certain key facts about the company that clearly indicate how it is on the right track and should do well from a long-term perspective.
The positives
Despite posting a wider-than-anticipated loss, it cannot be ignored that Westport's financials are moving in the right direction. For instance, the company was able to reduce its operating adjusted EBITDA loss to just $1.7 million last quarter as against a loss of $11.6 million in the prior-year period. Additionally, for the full year, Westport's operating adjusted EBITDA loss fell to $5.2 million in 2015 from $17.6 million in 2014.
This improvement in the company's EBITDA profile was a result of lower operating expenses incurred during the year. For instance, in the final quarter, Westport reduced its operating expenses to the tune of 24% to $8.5 million. This year, Westport should be able to reduce its cost base further on the back of its merger with Fuel Systems Solutions, which was approved by shareholders a couple of weeks ago.
As a result of this transaction, Westport believes that it will be able to achieve cost savings of $30 million in the next two years. Along with an improving top line, this should enable Westport to achieve positive EBITDA going forward as the company will be able to expand its business in more countries. In fact, Fuel Systems' distribution network serves 70 countries over five continents, thereby giving Westport's sales channel a boost.
Additionally, Fuel Systems will also improve Westport's presence in industrial and automotive sectors, thereby giving it a complete portfolio that encompasses passenger cars, marine applications, heavy trucks, and even locomotives. Once the merger is completed, Westport will have 64% of the merged company and have control over more than 500 patents that the two companies have, as shown below.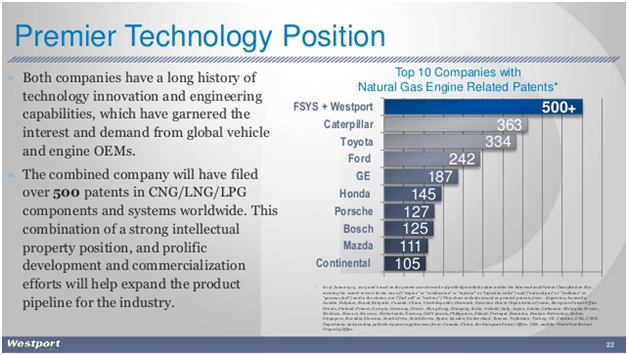 Source: Westport Innovations
Now, on the back of such a strong patent base, Westport will be able to make the most of the opportunity present in the end market as the use of natural gas vehicles is anticipated to rise.
Why natural gas vehicles will gain traction
One of the key reasons why Westport shares have rallied this year is because of an improvement in oil prices. In case of a low oil pricing scenario, the adoption of natural gas vehicles has taken a hit as low oil prices don't justify the costs of around $20,000 incurred to convert into natural gas. However, a rally in oil prices of late will encourage fleet owners to convert into natural gas in light of the cost benefits provided by the latter over a longer-term.
In fact, as seen in the chart given below, natural gas is now way cheaper than diesel since its price has fallen at a faster pace, which will act as a tailwind for Westport Innovations since this will lead to more sales of its engines and components due to an increase in adoption and conversion: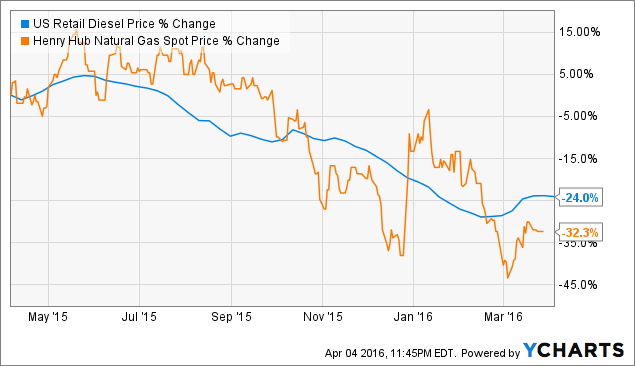 US Retail Diesel Price data by YCharts
Moreover, the fact that natural gas vehicles emit 25% less greenhouse gases than diesel-powered vehicles will make fleet-owners future proof from government emission regulations. In fact, due to the emissions regulations put in place by the EPA, the certification of diesel vehicles is becoming costlier, which is why more natural gas-powered heavy vehicles are entering the market. This is why NGVs should gain momentum going forward as discussed below.
A strong end-market opportunity
Driven by the benefits of natural gas as a fuel, the number of CNG vehicles in the United States is anticipated to increase at a CAGR of 15% to 20% from 170,000 in 2013 to more than 500,000 by 2020. More specifically, approximately 90% of this demand will come from the medium- and heavy-duty segments. The following chart shows the expected growth in CNG vehicles in the U.S. by the end of the decade.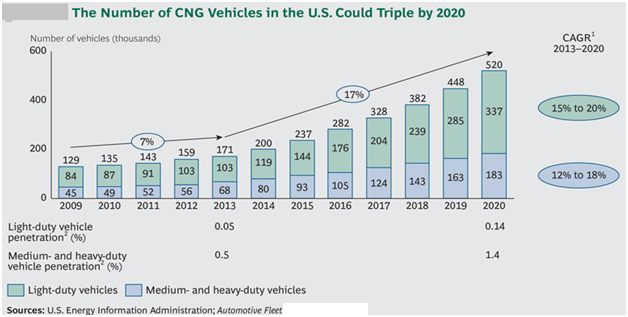 Source: BCG Perspective
In addition, in its reference and high oil price scenario, the EIA expects the market share for natural gas powered vehicles such in class 7 and class 8 to increase to more than 40% in 2050 from just 2% in 2015. In comparison, the market share of diesel-powered vehicles in the same classes is expected to go down to 60% by 2050 from the current level of 98%, as shown in the chart below.
Class 7 & 8 Market Shares of New Diesel and Natural Gas Trucks: Reference & High Oil Case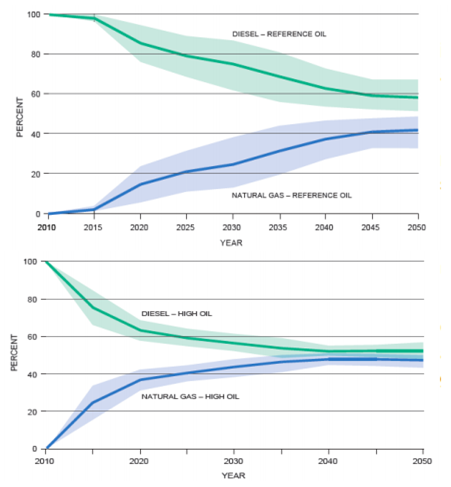 Source: EIA
Conclusion
Thus, as the demand for natural gas vehicles grows in the long run, Westport Innovations will see an improvement in its financial performance and achieve positive EBITDA. The company has already managed to reduce costs in an impressive manner, a trend that will continue on the back of its merger with Fuel Systems. As such, in my opinion, investor should take advantage of the decline in Westport Innovation shares as it can deliver strong gains in the long run.
Disclosure: I/we have no positions in any stocks mentioned, and no plans to initiate any positions within the next 72 hours.
I wrote this article myself, and it expresses my own opinions. I am not receiving compensation for it (other than from Seeking Alpha). I have no business relationship with any company whose stock is mentioned in this article.