Later this month, Automatic Data Processing (NASDAQ:ADP) will announce its financial results for the Third Quarter of Fiscal 2016. The company is known for its technology-based outsourcing solutions to enterprises all around the world. Thanks to its powerful infrastructure and a broad variety of services, ADP managed to outperform the market in the last few years and quickly recovered after the last year's correction: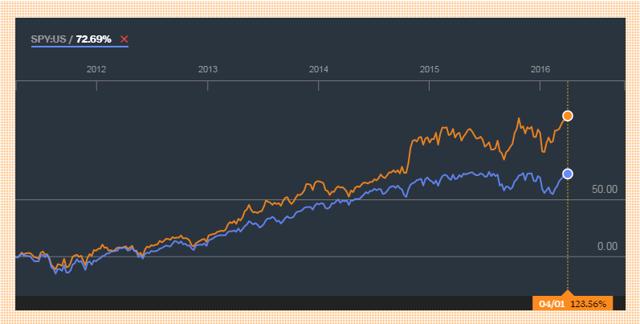 Click to enlarge
Source: Bloomberg
In my opinion, the company will continue to show strength in the coming quarters and its stock will continue to outperform the market. And here are the reasons why:
ADP is a growing company in perspective niche market
ADP's main source of revenue is human capital management (HCM) business, which is considered to be one of the fastest growing fields in the human resources industry. It provides services like benefits administration, time and attendance management, payment and compliance solutions and others. According to IDC Research, global revenue for HCM applications will grow from 9.2 billion in 2012 to 13.5 billion by 2017 with an overall growth rate of 8%: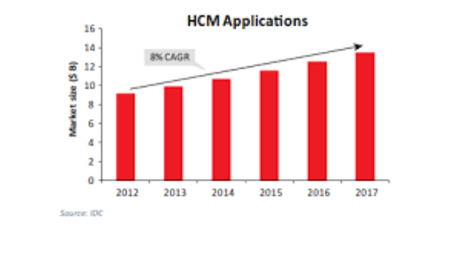 Source: IDC Research
Thanks to the continuous growth of the industry, ADP managed to successfully gain momentum there and now has over 630,000 clients in over 100 countries. And according to its filings, those numbers will continue to increase.
ADP is one of the leaders of innovation in its industry
To stay competitive, ADP heavily invests in Big Data. Last year, it launched DataCloud, which gives organizations access to the data they need to boost business and workforce management goals ranging from workforce productivity and talent development to retention and the identification of flight risks. Considering the potential of Big Data industry, investing in this field will benefit the company in the future.
Being a service provider requires you to have a great service itself. ADP management very well understands this and in the last few years strongly improved its main platforms and simultaneously increased the number of its Cloud and Mobile users: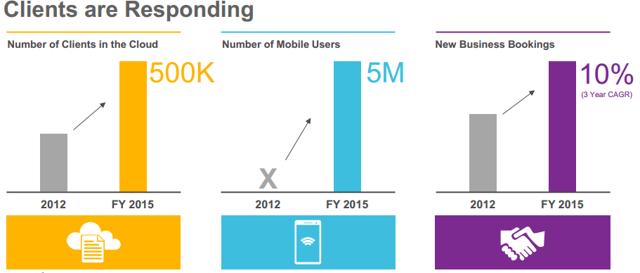 Click to enlarge
Source: Investors Presentation
Understanding your clients and improving your infrastructure to gain the competitive advantage in the industry is another reason why ADP will continue to grow higher.
ADP has great financials, dividends and outlook
Over the last few years, ADP managed to have a sustainable revenue growth at ~7% annually. Thanks to its strong consistent operating cash flow generation, it managed to efficiently reinvest in the business and outperformed the market. Each year it slightly increases its net income, its cash is greater than the debt of the company and a positive free cash flow is signaling that ADP has enough resources to continue to finance its growth and create additional shareholder value along the way.

Click to enlarge
Source: gurufocus
The company also pays dividends and has a track record of increasing them in the last few years. Its dividend yield is around 2.30% and ADP tries to have a payout ratio of 55% to 65%.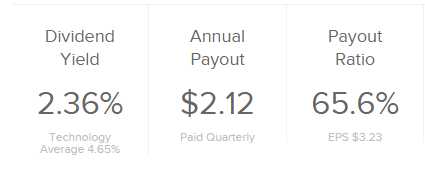 For fiscal 2016, ADP expects to remain its 7% revenue growth, but is very enthusiastic about new business booking and expects at least 12% growth compared to prior forecast of 10%. Historically, most of the time, the company beat its guidance by a strong margin. And this year shouldn't be an exception.
Based on ADP's financial condition, I'm very bullish about the company. It has a strong track record of outperformance and its revenue grows at a stable pace. And if something goes wrong, you still receive your cash in form of dividends, which is another advantage of investing in this company.
Disclosure: I am/we are long ADP.
I wrote this article myself, and it expresses my own opinions. I am not receiving compensation for it (other than from Seeking Alpha). I have no business relationship with any company whose stock is mentioned in this article.