As you may have recently read, Carnival (NYSE:CCL) has secured Cuban government approval to begin sailing to the island. This marks the first time a US cruise ship will dock in Cuba in over 50 years. The 704-passenger MV Adonia will set sail from Miami and head to various ports of call in Cuba under the Fathom brand starting in May.
This is a major event in the ongoing thawing of relationship between the two Cold War rivals. For Carnival, this deal will not be moving the needle, yet. With 15 sailing dates scheduled, this cruise ship will net the company booking revenues of $30 million to $50 million, assuming full occupancy. With typical cruise profit margins at ~10%, this will not add much to the bottom line.
Though, Carnival being the first US cruise company to gain access to Cuba is still a big deal. Despite being the largest island in the Caribbean, Cuba is virgin territory for most veteran cruisers. Many Americans will now want to flock and explore the once prohibited island. There is massive pent-up demand here.
If Carnival can act quickly enough, it can dominant this emerging market. Cuba's size and diversity (there is a lot more there than just beaches) can easily drive considerable passenger traffic growth for the company. As shown, one 7-day cruise, the typical length of a Caribbean cruise, is hardly enough to see most of the island. In addition, adding a Cuban port of calls to the itinerary should also help spice up demand for Carnival's existing Caribbean cruises.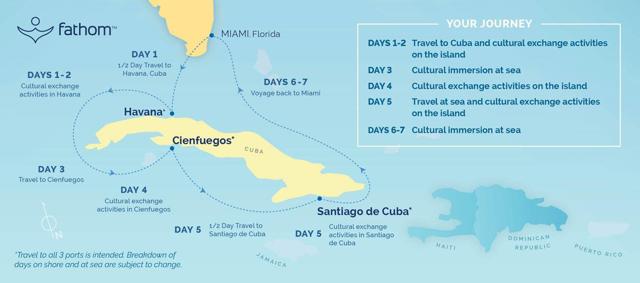 Carnival would have to be make some pretty big investments in Cuba, building out port infrastructure as well as adding new ships. Though, these investments could spark some serious growth. For example, adding 4 Adonia sized vessels, ~2,800 passengers, which is basically the capacity of one of Carnival's regular cruise ships, would boost North American passenger capacity by 2%. Demand for Cuban cruises likely needs a lot more than this.
During a recent conference call, Carnival noted that it was in the process for getting approval for its other brands to travel to Cuba. Obviously, it would be a huge boon to get the larger Carnival branded ships to the island. Though, the company noted that it would be until 2017 to see any kind of significant impact as it will take time to get the new itineraries scheduled even after approval.
Conclusion
Overall, it seems Carnival will be a major winner from the thaw in relations between the US and Cuba. With consumers having more cash to spend due to lower oil prices, cruise demand is surging. Adding an exotic locale will only serve to further spur traffic growth.
In addition, as I noted in a recent article, Carnival is attractively valued and has strong dividend growth prospects. Besides boosting cruise demand, low oil prices have resulted in considerable earnings growth for Carnival due to cost savings. This one looks like a winner in the short to medium term.
Disclaimer: The opinions in this article are for informational purposes only and should not be construed as a recommendation to buy or sell the stocks mentioned. Please do your own due diligence before making any investment decision.
Disclosure: I/we have no positions in any stocks mentioned, but may initiate a long position in CCL over the next 72 hours.
I wrote this article myself, and it expresses my own opinions. I am not receiving compensation for it (other than from Seeking Alpha). I have no business relationship with any company whose stock is mentioned in this article.