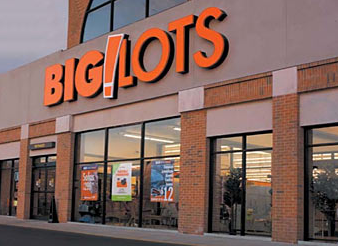 Off-price retailer Big Lots (NYSE:BIG) has been on fire of late, rallying $10 off of its lows set near the beginning of the year. I said back in December that Big Lots had been crushed for no reason and as it turns out, that was the case. BIG has exhibited relative strength during its turnaround for a few quarters now and I believed at $35 it represented a solid bargain. But at $45 and with Q4 earnings out, is there still time to buy or is BIG back at its fair value?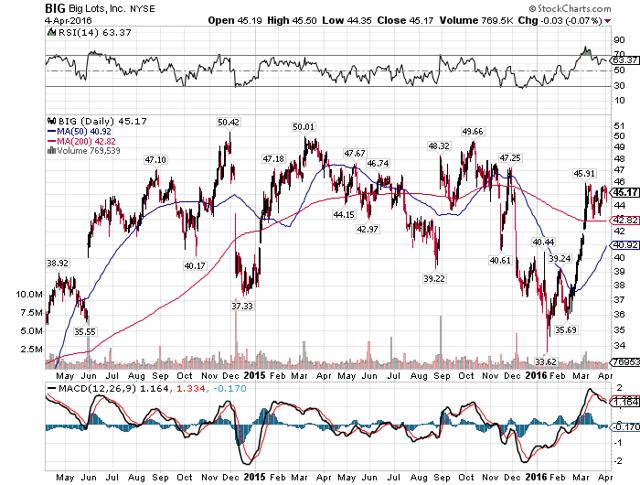 Click to enlarge
BIG's sales have been flat of late as it continues to try and get its revenue base going for the long term. That includes right-sizing its store base and focusing on making its current stores successful. The company's comp sales came in at +70bps in Q4, a solid result considering BIG is a turnaround story. The company's efforts to grow comp sales and increase productivity in its existing store base are working and positive comps are affirmation of that.
In addition, gross margins grew ever so slightly in Q4 to 40.9%, a terrific level for a general retailer. That kind of gross margin affords BIG high levels of sustainable profitability and the fact that it managed to boost its margins is a great sign. Gross margins are often the canary in the coalmine that shows vulnerability in a retailer because when sales aren't going the way a management team wants, the natural reaction is to cut prices and that shows up in lower gross margins. The fact that BIG kept its margins where they were while growing comp sales means the gains are sustainable and not the result of goosing comp sales via lower prices.
The company's SG&A costs are relatively high at 29.2% but were flat against last year. It seems BIG may have done all it can do to reduce SG&A costs so if that is the sustainable level, it is what it is. It will be important for this number to stay flat or move down over time however, as any pickup in SG&A costs will crush operating margins.
Speaking of operating margins, BIG's strong gross margins allow it to produce ~10% operating margins, a huge level that many other retailers would be envious of. This is part of the reason why I like BIG; it caters to a significant proportion of consumers while maintaining tremendous profitability as a dime of every dollar in sales flows straight to operating income. As the turnaround progresses, there is still room to boost operating margins over time although I don't believe any enormous increases are in the cards; BIG is already quite efficient so any gains are likely to be incremental.
BIG's sales guidance for this year was underwhelming at flat but its adjusted EPS and cash flow guidance were very strong. The company expects 8% to 13% adjusted EPS growth this year and it also said it would hit $200 million in cash flow. That's good for a FCF yield of about 9% on its market cap, a very strong number indeed that allows it to return a lot of capital to shareholders.
The dividend is about 1.9% right now so it is in the middle of the road but its repurchases are where the action resides. The company bought back $200 million in shares last year and forecast $290 million in total capital returns this year. The dividend will be about $42 million at the current rate and share count, leaving almost $250 million for share repurchases. If we assume $240 million in buybacks this year, BIG has the potential to reduce the float by a whopping 10% or more just this year. That is what is leading to the company's double-digit EPS growth despite the fact that its sales are flat and that is why BIG is a unique turnaround story.
The company's expected EPS for this year has BIG trading for 13.7 times consensus. Next year, that number is under 12 as BIG is slated to grow EPS in the double-digit range once again. These numbers are very attainable considering that BIG's buyback is so prodigious; indeed, it doesn't even really need margin growth to hit these numbers. Its FCF yield allows it to repurchase huge sums of shares and grow EPS that way while the stores complete the turnaround effort.
At $45, the easy money has certainly been made. But I still think BIG represents value here as it is not only a repurchase/EPS growth story but it pays a decent dividend as well. Most retail turnaround stories are ones where the company is trying to save the business so capital returns are off the table; BIG provides you with strong returns while waiting for the stores to catch up. For that reason, I still think the long-term rally in BIG will continue and that $45 is not the ultimate top.
Disclosure: I am/we are long BIG.
I wrote this article myself, and it expresses my own opinions. I am not receiving compensation for it (other than from Seeking Alpha). I have no business relationship with any company whose stock is mentioned in this article.