A lot of income investors are familiar with business development companies as dividend vehicles. And rightly so: Business development companies finance the growth of (lower) middle market companies in return for high interest payments and, sometimes, dividends. BDCs are required by law to pay out most of their earnings, which makes them perfect income vehicles for shareholders who prioritize current income over capital appreciation. In the best case, however, business development companies pay shareholders a high base dividend on a monthly or quarterly payment schedule, AND have potential for net asset value growth.
In the past, few business development companies have presented investors with a credible performance record. Two of the best companies in the field, both of which are internally managed, are Main Street Capital Corporation (NYSE:MAIN) and Triangle Capital Corporation (NYSE:TCAP). I have covered Main Street Capital and Triangle Capital on multiple occasions here on Seeking Alpha.
Triangle Capital is a compelling BDC alternative to Main Street Capital IMO. Both companies have done exceptionally well in terms of internal rate of returns, or IRRs, for their shareholders, and chances are that Main Street Capital and Triangle Capital will continue to do well in the future. The usual disclaimer is that 'past performance does not guarantee future performance', but if you had to put money on a horse, you would want to bet on the horse that has won previous races, right?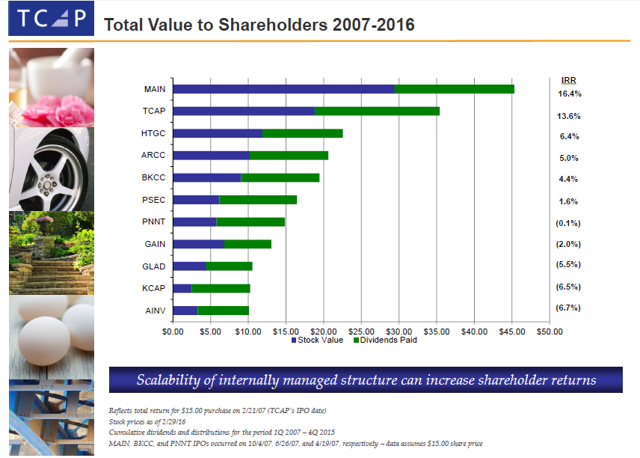 Click to enlarge
Triangle Capital Back Below $20
Triangle Capital's stock has fallen back below $20, after sliding ~5 percent on Monday, and this is opening up a new buying window for income investors.
Triangle Capital ranks high up on the list of internal rate of returns, and is only second to Main Street Capital, but that does not mean that the BDC is expensive.
Triangle Capital pulled in $0.58/share in net investment income, or NII, in the fourth quarter. On a run-rate basis, Triangle Capital could therefore earn $2.32/share in net investment income in 2016. Since Triangle Capital's shares change hands for $19.77, investors are paying only ~8.52x run rate Q4-15 net investment income for this BDC. Importantly, Triangle Capital covered its $0.54/share base dividend with net investment income in Q4-15.
From a net asset value, or NAV, perspective, Triangle Capital is not nearly as cheap as other BDCs, but TCAP rightfully sells for a premium to net asset value, thanks to its high returns. Triangle Capital reported an accounting book value of $15.23/share at the end of the December quarter; therefore, TCAP sells for ~1.30x NAV. With this market valuation, Triangle Capital is in the same league as Main Street Capital, whose stock sells for ~1.45x net asset value.
Your Takeaway
Triangle Capital makes a compelling investment proposition, now that the stock has come down a bit during Monday's correction. TCAP is cheap on an NII basis, selling for less than 9x run rate net investment income while the BDC covers its base dividend with NII. Triangle Capital may not be as well known as Main Street Capital, but the stock is clearly worth a closer look. TCAP yields ~11 percent. Buy for income.
Disclosure: I am/we are long MAIN.
I wrote this article myself, and it expresses my own opinions. I am not receiving compensation for it (other than from Seeking Alpha). I have no business relationship with any company whose stock is mentioned in this article.