When BlackBerry (NASDAQ:BBRY) CEO John Chen published his LinkedIn (NYSE:LNKD) article, "The Keys to Executing a Turnaround the Right Way," in October 2014, a year into his new executive job, you would be mistaken for thinking this was his victory lap as the company was right on track to deliver the long-promised turnaround. Yet, here we are in 2016 and the end to BlackBerry's troubles is still not in sight. Total revenue for Q4 FY2016 fell to $487M, another quarterly low, while hardware sales reached just 600,000 units, a number understandably left out of the company's earnings press release.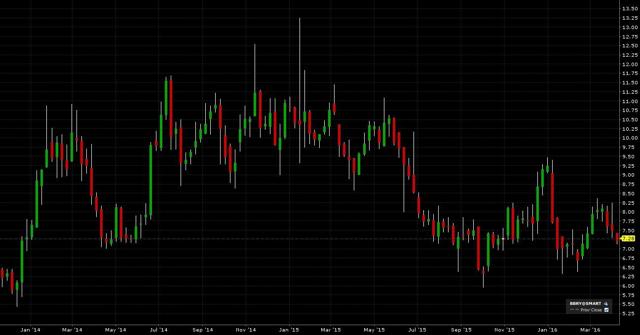 Click to enlarge
BBRY: The John Chen years
It is now clear that the Priv, BlackBerry's first Android smartphone tasked to save the company's struggling hardware unit, is yet another flop. After many failed attempts to launch a successful product, is it finally time for BBRY to admit defeat and shut its hardware division down? Or does the company still have one last shot with one more new smartphone before the hardware sales crash into the ground? This article looks at BlackBerry's precarious situation and tries to establish the most likely scenario and the best possible outcome for BBRY investors.
Hardware Results Are Terrible
There is no other way about it - BlackBerry's hardware results for the last quarter were terrible. Despite the first full quarter of availability of Priv, its expanded distribution and increased marketing visibility, hardware sales continued on their downward trajectory. Hardware revenue fell to $190M on sales of only 600,000 handsets, down from 700,000 units in the previous quarter. The ASP of $315 remained unchanged, another negative development for the $699 Priv.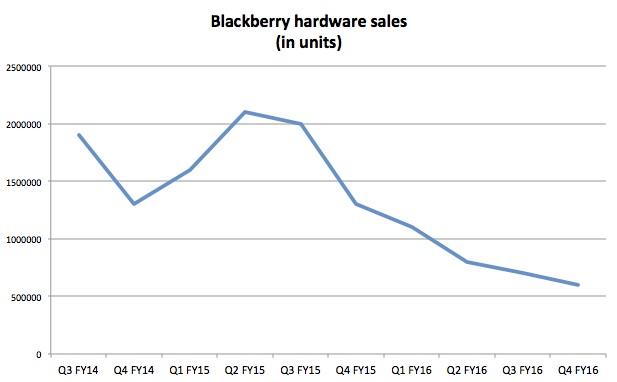 Source: BlackBerry
To put the device number into perspective, Apple (NASDAQ:AAPL) has sold anywhere from ~40 to ~75 million smartphones per quarter over the last couple of years and needs only ~20 hours to match BlackBerry's sales for the whole quarter. To make the comparison fairer, we would have to make Apple 100 times smaller, effectively sending it 30 years back in time.
Weak Supply? No, It's The Demand
On this past Friday's conference call, Mr. Chen defended sales of the Priv, citing distribution problems and specifically contract negotiations with carriers taking longer than expected.
Such a development is probably not surprising as the long series of product failures during the CEO's tenure hasn't helped BlackBerry's position with distributors and has made roll-outs of new products difficult. Still, Priv is already the fifth device launched under Chen, so any excuses with regards to weak distribution are hard to accept at this point. John Chen has already had two and a half years to rebuild the distribution channels and manage carrier relations. Chen further states that "we are also focusing on expanding the e-commerce channel," but investors have been hearing the same proclamation from the CEO for more than a year now while sales keep falling.
Mr. Chen continuously talks about signing new carriers, improving BlackBerry's e-commerce channel, and investing in the company's sales force, yet the results are clear: since he joined the company in November 2013, hardware sales are down almost 70% from 1.9M units in Q3 FY2014 to 600,000 units in Q4 FY2016. There cannot be any doubt about it - the problem with BlackBerry's hardware is on the demand side as the company continues to develop and market unattractive, non-innovative products.
The Priv Is Not A Good Product
John Chen does admit to some demand problems, but blames general market conditions, specifically the softness in the high-end of the smartphone market and a more limited audience for the enterprise-focused Priv than originally anticipated. He sees nothing wrong with the product, and highlights positive feedback from carriers and end-customers.
Priv does have a limited audience, but it is not because of the target market's size. It is simply because the smartphone is not a good product. Priv's main problem is that it is an overpriced hybrid device appealing only to the brand's most loyal customers. Priv's focus on security and privacy is a valuable unique selling point, however, the combination of a high price ($699 in the US, dismissed as "absurd" by Forbes), built-in keyboard, and the availability of better and secure products like the iPhone or latest Samsung (OTC:SSNLF) Galaxy S devices dooms the device. BlackBerry still sees its proprietary keyboard as a USP, but I would argue that this feature actually detracts value as it positions the handset as an old-fashioned, non-innovative product with the image of a feature phone.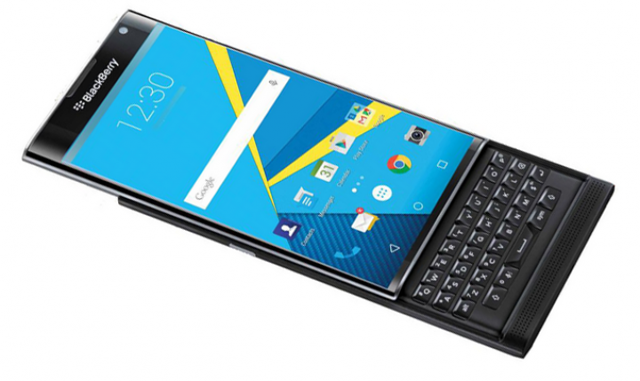 Click to enlarge
BlackBerry Priv: Overpriced hybrid products don't sell
Priv is targeting the high-end of the enterprise mobile market as that is where profits and sustainability are. But this also means the device competes directly with flagships from Apple and Samsung which command the majority of the enterprise market. According to BlackBerry's own Good Technology 2015 report, 28 in 30 smartphones sold in enterprise are made up by Apple and Samsung devices. Both companies have great products and enjoy industry-best loyalty rates (in the US, it is 87% for Apple and 70% for Samsung), so it is very difficult for BBRY to break into their stronghold. The situation is made even worse as Priv is a sub-par device, falling short of the premium standards in the high-end. It runs an outdated OS, has a weak processor and camera, and lacks standard security features like finger-print authentication.
At the end of the day, Priv is simply not a good product, and even expanded distribution and better market conditions cannot save its performance in the marketplace.
BlackBerry Wants One More Go
If there is one positive development with BlackBerry's hardware, it is the beneficial impact of the company's new value-add business model on device margins. BBRY's handset unit has been downsized to achieve lower costs, and it is now reduced to basically packaging third-party components with a free OS from Google (NASDAQ:GOOG) (NASDAQ:GOOGL), and adding value in the form of securing the whole package. As a result, BlackBerry now reports being closer to device profitability and, despite plummeting sales, still wants to have another try and launch one more new Android phone geared more towards the middle segment of the smartphone market.
Does it still have a chance?
It Is Likely Game Over
The smartphone market is incredibly competitive and tough. BlackBerry goes after the profits and sustainability in the high-end, but with resources, competences, and products of a low-end player. The company's rigid, conservative culture inhibits innovation as it is afraid of taking risks and is more comfortable in defending past success. The company remarkably still refuses to let go of its physical keyboard even though its market has shrunk to irrelevancy. BBRY has little resources with insufficient cash to properly invest in expensive R&D and marketing. Its engineers are continuously laid off. And in the fallout of its many failed products, there is little left of brand awareness, loyalty, and distribution.
As we move away from Priv's launch, hardware sales will likely continue on their downward trajectory. The core base of loyal BlackBerry customers has been served while the planned country and carrier additions can provide only diminishing returns in terms of distribution coverage as the most lucrative markets have already been targeted. Management hasn't announced lower pricing for Priv and the single-digit discounts available at major retailers like Amazon and Wal-Mart cannot move stock in any significant quantities.
In theory, BlackBerry has a slim chance with a more reasonably-priced smartphone with touch-only interface, the latest Android release, good security, premium components, and fingerprint authentication, but its eventual launch would still be marred by limited marketing support, poor distribution, and negative brand momentum. At best, I would expect lukewarm sales, adding very little to revenue, profitability, and shareholder value, and needlessly distracting the company from building its more sustainable software and services business.
In the end, I think it is likely game over for BlackBerry's hardware.
Investor Takeaway
BlackBerry's hardware makes up ~40% of total revenue, and as it keeps falling, it takes a half of the company down with it. Chances for the unit's survival are very low as the smartphone market is incredibly competitive and the company's long-running series of product failures has stripped it of much needed talent, cash, distribution, and customer goodwill. And even if the company could regain these resources, it would still be stuck with its corporate culture inhibiting innovation and taking risks - prerequisites for the highly dynamic technology sector where the greatest success is reinvention and survival.
John Chen is ready to leave the smartphone market if hardware is not profitable by September. Shutting the hardware unit down would be a positive development for BlackBerry's investors as it would mean a leaner and much more focused software and services organization with resources and competences better aligned with its goals. Until this happens, BBRY cannot be considered as an investment.
Disclosure: I/we have no positions in any stocks mentioned, and no plans to initiate any positions within the next 72 hours.
I wrote this article myself, and it expresses my own opinions. I am not receiving compensation for it (other than from Seeking Alpha). I have no business relationship with any company whose stock is mentioned in this article.
Additional disclosure: This is no recommendation to buy or sell securities as that carries with it very high risks. The information contained in this article is for informational purposes only and subject to change at any time. Do your own due diligence and consult with a licensed professional before making any investment decision.