Panic. It's often the first emotion that goes through investors' minds when something unexpected occurs, or when something expected but unwanted comes to fruition. In such moments, emotions can take over. For some, the desire to sell as quickly as possible overwhelms, for others a resignation to futility, and for even more the "I knew I should'ves" begin.
As investors though, we must try and stay rational so that we can find the opportunities amidst the challenges. The recent news that the Pfizer (NYSE:PFE)/Allergan (NYSE:AGN) merger (the "Merger") will likely fail is the chance to test our rational minds, it's a chance to understand that the diminished value of a company behind one door doesn't hinder the same company behind another.
Perspective
Put simply, Allergan is significantly undervalued at today's prices.
Let's give some figures and then delve into the reasons. We forecast that Allergan will earn approximately $19/share for 2016 and $21/share for 2017 (note that none of our figures include any accretive M&A transactions). Applying a "market" multiple, we project the following:

Click to enlarge
If and when the Merger is terminated, we're left with a robust Allergan with fantastic organic growth prospects. Allergan can immediately pivot and readopt its original strategy of driving internal and external growth. We effectively have a debt free company helmed by two peer-leading capital allocators in CEO Brent Saunders and Chairman Paul Bisaro, which owns well-protected branded products that are forecasted to grow top line revenues at a 10% compounded annual growth rate ("CAGR"). Allergan is a rarity in today's market - growth and value in the same stock.
Let's walk through what brought us to our current situation and then explain how we find our way out.
Treasury's Regulations
Yesterday, the Department of Treasury issued new regulations to curtail inversions, which includes the recently announced Merger. Among the new rules, temporary regulations target companies that have been considered "serial inverters," forcing merging parties to disregard certain prior acquisitions when considering the value of the foreign company. This is important because current inversion rules and their applicability hinge on the relative values of the participants. The material changes in how those values are now calculated essentially reapply the onerous anti-inversion rules under Sec. 7874 to the Merger.
The new regulations also include proposed regulations that target "earnings stripping." These proposed regulations significantly reduce the ability for inverted companies to lend across their subsidiaries to shift/reduce taxable income. This change will likely have a broader impact on the business community than the first set of rules, which may explain why the Treasury announced this set of rules as proposed.
Impact on the Merger
Allergan and Pfizer skillfully crafted their merger agreement so that they could avoid the current set of inversion rules under the US tax code. In all likelihood, the new temporary regulation deters Pfizer from being acquired and inverted by Allergan. Although the parties could proceed with the transaction and concurrently litigate the validity of the temporary regulations, the likely reserve on the financial statements coupled with the litigation uncertainty would almost surely depress the stock price. As such, we think the Merger will be terminated as pyrrhic victories are seldom rewarded in the market.
So if the merger is terminated, how does Allergan find its way out of the woods? What remains of Allergan once panicked shareholders and merger arbitragers have washed their hands of the company? We believe a lot.
Debt Freedom
On July 26, 2015, Allergan agreed to divest its generic business to Teva Pharmaceuticals (NASDAQ:TEVA) ("Teva") for approximately $34B in cash and 100.3M shares of Teva stock. Closing the Teva transaction is critical for Allergan, and although currently delayed because of an anti-trust review, we anticipate the transaction to close by Q2 2016.
Upon closing, Allergan will receive approximately $34B in cash plus 100M shares of Teva worth approximately $5.4B, proceeds that would allow Allergan to significantly delever a portion of its balance sheet. Alternatively, if the return on investment exceeds the interest expense, management may elect to preserve some cash (i.e., retain some debt) and repurchase shares or pursue an M&A transaction to fuel inorganic growth. We surmise that of the $34B in cash Allergan receives from Teva, the company could do both, using $23B to pay down debt, and leaving $11B in cash (plus any cash on hand from operating activities) + $5.4B in Teva stock as a counterweight to its $20B of remaining long-term debt.

Click to enlarge
The company could direct the remaining $16B in total cash (i.e., $11B cash + the proceeds from selling Teva stock) to fund future M&A activities, which would be accretive both to the top and bottom line. This would be particularly timely given the recent declines in biotech valuations (for instance the Nasdaq IBB Biotech Index has declined close to 30% since last year, significantly increasing the number of attractive targets), and the weakened state of its other "roll-up" competitors in the M&A arena (i.e., Valeant (NYSE:VRX) and Endo Pharmaceuticals).
If not, the company could use the cash to repurchase Allergan shares, which we contend are undervalued. Repurchasing Allergan shares will not only boost investor confidence and lift the share price, it would also make the shares more valuable as currency for later M&A transactions.
(Note that the termination fee for "tax purposes" under the Merger Agreement is only $400M, so for our purposes, we've disregarded this amount).
Regardless of the path Allergan chooses, the company effectively resets and reloads its balance sheet in a single transaction, something critical as it continues its previous M&A strategy. Allergan's significant free cash flow and lower debt to cash flow ratios will give it unprecedented flexibility in accessing and employing cheap capital. This shouldn't be taken lightly as debt levels and access to cheap capital are vital factors if you're to grow via M&A.
Rerating with Multiple Multiples
Once the company renews its stand-alone growth plans, we believe the shares will rerate to much higher multiples. Our forecast is for 16-18x. Why these multiples? We think it's important to look at the post-Pfizer Merger Allergan in the context of what has happened and what is currently happening in the market.

Click to enlarge
Let's first tackle the overall market and work our way down.
S&P 500
Currently, the S&P 500 is trading at a multiple of 17x next year's earnings. One could argue that the market is at a historic high, with top line forecasted for flat to low single-digit growth. Allergan, however, is projected to grow revenues at a 10% CAGR from 2016-2018, with profits growing decidedly faster. We'd argue that Allergan's organic growth prospects is significantly better than the average company in the S&P 500, so it deserves a premium. Even if we assume parity though, Allergan should be trading at 17x. So either Allergan's stock is undervalued by at least +50% when compared to the S&P 500 multiple, or the S&P 500 is overvalued by 40%. We'd argue that the former is more likely than the latter in this era of monetary easing, and that even at parity it's undervalued.
Teva's Acquisition of Generics
We can see similar distortions if we compare Allergan's current multiple to Teva's acquisition of its generics business, which exhibited a much slower growth rate than the branded business Allergan decided to keep (i.e., Allergan's blended growth rate for both businesses was forecasted to be 8%, but the branded business was growing at 10% meaning the generics business was a drag on overall top line growth). As such, we'd argue that the residual branded business filled with Botox®, Juvederm®, Restasis®, etc. should be valued more than the generic business, which Teva acquired at a 17x multiple.
Pre-Pfizer Transaction
Lastly, the unaffected Allergan price prior to the announced Pfizer acquisition implied a multiple of 16-17x. Although Pfizer announced a purchase price that accorded a 19x multiple, we'll disregard that as most acquisitions require a control premium. Prior to the Merger though, Allergan did not have much, if any, takeover premium. It was trading historically in-line with its multiple and as such, the 16-17x is a fair indication of the multiple Allergan would have enjoyed as a standalone company.
Risks to Value Accretion
So what could hinder Allergan from regaining its previous multiple?
1. Tax Law - although the Pfizer Merger will likely end, the temporary regulations regarding inversions may continue to haunt Allergan. As a "serial inverter," it's now tarnished with the issuance of the temporary regulations. It will take some time to determine if Allergan is limited by the rules to pursue future US companies because an attempt to acquire such companies could now be limited in size. If Allergan must "test" itself using a three-year rolling period (starting with its value at 4/1/2013, which was approximately $12B), the size of future deals and the amount of Allergan stock that can be used as currency may constrain the size of future deals (or at least until sufficient time passes or the temporary regulations are revoked). Moreover, the economics of earning stripping rules may make future acquisitions less accretive hampering inorganic bottom-line growth.
2. Deal Fatigue - the officers and employees of Allergan have been through tremendous operational stresses. These stresses run from integrating multiple acquisitions in the past 7 years, to selling off whole divisions and businesses, and to dealing with the on/off-again Pfizer transaction. Although a certain amount of deal fatigue and operational strain is to be expected, a real risk now exists if Allergan is to remain stand alone. Given the disparate systems that need to be integrated (and disaggregated) there could be operational failings that may be material. While difficult, it'll be incumbent on management to guide the employees through these difficult transitional times.
3. Market Volatility - as always market volatility remains a factor.
4. FYI - our calculations for EBITDA based on the company's press release on February 2, 2016 (and forecasted for 2017), as with all calculations our assumptions are... assumptions.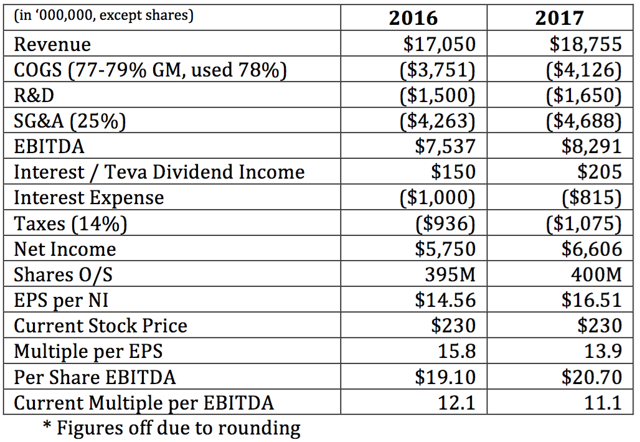 Click to enlarge
Final Thoughts
So there you have it, perspective. Ultimately, sell, don't sell, buy more, it's all up to you. While we believe Allergan is a bargain at these prices, whatever you decide, just remember to base your decisions on some fundamentals and rational arguments. Emotions can be great, but it's often best to keep them at bay when investing, and when situations work out differently than expected.
Disclosure: I am/we are long AGN.
I wrote this article myself, and it expresses my own opinions. I am not receiving compensation for it (other than from Seeking Alpha). I have no business relationship with any company whose stock is mentioned in this article.