I will be perfectly honest with you; I am perplexed. In its Short-Term Energy Outlook report last month, the EIA (Energy Information Administration) announced that it expects global oil production this year to rise somewhat despite seeing a major drop in drilling activity worldwide. In what follows, I plan to dig into the data provided by the organization, as well as data provided by another party regarding rig counts, to see if this makes sense and what the implications are for the oil industry moving forward, something that will have a major bearing on the returns of investments like the United States Oil ETF (NYSEARCA:USO), Linn Energy (NASDAQ:LINE) / LinnCo (NASDAQ:LNCO), BreitBurn Energy Partners (NASDAQ:BBEP), Approach Resources (NASDAQ:AREX), and Memorial Production Partners (NASDAQ:MEMP).
A look at oil production changes
In its report, the EIA said that they expect oil production this year to increase by 0.70 million barrels per day from 95.74 million barrels per day to 96.44 million barrels per day. At a time when oil has just recovered a little bit from multi-year lows but is looking to move lower for now, this is a major note of pessimism for investors like myself to digest.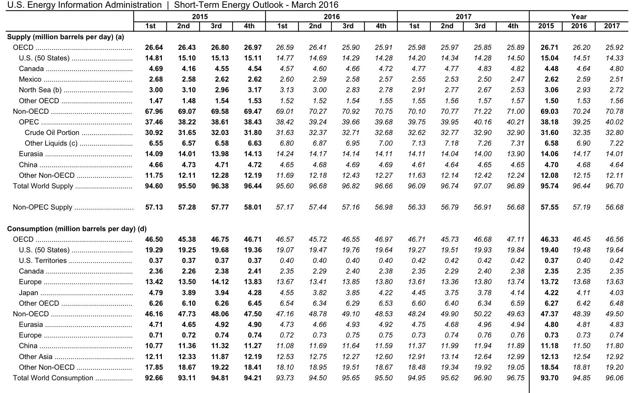 Click to enlarge
For the most part, this increase should come from OPEC (led by an expected increase in Iranian oil thanks to the lifting of sanctions earlier this year), but Canada is also expected to post an increase from 4.48 million barrels per day to 4.64 million (a change of 0.16 million barrels per day). Eurasia and other non-OECD nations should see an aggregate increase of 0.18 million barrels per day from 26.14 million barrels per day to 26.32 million barrels per day. These three categories alone (Canada, Eurasia, and other non-OECD nations) make up nearly half of the expected global increase in output this year before factoring in declines in some areas like the North Sea, Mexico and the U.S.
Should this transpire, the outlook will continue to deteriorate seeing as how the world is currently overproducing by between 1 million barrels per day and 2 million barrels per day (it varies depending on the source estimating). In fact, such a move would decimate the oil market, but the good news is that I have been unable to find any strong data to support this being a realistic scenario as we will see below.
Rig counts are falling across the globe
In the table below, you can see what the global rig count picture looks like (for both oil and natural gas rigs since the data is provided that way). In it, I have looked at the most recent data provided by Baker Hughes (NYSE:BHI), which looks at the number of rigs in operation during the month of February for 2016, 2015, and 2014, which pretty much summarizes the period during which the oil glut has plagued us.

Click to enlarge
Based on the data provided, between February of 2014 and February of this year, the number of rigs in operation across the globe have plummeted by 1,975 units from 3,736 units to just 1,761 units, representing a decline of 52.9% in just two short years. Most of this decline has taken place in the U.S., which saw rig counts drop like a rock from 1,769 units to only 532 units. This represents 62.6% of the global rig market drop, thanks in large part to the high cost of production in the U.S. Canada has seen a similar hit, with the rig count falling 66.3% from 626 units to only 211 units, meaning that our northern neighbor has contributed to 21% of the decline.
Moving forward, I suspect that the high decline rates in the U.S., combined with the high (but falling) cost of drilling will push domestic output down meaningfully. In a prior analysis I published on Seeking Alpha, I suggested that if current trends continue, oil output in the U.S. by the end of this year should be between 1.14 million barrels per day and 1.70 million barrels per day lower than it was in December of 2015, something that could prove a major bullish indicator in 2017, especially if Iran ramps up production more slowly and if global crude demand can grow stronger.
However, as the table showed, every region covered by Baker Hughes except for the Middle East, which has seen rig counts rise by 2% over the past two years (but are down year over year vs. 2015), has shown a meaningful drop in drilling during this time frame. Latin America, for instance, has seen drilling fall by 40.8%, can have its impact seen in the fact that production in Mexico is likely to drop this year but Asia/Pacific, Africa, and Europe also have posted meaningful drops in activity.
Takeaway
Moving forward, I believe it's likely that the U.S. will see a major drop in oil production this year, but I believe the market and analysts may be underestimating the effects elsewhere of a worldwide drop in oil and natural gas production. I do not believe that these regions (even Canada) will see major drops in production this year because the high decline rates in the U.S. are unique compared to what has been seen abroad, but I do think we are setting ourselves up for a major drop at some point in time if something doesn't change. Only time will tell how things progress, but the data seems to come across as a very bullish long-term indicator for 2017 and beyond.
Disclosure: I am/we are long MEMP, AREX, BBEP.
I wrote this article myself, and it expresses my own opinions. I am not receiving compensation for it (other than from Seeking Alpha). I have no business relationship with any company whose stock is mentioned in this article.
Editor's Note: This article covers one or more stocks trading at less than $1 per share and/or with less than a $100 million market cap. Please be aware of the risks associated with these stocks.