Below is an updated snapshot of our Dow 30 trading range screen. For each stock, the black vertical "N" line represents its 50-day moving average, the dot represents where it's currently trading within its range, and the tail end represents where it was trading one week ago at this time.
Stocks have pulled back from extreme overbought levels over the last week, but as you can see in the screen below, 29 of 30 Dow stocks remain above their 50-day moving averages, and most remain at least slightly overbought. Pfizer (NYSE:PFE) and Merck (NYSE:MRK) - two large-cap healthcare names - are now the most overbought stocks in the index while Nike (NYSE:NKE) is the one stock below its 50 DMA. Three other stocks have moved down to generate an upcoming test of support at their 50 days - Disney (NYSE:DIS), JPMorgan Chase (NYSE:JPM), and Exxon Mobil (NYSE:XOM). Let's see if they can hold!
In terms of YTD performance, Verizon (NYSE:VZ) is up the most at 17%, followed by Wal-Mart (NYSE:WMT), Caterpillar (NYSE:CAT), and 3M (NYSE:MMM). Three financial stocks (American Express (NYSE:AXP), Goldman Sachs (NYSE:GS), JPM) and Boeing (NYSE:BA) have been the worst performers in the index so far this year.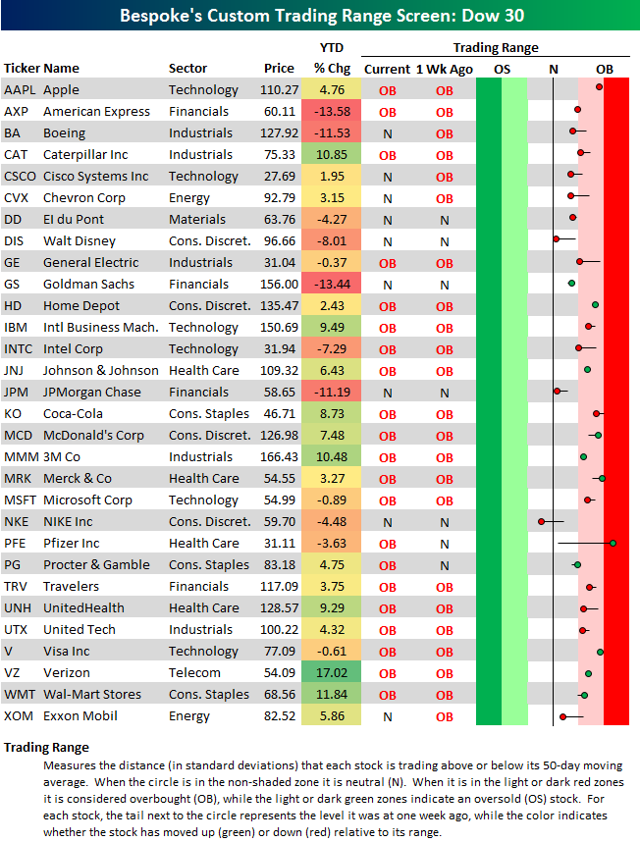 Click to enlarge