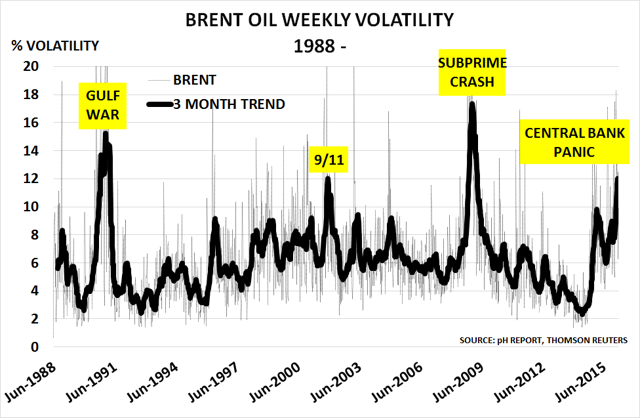 Click to enlarge
It has been a long time since oil markets operated on the basis of the fundamentals of supply and demand. But now, investors are starting to have to refocus on these issues, and volatility is reaching near-record levels, as the chart shows. During Q1, weekly volatility in Brent was above the levels seen after the 9/11 tragedy - only the periods of the first Gulf War and the subprime crash were higher in the past 25 years. Yet there has been no invasion of a major oil-producing country, or financial crisis.
The issue is simple. We are seeing the end-game of a battle between central bank stimulus policies since 2008, and the fundamentals of supply and demand. Oil markets were one of the major casualties of this battle, as the tide of central bank liquidity destroyed price discovery - the key role of any market.
But all this began to change with the arrival of President Xi Jinping in 2013. His New Normal policies meant that China began to back away from stimulus - a very significant move, since China had previously accounted for more than half of total G-20 stimulus. As I argued back in November 2014, oil prices were likely to be amongst the first to react to this Great Unwinding of central bank stimulus policies.
There had never been any reason in terms of the fundamentals of supply/demand for oil to reach the $100/bbl level, let alone to stay there until mid-2014. And so as I warned then, prices were almost certain to collapse back to historical levels:
"Logic suggests the real question is simply whether oil will hold the $45/bbl price level? Or will, in the end... supply and demand rebalance nearer nominal price levels of $22/bbl?"
But, of course, markets never move in straight lines. And Q1 developments have highlighted this fact of life once more:
Prices duly fell below the $30/bbl level, prompting many analysts to look again at their core assumptions. Suddenly, many began to realize that inventories were at all-time record levels globally and in the US market, whilst Iran was poised to add additional volumes to world markets.
But at the same time, hedge funds realized that another central bank panic was likely to take place. Money managers piled back into oil markets from January, correctly betting that further stimulus was on the way from the Bank of Japan and European Central Bank, and that the US Federal Reserve would quickly back off its announced tightening of interest rates.
This was another classic demonstration of the power of liquidity to overwhelm the fundamentals of supply and demand. By the end of March, hedge funds had built a record long position in Brent/WTI futures of 579 million barrels - equivalent to almost 6 days of global demand. And they succeeded in boosting prices by 50% in just a few short weeks, with Brent moving from $27/bbl to peak at $42/bbl.
Of course, every market movement needs a narrative to support it. This time, it was the notion of a so-called "production freeze" between OPEC and Russia. It didn't matter that this was clearly irrelevant to the oversupply issue impacting the market - a freeze is not a production cut (particularly when it operates at a time when the major players are producing maximum volumes). And it was always clear that it would do nothing to slow Iran's return to the market.
But yesterday's futures market data showed that the hedge funds are starting to take their money off the table, as they look for new opportunities in Q2. And unless the planned OPEC-Russia meeting later this month in Doha decides to actually cut production, prices would seem to have only one direction to follow.
This type of extreme volatility is very good news for those who are on the right side of it. But it is very bad news for companies and longer-term investors
Companies have to hold inventory in order to manufacture their own products, and cannot effectively hedge this position due to the lack of relevant market options. This, therefore, leaves them very vulnerable to cash flow pressures when prices swing up and down in random fashion, as contractual agreements are often ineffective when customers decide to destock at short notice.
Investors are also at risk from the recent buying frenzy, as it has led to an unfounded assumption that "the worst is now past" for commodity exporters and Emerging Markets. The tyranny of benchmarking and quarterly reporting even led many to scramble to unwind their positions - adding fuel to the flames as markets rose exponentially to their peak.
Q1's volatility is a clear warning of the problems that markets now face in resuming their core role of price discovery. We likely have a very bumpy ride ahead.
Disclosure: I am/we are short OIL.
I wrote this article myself, and it expresses my own opinions. I am not receiving compensation for it (other than from Seeking Alpha). I have no business relationship with any company whose stock is mentioned in this article.