Oil's downturn has hit master limited partnerships particularly hard, with the ALPS Alerian MLP ETF (NYSEARCA:AMLP), the industry's leading fund, dropping by almost 40.7% since the start of last year. To put this in context, the independent oil producers, who have greater direct exposure to commodity prices than the MLPs, have pared slightly better, declining by 39% in the same period, as measured by the SPDR S&P Oil & Gas E&P ETF (NYSEARCA:XOP).
The poor performance of most of the MLPs over the last 12 months and concerns regarding the MLP business model itself has weighed heavily on this sector. With prolonged weakness in oil prices, investors are prepared for future distribution cuts, as reflected in abnormally high yields. Most of ALPS Alerian MLP ETF's holdings currently offer double-digit yields, with the fund's average at 11.5%. But Magellan Midstream Partners (NYSE:MMP) investors can sit back and enjoy distribution growth in the coming years.

Magellan Midstream Partners, like most of the other MLPs, is engaged in transportation and storage of crude oil and refined products. The partnership, therefore, is not immune from falling crude prices. But what sets Magellan apart is its significant exposure to refined products, such as gasoline and diesel, as opposed to just crude oil.
The MLP owns the nation's longest pipeline system dedicated to refined petroleum products, serving nearly half of US refineries. The company typically gets more than 60% of its total segment margins from the refined products business. This puts Magellan in a great position to tap into the strong demand of gasoline and minimizes volumetric risks. That's in stark contrast to crude oil focused MLPs that are already experiencing weak volumes on the back of declining US crude production.
Magellan claims that its business is relatively less risky since 85% of its operating margin is underpinned by long term, fixed-fee contracts for its transportation and storage services. A number of MLPs have made claims like these in the past, only to report deteriorating fundamentals later. Magellan, however, has backed up this claim with superior performance.
At a time when most of the master limited partnerships were struggling to grow distributable cash flows, Magellan pulled off a 7.1% growth last year to $942.85 million. The MLP's core business generated steady cash flows while new projects offset the negative impact of cheap commodity prices. Not surprisingly, Magellan also increased distributions by 15.2% to $684 million and ended up with excess cash flow of $259 million and a strong coverage ratio of 1.4x.
Moreover, during last week's analyst day, Magellan predicted further distribution growth in the coming years. The company predicted a 4.6% drop in distributable cash flows to $900 million in 2016, but it plans to grow distributions by 10% with a decent coverage of 1.2x. The company is targeting "a minimum" of 8% distribution growth for next year.
In other words, as other MLPs scramble to conserve cash flow by slashing payouts, Magellan will not only grow distributions, but also end up with excess cash. But I believe Magellan might report higher distributable cash flows as compared to last year while distribution growth could turn out better than expected.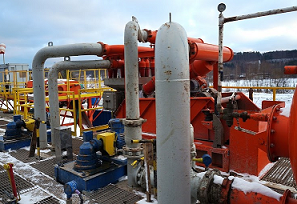 Why? Because Magellan's estimates are far too conservative.
During the recent presentation, the company said that it is evaluating "well in excess" of $500 million of growth projects. These projects could come online over the next couple of years and make a meaningful contribution to the company's distributable cash flows. But I believe the total size of these projects is roughly more than three times as large as $500 million.
Two of its biggest ventures currently under evaluation - the expansion of Seabrooks Logistics and investment in refined products export capabilities - represent a total of around $1.5 billion. The partnership may end up committing to $1.5 billion of growth projects, resulting in better-than-expected growth. Remember, these are in addition to the $900 million of projects that are already under development.
Moreover, Magellan's guidance is based on an average crude price of $35 per barrel for 2016. But if crude continues to hover above $35 and gradually climb to the low-$40s by the end of the year, then Magellan's distributable cash flows could receive a boost of potentially more than $10 million. That's because the company estimates that every $1 change in crude price can lift its distributable cash flows by $3 million.
On top of this, Magellan is one of the rare midstream MLPs that can still tap into the equity markets to fund a major acquisition. Most of the other midstream MLPs are struggling with shrinking coverage ratios and mounting debt levels which has limited their access to debt markets. With a significant decline in units and lofty yields, as highlighted earlier, raising capital from equity markets is also expensive. Rather, some MLPs with weak financial health could be forced to sell assets.
But Magellan still carries an investment grade credit rating, thanks to a net-debt ratio of just 2.9x, strong coverage and almost $1 billion of liquidity. Its units have dropped by just 23.5% since the beginning of last year and currently yield less than 5%. As a result, Magellan benefits from having one of the lowest cost of capital in the industry. It can, therefore, sweep in and buy assets from distressed MLPs on the cheap, which could further lift its distributable cash flows.
Disclosure: I/we have no positions in any stocks mentioned, and no plans to initiate any positions within the next 72 hours.
I wrote this article myself, and it expresses my own opinions. I am not receiving compensation for it (other than from Seeking Alpha). I have no business relationship with any company whose stock is mentioned in this article.