Introduction
This is the March portfolio checkup capturing all of the events and changes to my portfolio over the past month. From a dividend grower's perspective March was rather boring with the markets continuing their upward climb that started mid February. We are now back within a stone's throw from being at all time market highs again.
This month was another slow month for additions to my portfolio as the overall level of the market has been a turnoff. There are still values to be found but they are getting harder to identify.
Going Self Directed
During March I decided to take a big plunge and remove the rest of my ETF holdings in my 401k. I had been transitioning to fully self directed and it finally occurred this month. Both existing money as well as future contributions are now 100% self directed!
I have to give an enormous thank you to the entire SA community for all of the knowledge I have gained over roughly the past year. There's no way I could have gotten to this point without all of the great contributions and discussions on the articles here. There are also too many names to mention but you know who you are, either by me following or commenting on your articles.
That said, I hold no ill-will towards ETFs, in fact I really love them, especially the Vanguard offerings my 401k plan has. They made me a lot of money during my first 8 years of my working years but as I've been documenting it's time for me to take the reigns now.
Homework From Last Month
My homework for this month is to dilute my over income reliance on REITs while trying to add to healthcare.
Yes, that's me quoting myself from my article last month. As I will lay out, I somewhat accomplished this goal. I did dilute my income by making some purchases, but they were not in the healthcare space.
Goals
Let's rehash the goals I laid out last edition and see how we are doing.
Projected dividend income > $4,000
> $100 in dividends received each month
>= inflation rate of dividend growth (goal set at 2% this year).
Goal 1
My first goal is still at risk. I am currently expecting roughly $3268 of income this year. This will still require the market to have a decent correction in order to invest more money. I am still about 35% cash so there's plenty of capital available for opportunities.
Goal 2
This month I absolutely crushed this goal with nearly $400 of dividend income. I am extremely excited for the March/June/September/December months as they should all be $400+ from this point on with the dividends reinvested. This was the first month I really saw the power of receiving lots of dividends. I have 30 years to go and getting $400 this month is nothing to sneeze at!
Goal 3
Right now this is lagging because of the dividend cut by BHP Billiton. At the moment I am expecting a roughly 0.34% increase over the end of 2015, below my 2% target.
Portfolio Changes
New Positions
General Dynamics (NYSE:GD)
I added 12 shares of General Dynamics on March 30th adding an expected $36 of annual income.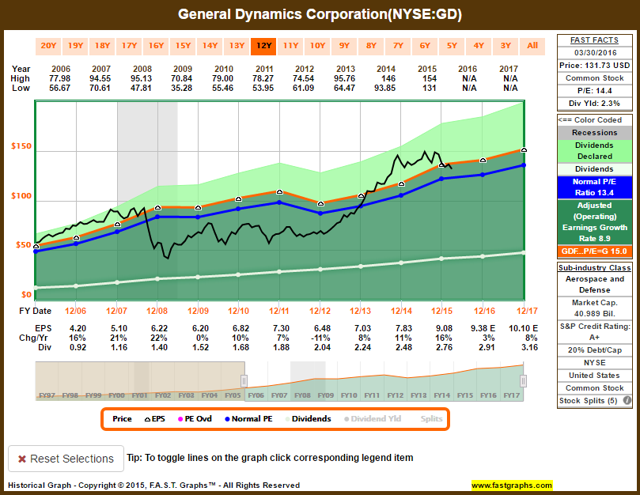 The income is not much, but here's what I like about GD and why I think it's worth a consideration. It has a diversified portfolio mixed between government contracts and also the popular Gulfstream jets for the business class.
Management is extremely shareholder friendly, the dividend payout is low, roughly 30% of EPS leaving a lot of room for future growth yet the 2.3% yield is nothing to sneeze at.
Management has also been buying back shares hand over fist which will ultimately leave more cushion for dividend increases.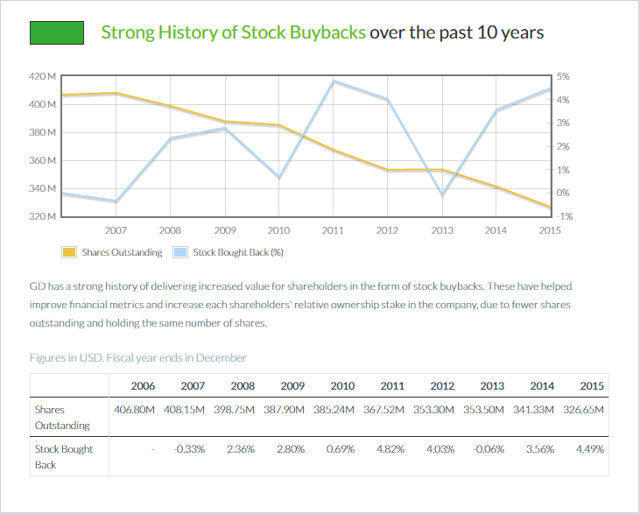 Just in the past 10 years the company has repurchased about 20% of outstanding shares including strong buybacks during the financial crisis. Management gets it, at a low multiple the impact of buybacks is much larger than for expensive stocks.
The stock is trading a little higher than its historical average but with strong business prospects, decent earnings growth expected, shareholder friendly management and 24 years of dividend growth achieved, this is a company I want to be an owner of.
The company is on the cusp of become a dividend aristocrat with 25 years of dividend growth. I think this will put it on more people's radars and also into additional dividend related funds.
Just for added security, analysts are historically very accurate with their earnings expectations.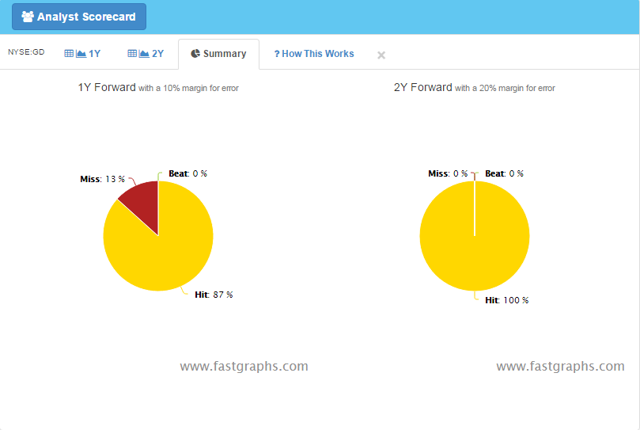 Of course past performance is no guarantee of future results but it adds a layer of comfort knowing that the expected 3%/8% (2016/2017) growth rates should have a high degree of accuracy.
Wells Fargo (NYSE:WFC)
I bought 30 shares of Wells Fargo which is expected to add $45 of annual income today.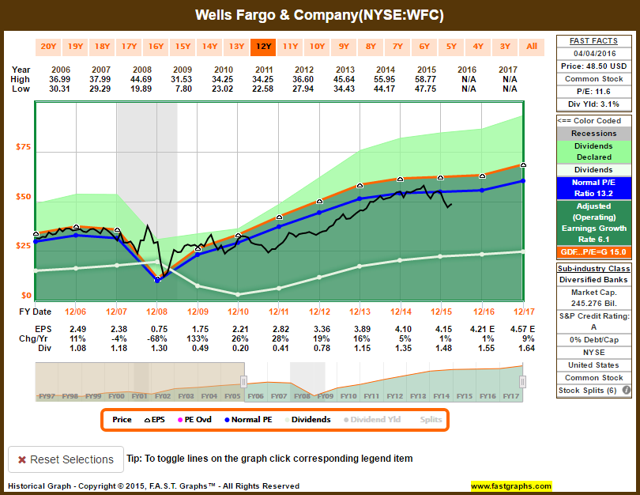 I used the same time frame to capture the recession where Wells Fargo did indeed cut its dividend. From that point though it has recovered and then some.
The payout ratio is still low, roughly 35% so there is ample room for the dividend to grow while also reducing the share count. The company authorized an additional 350M shares to be purchased, roughly $17.5B worth for a company in the neighborhood of $250B market cap.
With a low multiple being assigned currently the impact of the capital returned to shareholders is much greater, shares are bought back cheaper while even the 3%+ yield is quite good for such a low payout ratio.
Analyst expectations are for 1%/9% growth for the next 1/2 years. Analysts have a combined 80% meet or beat track record for the company in both the 1 and 2 year time frames so it's reasonable to expect the level of growth.
On a personal note this is my first large financial institution that is not insurance related. Though never a great reason to buy, it is the bank Buffett likes.
Existing Positions
None
Sells
None
Dividend Increases
Dividend Cuts
Strategy Update
None
New Rules
None this month.
Charts and Graphs
2016 Dividends
Here, we can see the dividends by month and quarter.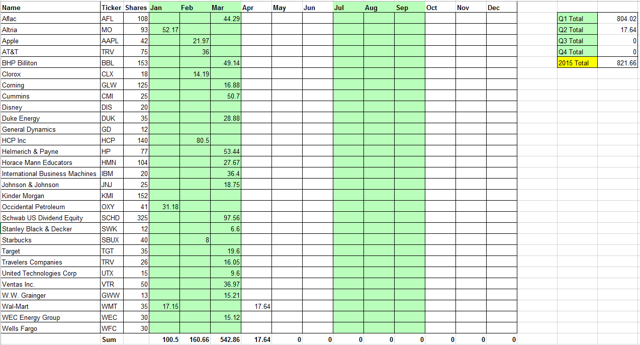 March was an insane month bringing $542 of dividend income. I am super excited watching the power of dividends, 17 of my 27 possible companies (minus 2 new buys this month) paid out in the last month of the quarter so I know now my strong time.
By end of June I'll get to see the power of compounding where the dividends received here in March create their own dividends.
Growth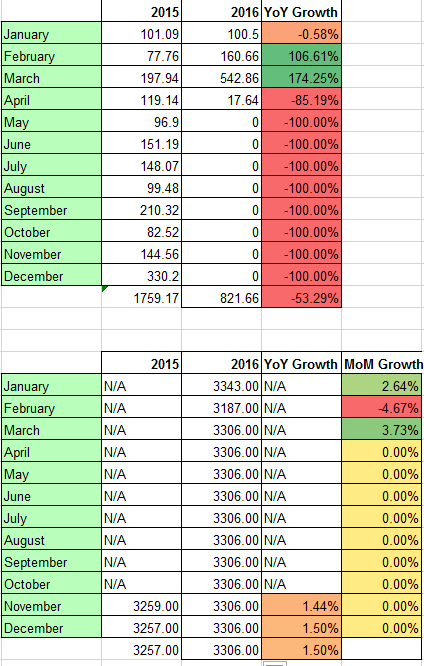 Looking at year over year growth, it's clear that my purchases made over the last half year have really juiced my dividends, with 174% YoY growth.
Looking to the larger picture I am still targeting about 1.5% yearly income growth, still down because of the BHP cut not completely being replaced yet by new income.
The Portfolio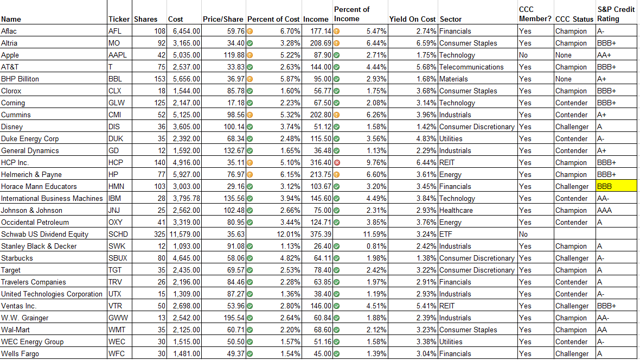 Looking to my warning indicators on my portfolio I only have 1 red flag and that is on HCP with the percent of income it provides.
Today it stands at roughly 9.76% which I am happy to say is under the 10% mark it was a month ago so we are moving in the right direction.
I am still also trying to dilute my Helmerich & Payne income which will additionally come through time. It's too early to tell what will happen but they are definitely at risk of a cut. HP was one of my earliest buys back in 2014 before I really started to learn the ways of the dividend growth investor.
Income By Sector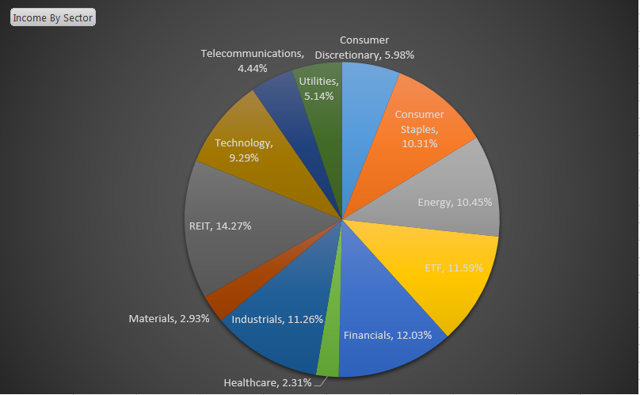 This cut of data gives an easier way to visualize if I have too much or too little income coming from a specific sector.
I still have a lot of income coming from the REIT sector, so I am not planning any buys there anytime soon. Energy is also elevated compared to my comfort level with my holdings in the sector.
I am actually watching several companies in the healthcare space, especially now that the sector has been in a bit of a tailspin following comments from presidential candidates. I expect some purchases in April in healthcare.
Champion, Contender, Challenger View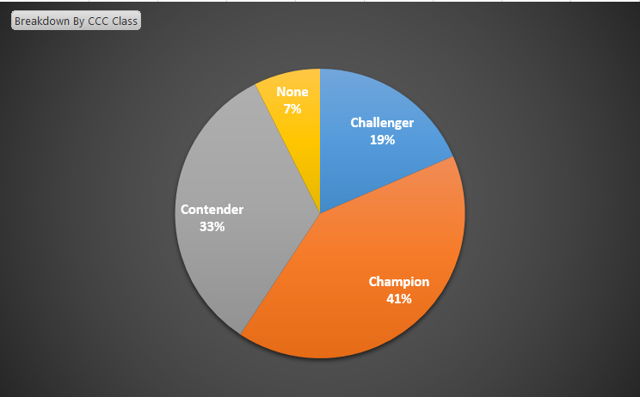 The "None" group still consists of Apple and BHP Billiton where Apple will almost certainly join the challenger list soon. Other than that, I am very happy with the breakdown here.
The Portfolio
The portfolio now contains the following companies: AFLAC (NYSE:AFL), Altria (NYSE:MO), Apple (NASDAQ:AAPL), AT&T (NYSE:T), BHP Billiton (NYSE:BBL), Clorox (NYSE:CLX), Corning (NYSE:GLW), Cummins (NYSE:CMI), Disney (NYSE:DIS), Duke Energy (NYSE:DUK), General Dynamics , HCP Inc (NYSE:HCP), Helmerich & Payne (NYSE:HP), Horace Mann Educators (NYSE:HMN), International Business Machines (NYSE:IBM), Johnson & Johnson (NYSE:JNJ), Occidental Petroleum (NYSE:OXY), Schwab US Dividend Equity ETF (NYSEARCA:SCHD), Stanley Black & Decker (NYSE:SWK), Starbucks (NASDAQ:SBUX), Target (NYSE:TGT), Travelers Companies (NYSE:TRV), United Technologies Corporation (NYSE:UTX), Ventas Inc (NYSE:VTR), W.W. Grainger (NYSE:GWW), Wal-Mart (NYSE:WMT), WEC Energy Group (NYSE:WEC) and Wells Fargo .
To Do And Conclusion
My comments from last month are still applicable, the rally in March continued with many great companies experiencing very strong price increases.
As always, I have my watch list and am waiting for companies to be available at reasonable prices. I am using Fast Graphs to come up with a price range that I would be comfortable buying shares.
My homework for this month is to continue to dilute my REIT and energy income while adding to healthcare.
As always, please provide feedback, suggestions and tickers to add to my watch list.
Disclosure: I am/we are long ALL STOCKS MENTIONED.
I wrote this article myself, and it expresses my own opinions. I am not receiving compensation for it (other than from Seeking Alpha). I have no business relationship with any company whose stock is mentioned in this article.