Momentous 5-Star Dogs Paid Dividends; 3-Star Dogs Did Not
One-year results from Yahoo! Finance based on market closing prices on April 1 sorted fifty-three stocks from seven sectors down to the top thirty. All were ranked first by one year momentum two stocks with slightly negative results were passed as neutral. Ten were chosen by yield (dividend / price). Ten were selected based on estimated price upside. Ten more were chosen for one year past gains plus analyst 1 year targets. The resulting thirty produced actionable conclusions discussed below.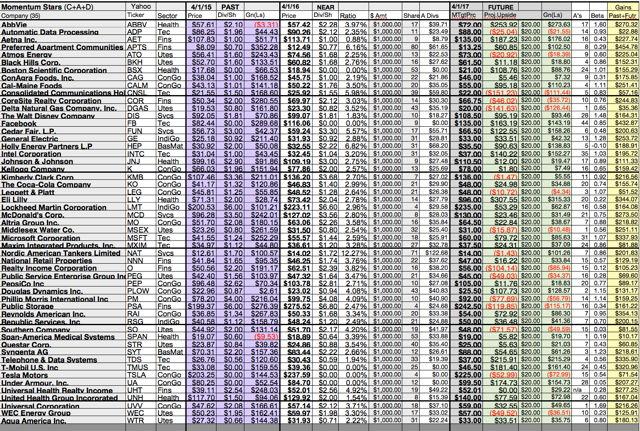 Click to enlarge
See Dow 30 article for an explanation of the term "dogs" for stocks reported based on Michael B. O'Higgins' book "Beating The Dow" (HarperCollins, 1991), now named Dogs of the Dow. O'Higgins' system works to find bargains in any collection of dividend-paying stocks. Utilizing analyst price upside estimates, expanded the stock universe to include popular growth equities, as desired.
Dog Metrics Extracted Bargains
Thirty small, mid, and large-cap stocks were pulled from 53 equities by showing strength in three to five qualities for this article. Five selected paid no dividends. They were, however, five of the strongest by upside and gains. Closed-End Funds, ETFs and ETNs were excluded here, but Preferred Shares, Real Estate Investment Trusts, MLPs, Royalty Trusts, and Business Development Companies were recruited for the list along with common stocks.
Ten 3 to 5-Star equities showing top net gains by sector included two in health, four technology, one financial, two consumer goods, and one service. These firms covered five of nine possible Yahoo market sectors. Basic materials, utilities, and industrial goods made the list of 30 but not the top ten by upside. Conglomerates even missed making the pool of 53.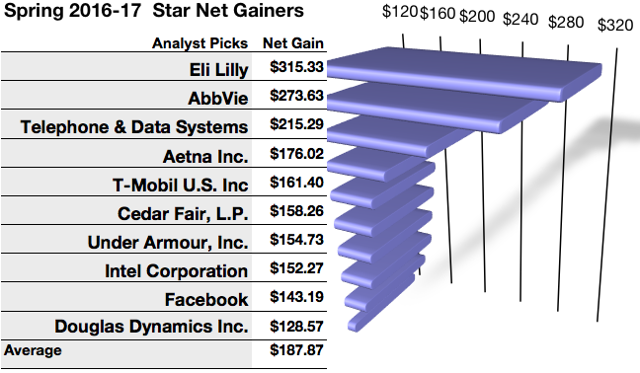 Click to enlarge
Top-dog Eli Lilly (NYSE:LLY) [1] led the list and the two healthcare representatives.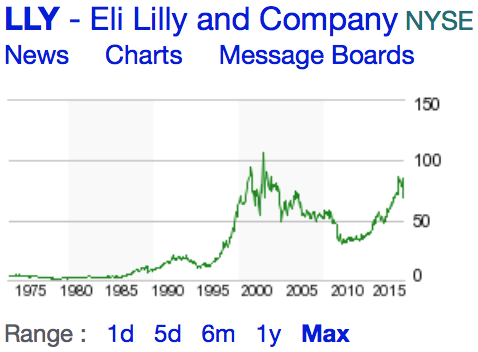 The other healthcare firm placed second, AbbVie (NYSE:ABBV)[2].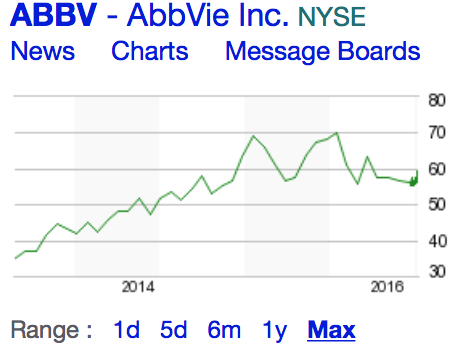 Third place was claimed by the top-gaining technology dog on the list, Telephone & Data Systems (NYSE:TDS)[3].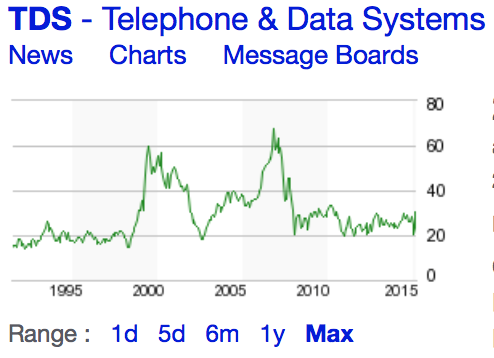 The remaining three technology companies took fifth, eighth and ninth places: T-Mobil U.S. Inc (NASDAQ:TMUS)[5];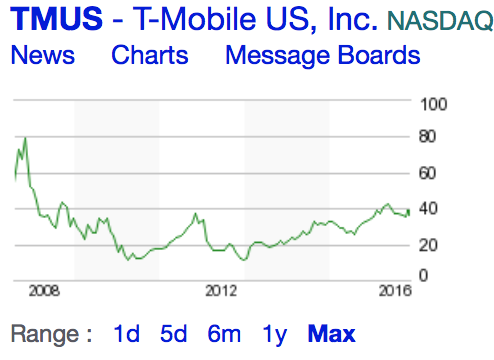 Intel Corporation (NASDAQ:INTC)[8];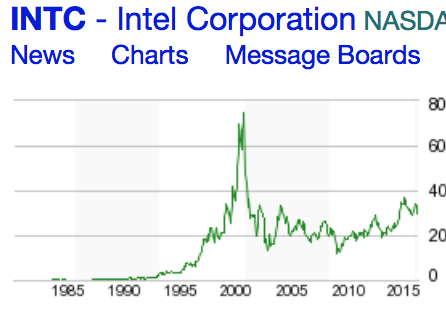 Facebook (NASDAQ:FB) [9].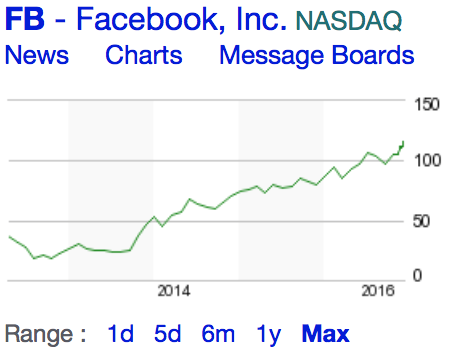 The lone financial firm placed fourth,
Aetna Inc. (NYSE:AET) [4].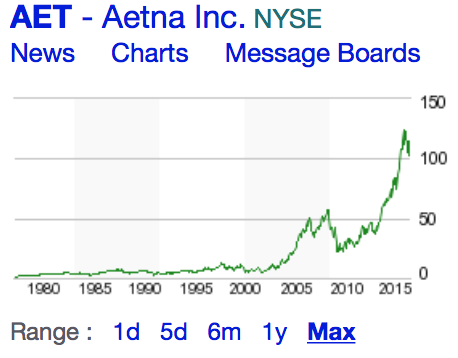 The lone service firm placed sixth,
Cedar Fair, L.P. (NYSE:FUN) [6];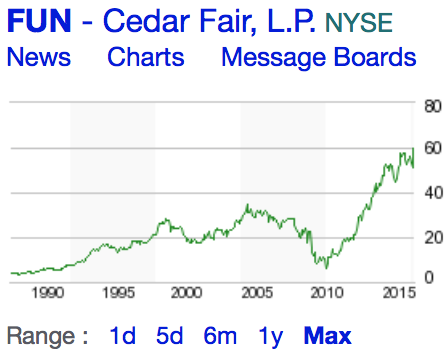 Finally two Consumer Goods companies placed seventh, and tenth, Under Armour, Inc. (NYSE:UA) [7];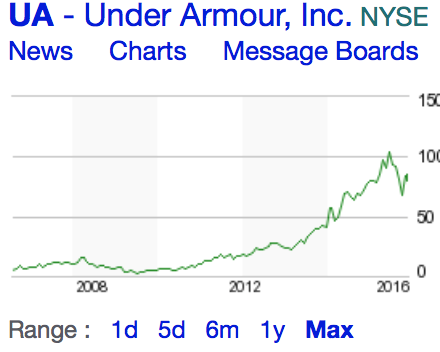 Douglas Dynamics Inc. (NYSE:PLOW) [10],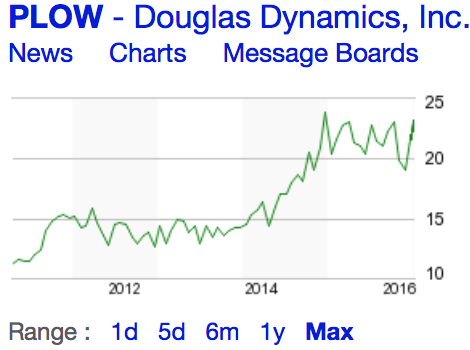 and these completed the 5-Star top gain dog list for April 1.
Actionable Conclusions: (1) 3 to 5-Star Momentum Dogs Retreated as (2) Dow Dogs Remained Bullish into April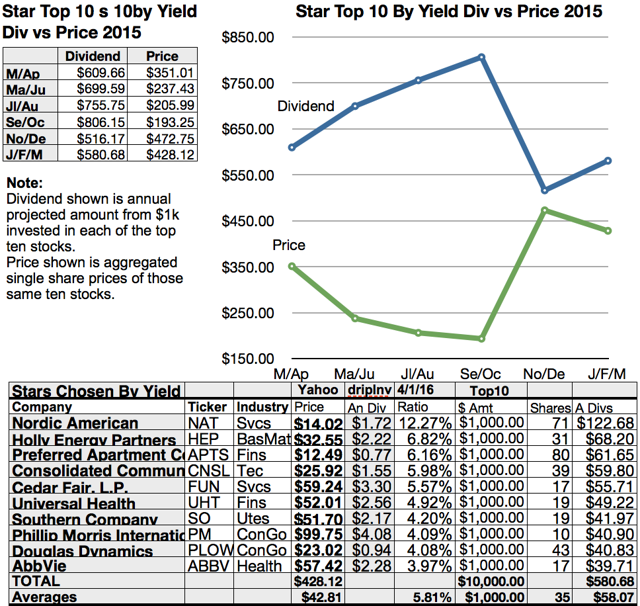 Click to enlarge
The 3 to 5-Star Momentum dogs soared in dividend and tumbled in price to flash their bearish message. Dividend from $10k invested as $1K in each dog increased 12.5%, while total single share price of those ten equities dropped 9.4% after December.
Dow dogs continued their bullish stance as aggregate single share price for the ten rose 13% between December 2 and April 1, while annual dividend from $10k invested as $1K in each of the top-ten Dow dogs dropped 1.5% for the period according to IndexArb.com.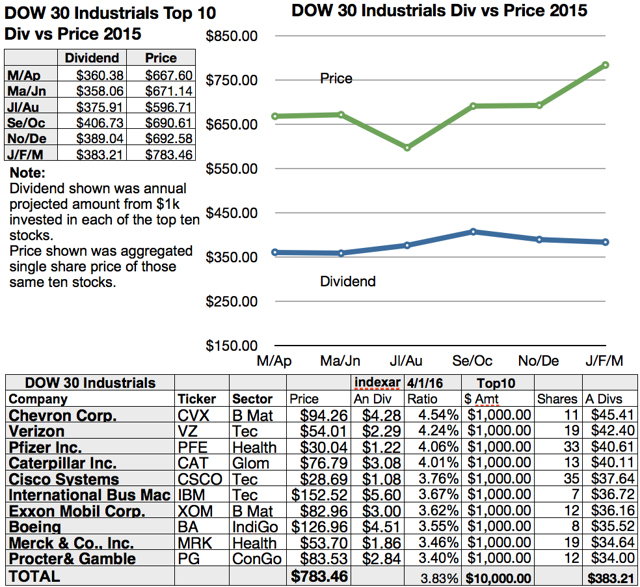 Click to enlarge
As a result, the Dow dogs' overbought condition (in which aggregate single share price of the ten exceeded projected annual dividend from $10k invested as $1k each in those ten) widened beyond its record May/June high.
Actionable Conclusion (3): Dow Dogs Continue To Be Overbought
Historically, an overhang of $256 or 65% as of March 6; extended the gap to $321 or 90% May 1. But the gap fell to $220 or 59% July 17.
September 15 expanded the overbought indicator to $284 or 70%. December 2 saw the gap widen to $304 or 78%. April reset the record gap to $400 or 104%.
This gap between high share price and low dividend per $1k invested shows an overbought condition. Meaning, no matter which chart you read, these are low-risk and low-opportunity Dow dogs. The Dow top ten average price per dollar of annual dividend was $26.33.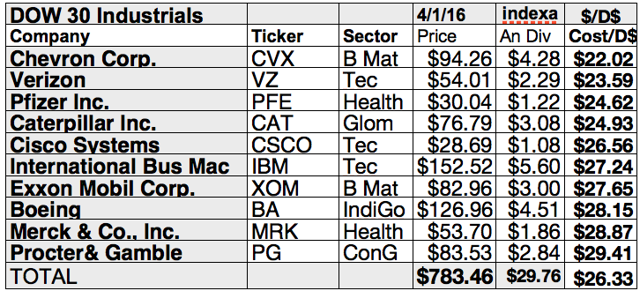 Click to enlarge
Conversely, the 5-Star chart shows them to be showing buy points as higher-risk and also high-potential pups. In marked contrast to the Dow, 5-Star top ten by yield average price per dollar of annual dividend was $19.83 as of April 1. That's about three quarters the price of an annual dollar of Dow dividends.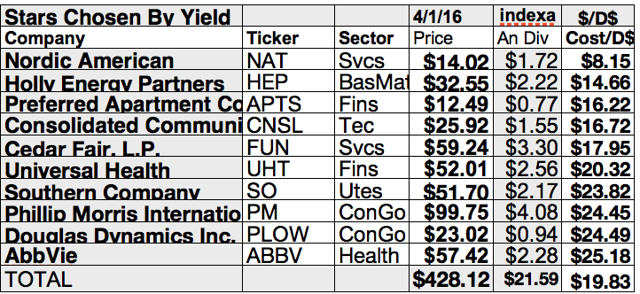 Click to enlarge
5-Star Dividend Dogs Get 0.7% More Return From 5 Highest-Yield, Lowest-Priced By April 2017
3 to 5-Star stocks to buy and hold for at least one year were reported based on: (1) net gain results based on analyst 1-year target projections; (2) price upside; (3) momentum as graphed and documented on April 1 Yahoo Finance price charts. With (4) yield included in the data, the reassurance of (5) regular dividend hikes for just the top ten listed.
As mentioned above, equities showing top net gains by sector covered five of nine possible Yahoo! market sectors: health, technology, financial, consumer goods, and service. However when selected by yield, the basic materials sector returns to the list to make six of nine represented.

Click to enlarge
Actionable Conclusions: (4) 5 Lowest-Priced of the Top Ten Highest-Gaining 3 to 5-Star Dogs Were Estimated to Deliver 7.19% Vs. (5) 7.14% Net Gains for All Ten as of April 1, 2017
$5000 invested as $1k in each of the five lowest-priced stocks in the top ten 3 to 5-Star dividend dog kennel by gains were predicted by analyst 1-year targets to deliver 0.7% more net gain than the same amount invested in all ten. The eighth lowest-priced 5-Star dividend dog, AbbVie , was projected to deliver the best net gain of 27.36%.
Click to enlarge
The five lowest-priced 5-Star dogs for April 1 were: Preferred Apartment Communities Inc. (NYSE:APTS); Nordic American Tankers Limited (NYSE:NAT); Douglas Dynamics Inc.; Consolidated Communications Holdings (NASDAQ:CNSL); Holly Energy Partners L.P (NYSE:HEP), with prices ranging from $12.49 to $32.55.
The higher-priced 5-Star dogs for April 1 were: Southern Company (NYSE:SO); Universal Health Realty Income Trust (NYSE:UHT); Universal Health Realty Income Trust; AbbVie; Cedar Fair, L.P.; Phillip Morris International Inc (NYSE:PM), whose prices ranged from $51.70 to $99.75.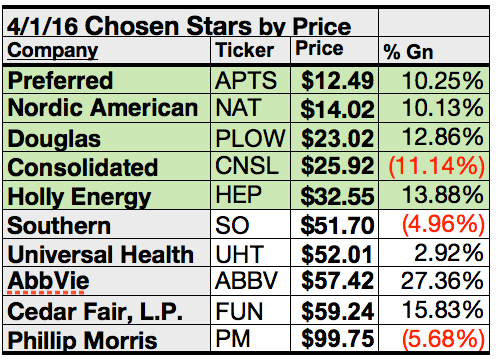 This distinction between five low-priced dividend dogs and the general field of ten reflects the "basic method" Michael B. O'Higgins employed for beating the Dow. The added scale of projected gains based on analyst targets contributed a unique element of "market sentiment" gauging upside potential. It provided a "here and now" equivalent of waiting a year to find out what might happen in the market. It's also the work analysts got paid big bucks to do. Caution is advised, however, as analysts are historically 20%-80% accurate on the direction of change and about 0-20% accurate on the degree of the change.
The stocks listed above were suggested only as reference points for a 5-Star dividend dog stock investment research process into December 2015. These were not recommendations.
See my instablog for specific instructions about how to best apply the dividend dog data featured in this article.
The gains/declines as reported do not factor in any tax problems resulting from dividend, profit, or return of capital distributions. Consult your tax advisor regarding the source and consequences of "dividends" from any investment.
Many of these five star dividend pups qualify as valuable catches! Check out the (now 33) Dogs of the Week found on The Dividend Dog Catcher premium site. Click here to review and subscribe.
One click will answer all your questions about price and guarantees. Sign up. It's virtually no risk. If for any reason you choose to end your subscription, you'll get a prorated refund from Seeking Alpha.
Perhaps the Seeking Alpha Marketplace is the best financial advisory bargain on the internet. Perhaps because it's the only place you'll find my dog of the week suggestions.
Disclaimer: This article is for informational and educational purposes only and should not be construed to constitute investment advice. Nothing contained herein shall constitute a solicitation, recommendation or endorsement to buy or sell any security. Prices and returns on equities in this article except as noted are listed without consideration of fees, commissions, taxes, penalties, or interest payable due to purchasing, holding, or selling same.
Graphs and charts were compiled by Rydlun & Co., LLC from data derived from www.dividend.com; finance.yahoo.com; analyst mean target price by Thomson/First Call in Yahoo Finance.
Disclosure: I am/we are long APTS, INTC, CSCO, PFE, VZ.
I wrote this article myself, and it expresses my own opinions. I am not receiving compensation for it (other than from Seeking Alpha). I have no business relationship with any company whose stock is mentioned in this article.