Today's higher-than-expected USDCNY fix of 6.4663 has simultaneously pushed the CNY to below 98 against its trade weighted basket. I think a break of 98 would lead the market to question the credibility of the government's stable CNY vs. basket policy. In addition, what is crucial to us here is the combination of CNY falling versus the basket while USDCNY is rising would signal a clear policy desire for a weak CNY. If this policy bias continues, it will be disruptive for EM FX, and in particular, my short-term bullish Asia FX view. MYR and SGD have been most responsive to recent changes in CNY/CNH, while THB and PHP appear least affected. Capital outflow from China is likely to rise again if USDCNY continues to trend higher. However, this vicious circle is not a given. If the USD resumes weakening in line with forecasts for USD-G10, it would allow for a stable or lower USDCNY to relieve stress. For the time being, we do see stress levels climbing in emerging markets and equities as oil disrupts risk friendly price action as well.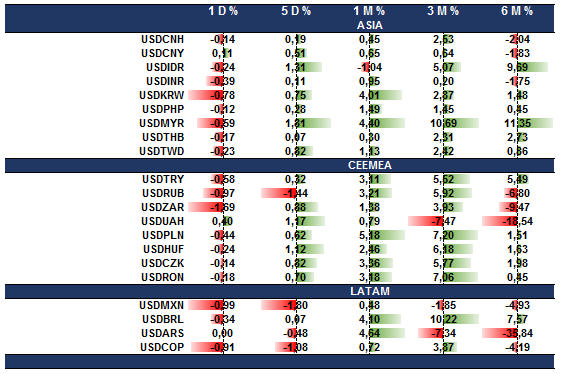 Brent crude has broken below a key level, the low from 15 March at 38.32, taking it through the bottom end of a trend channel. Combined with sitting at the 100DMA at 37.24 and then potential to move below the 50DMA at 36.54, the technical setup for the oil market isn't looking great. Interestingly the correlation with the USD has been weakening recently, suggesting that dovish Fed speak causing any further declines in the USD may now have limited upside for oil. Today we find that Saudi Arabia has banned Iran oil from being shipped via its waters, another sign of the worries about transfer of oil trade market share. Any hopes for an oil output freeze to be announced at the 17 April OPEC meeting are diminishing by the day making oil-related currencies weaken. 110.65 was a key level to watch for USDJPY. This was the low from 17 March and is probably being closely watched by the BoJ. This morning's headline that the BoJ, MoF and FSA are meeting to discuss market developments failed to spur a USDJPY rally as the Topix continues to underperform other Asian equity markets. Yield differentials is not helping the JPY either, with the drop in oil and easing inflation expectations in the last month global yields have been grinding lower.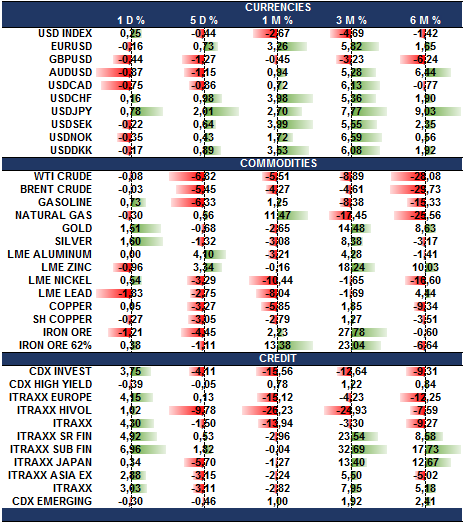 The solid gains Treasuries posted in late trading Friday, reversing what ended up being only a small sell-off through the futures close in response to the solid employment report, saw only a partial reversal during a very quiet Monday, leaving yields slightly lower across the curve on a 3:00 close basis. The market's lack of enthusiasm about the solid looking employment report was justified by the Fed's labor market conditions index holding in negative territory for a third straight month for the first time since the recession ended, showing a net worsening in labor market conditions broadly considered despite continued elevation in headline payroll numbers.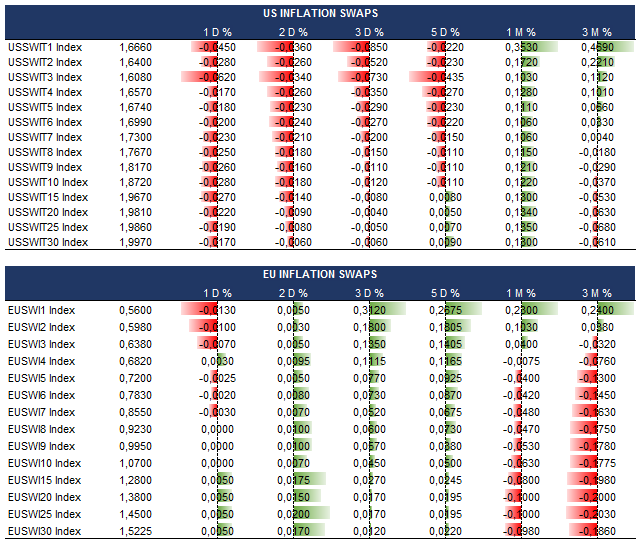 Core inflation popping up to 1.7% from 1.3% - if only temporarily probably we think - and the labor market deteriorating steadily sure wasn't where the balance of risks to achieving the Fed's dual mandate goals seemed to be tilted when they hiked rates in December. Along with the negative LMCI result, downward revisions in the factory orders report to the already weak capital goods orders and shipments figures in the durable goods report pointed to a worse decline in Q1 business investment after the sharp drop in auto sales reported Friday lowered the outlook for consumption. There have been some positive recent indications in the headline payroll upside and the ISM jumping back above 50, but the overall growth backdrop still looks soft.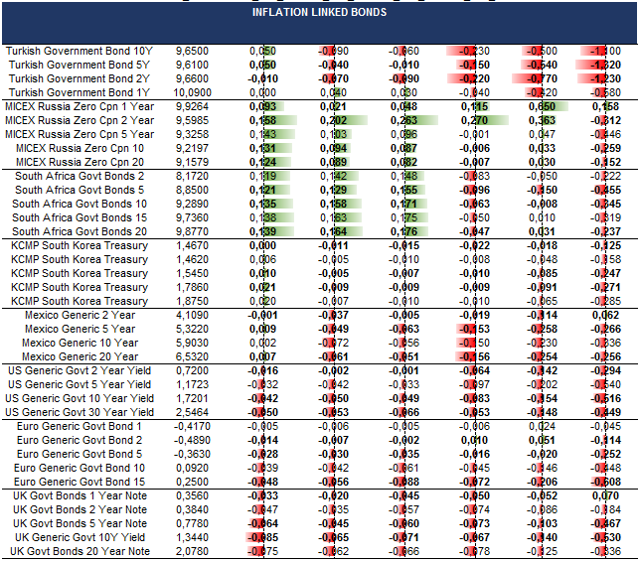 Click to enlarge
I continue to see Q1 GDP tracking at 0.7%, as upside in inventories in the factory orders report offset weakness in capital equipment sale, but downside risks to inventories in Q2 GDP are looking pronounced even if final demand picks up. So the market swung back to pricing out Fed rate-hiking risk after only a modest reversal on Friday of the big shift down in the rate path in futures in response to Chair Yellen's speech last Tuesday, ignoring the arguments of Boston Fed President Rosengren that "the very slow removal of accommodation reflected in futures market pricing could prove too pessimistic." The market's back down to pricing only about a 25% chance of a June hike and 80% chance of one 25 bp this year. Overall, the market remains pessimistic on inflation and global growth, today's risk reduction has brought prices to support levels in almost all asset classes. If we see sustained breaks in Emerging Markets FX, equities and global equities this move could gather some momentum behind it but for the time being things remain above the recent support levels, and could be a good place taking on some risk.
(NYSEARCA:EEM), (NYSEARCA:VWO), (NYSEARCA:DEM), (NYSEARCA:EDC), (NYSEARCA:IEF), (NYSEARCA:SHY), (NYSEARCA:TBF), (NYSEARCA:EDV), (NYSEARCA:BOND), (NYSEARCA:TLT), (NYSEARCA:SPXL), (NYSEARCA:OIL), (NYSEARCA:IVE), (NYSEARCA:DTO), (NYSEARCA:OLO), (NYSEARCA:SZO)
Disclosure: I/we have no positions in any stocks mentioned, and no plans to initiate any positions within the next 72 hours.
I wrote this article myself, and it expresses my own opinions. I am not receiving compensation for it (other than from Seeking Alpha). I have no business relationship with any company whose stock is mentioned in this article.